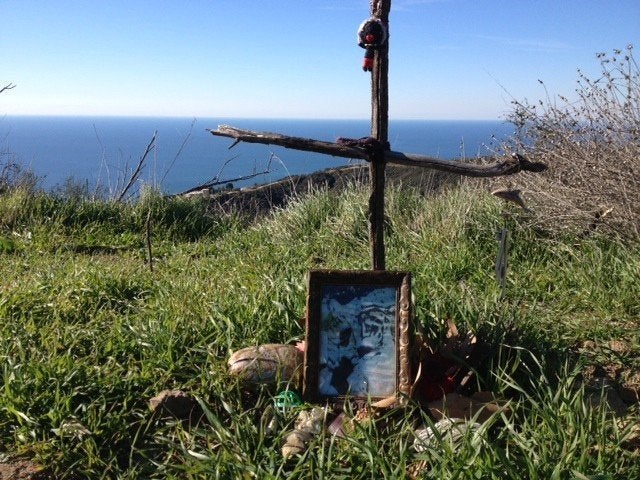 Sometimes the universe speaks to me. The problem is, I don't always know what it's saying.
But on one recent Sunday, it roared in my ear and I got the message loud and clear. Shirley MacLaine would be proud.
It was a beautiful crisp day in Los Angeles and I took a hike in the Santa Monica Mountains with my long-time friend, Vani. The sun was bright, the vistas of the Pacific spectacular; we saw birds, deer and virtually no other hikers on the trail -- bliss in my book.
And then we came upon a little makeshift memorial, constructed in a small clearing that overlooked the ocean. It was a cross made of sticks supporting a photo of someone's beloved cat. The kitty's favorite toys were laid out in memoriam, along with some fresh flowers, a paperweight rock picturing a curled-up cat, and a few quarters that I'm hard-pressed to explain. Then we spotted it: Hanging on one end of the cross was a carved wooden fish ornament carved with the words "Culebra, PR."
Now, coyotes are a fact of life in the mountains where I live and hike. I frequently drive past "missing cat" flyers stapled to trees and assume the worst when the flyer isn't taken down after a few weeks. Nature's food chain is often cruel to our pets.
But it was the fish ornament with the words "Culebra, PR" that stopped us in our tracks.
A lifetime ago, Vani and I and her then-5-year-old daughter spent Thanksgiving on the remote island of Culebra, Puerto Rico. A little four-seater prop plane dropped us off on a dirt runway and the pilot pointed us toward the beach and the place that rented rooms to the occasional visitor. Before he took off, the pilot asked when we wanted him to return since he was pretty much the only way on and off this island and, by the way, he couldn't come next Tuesday because he had a dental appointment.
I want to believe that Vani and I hesitated for a moment as we were about to be stranded in the middle of nowhere, especially having her young daughter with us, but I suspect we did not. Peace, love, faith in humanity and all that. The subtitle of that trip quickly became "relying on the kindness of strangers" and all went smashingly. A magical few days spent hitching rides to the beach and back, eating the fresh fish that we watched being caught, encountering few other souls but finding each one memorably interesting. We spent more time envisioning how great it would be if we just never left rather than being worried about our pilot failing to return to get us.
In the ensuing decades, I never encountered a single person who had reached the shores of Culebra. I'm sure -- and a quick Tripadvisor check confirms -- that Culebra has been discovered by some travelers, although with a population of 1,800 according the 2010 Census, it still flies under the radar. As per Tripadvisor: "Culebra is somewhat of the anti-tourist destination, harboring no large hotels or flashy vacation bells and whistles. The beaches are stunning stretches of white sand, great for sunning, windsurfing and diving." Amen to that.
But like all memories, time dulls them. I don't think I've even thought of the island over the past 20 years or so. And then along comes this cat memorial with its little wooden carved fish, stumbled upon thousands of miles away and with the same friend with whom I had shared the Culebra experience. There are no coincidences, right? It had to mean something, but what?
The answer came hours later, and you may cue up the theme music to "The Twilight Zone" now.
I returned home that evening to a heart-broken email from my friend and canyon neighbor Nena. Her cat, Leo, hadn't been seen since 9 a.m. and it was way past dark now. Despite the family looking for him for hours, Leo was nowhere to be found.
"Please pray that my kids find peace in their hearts," she wrote. Leo, for the record, is the kind of cat that has to grow on you. In his short lifetime, he dodged some headed-straight-for-the-shelter bullets on the cat rescue circuit; let's just say he wasn't always voted Mr. Congeniality. Still, Nena's family had connected with him and the pain of what they feared had happened was overbearing.
I wrote back what I knew would be the case. Leo will come home, I told her. Don't ask me to explain, but I knew the Culebra cat connection had something to do with it. And I thanked the universe for the heads-up.
Around 10 p.m., Leo came home looking like he'd seen a ghost. The cat, who until now has shunned most attempts to touch him, spent the night being cuddled. He allowed everyone in the family to pet him, bit no one, and slept on the bed of one of Nena's kids. In the morning, he did that rub-up-against-your-leg thing that cats happy to be alive do.
"Did he say anything about Culebra?" I eagerly asked Nena. I think she said something back like "Get a grip."
Fine; I know Shirley would understand.