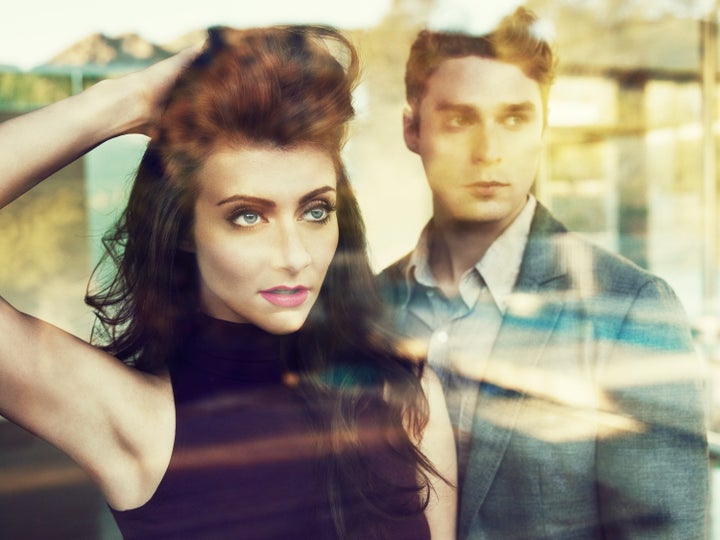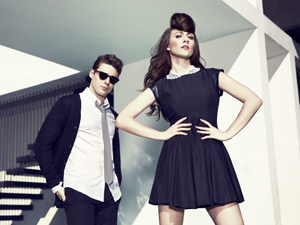 It's an unusually cold morning for Los Angeles, but that hasn't stopped Amy Heidemann and Nick Noonan, otherwise known as Karmin, from taking a morning run. It's just one of their new year's resolutions.
"I have to exercise this year," Amy says. "I was so bad about it last year."
She won't get any sympathy from her fiancé, who jokes that his resolution is to get Amy in shape. "I woke her ass up and said, 'We are going running!'"
Ready to push themselves to the limits, they took to the streets.
"We ran about 2 minutes and 45 seconds, which beats our previous record of 2 minutes and 30 seconds!" Nick confesses.
It's that combination of charm and determination that made Karmin one of the hottest acts of 2012. Their single "Brokenhearted" may have catapulted them into stardom, but that's not where their journey began. They met while attending Berklee College of Music in Boston and eventually began posting videos of themselves singing popular cover tunes on YouTube. They developed a following and even caught the eye of Ellen DeGeneres, who invited them to perform on her show.
From the start the LGBT community was there cheering them on, and they've never forgotten it. Last year they performed at Pride events across the country and are already lining up performances for this year, including the Club Skirts Dinah Shore Weekend in Palm Springs, one of the biggest parties in the world that caters to the lesbian community.
"The energy is just out of control," Nick said about those shows. "It's just so free."
In addition to performing, Karmin is recording their first full-length album, which they plan to release this spring. With their ambition and the love they have for each other and music, it appears that 2013 is going to be another banner year for the duo. Cheerio!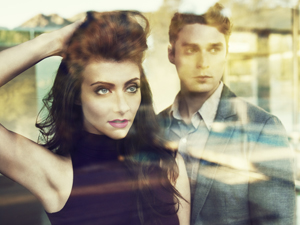 Dustin Fitzharris: Last year was such a successful year for Karmin. What is your response to critics who say you are last year's sensation or a fad?
Nick: I say, "Buckle up!"
Amy: "Come to the Karmin party." We're excited because last year we started doing original music, and people were so worried we wouldn't be able to cross over.
Nick: At first it was, "You're never going to make it, because you're on YouTube. Then it was, "You're never going to have an original song."
Amy: Then, "Now you're on the cover of Rolling Stone, but...."
Nick: "You'll never be on Saturday Night Live." Now it's, "You'll never actually have a good first album." I think [the criticism is] actually good.
Amy: It keeps you hungry.
DF: Has there been a moment yet where you've said, "We've made it!"?
Nick: Every time I feel like we say that, something happens where you feel like you haven't made it. We try to say that as little as possible.
Amy: I remember very early -- I think it was a day after we posted one of our biggest viral videos on YouTube -- Ryan Seacrest or Perez Hilton posted our video. I remember our Twitter followers quadrupling in about an hour or something like that.
DF: Are you ever worried that everything could disappear tomorrow?
Nick: Oh, hell yeah! It's something that crosses your mind, but we always go into everything with the perspective that we want to bet on ourselves. That's what we've been doing this entire time.
DF: One of the topics that continues to come up with you two is marriage. When will you finally get married?
Amy: We were "full speed ahead" months ago. Now we're trying to figure it out with a new album and tour.
Nick: Both of us know we're not going anywhere. It's going to happen. We're still aiming for the end of this year.
DF: Nick, how did you propose? Or maybe Amy proposed?
Amy: That would've been so cool!
Nick: I was working at a boxing club that was right down the street from Amy's apartment in Boston. I was on my lunch break and told her I had a new Karmin idea. We had just started Karmin. I hooked up the iPod in the kitchen, and it started playing Elvis Presley's "Can't Help Falling in Love."
Amy: That's our song and my grandparents' song.
Nick: Because no one in history has ever used that song! I got down on my knee and asked, "What are you doing for dinner?"
Amy: No! Then he asked me to marry him and said a lot of other sweet words. I have never seen Nick more nervous in all my life.
DF: Did you think she wouldn't say "yes"?
Nick: I was pretty sure she was going to say "yes," but still, man, it's a pretty big moment. I was sweating profusely.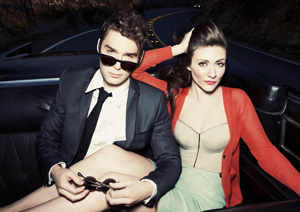 DF: You are basically together all the time. Do you ever get on each other's nerves?
Amy: It's almost a miracle that we still love each other, almost more than the fact that we've achieved some musical success.
DF: What most annoys each of you about the other?
Amy: He drives me crazy because he's very disorganized.
Nick: And she is way too organized!
DF: You have played several Pride concerts, and now you will be performing at the Club Skirts Dinah Shore Weekend in Palm Springs. Why do you think the LGBT community has gravitated toward you?
Nick: I think it's because of our performance style. The music is in the pop world, but our performance style is very musical theater. It has a lot of energy. They were really the first fan base to give a shit about us before we had the viral videos on YouTube.
Amy: Every time we play a gay club, it's always the most amazing audience. We're very grateful for them, and we'll always do whatever we can to support them.
DF: There are probably men who think Nick is hot, and women who think Amy is hot. What do you think about that?
Amy: We love it! It's amazing. It's flattering and fun.
Nick: I've never felt uncomfortable.
DF: You admire Nicki Minaj. She even inspired you to incorporate rap into your music. What do you think about the whole Nicki and Mariah feud on American Idol?
Amy: We've met Nicki, but we haven't met Mariah, which I would probably freak out if I do. She's one of my favorites of all time. We've met Nicki, and she seemed a lot more subdued in person. She didn't seem like someone who would pick fights with somebody.
DF: And what about Lindsay Lohan? Amy, I hear you text with her.
Amy: Once in a while. She's actually a really funny girl.
DF: What do you talk about?
Amy: She put out an album. She sings and is very musical. Her little brother showed her videos of us on YouTube. That was originally why she tweeted at us. She direct messaged me her phone number, and we've kept in touch. We haven't been able to hang out yet, but that's one of our goals this year.
DF: Nick, you love Les Misérables so much that you had the entire score memorized at 8 or 9 years old. What do you think of the movie?
Nick: My whole family is a big fan, so we all went on Christmas Day, but I had the flu. I liked it, but I didn't love it. It was tough for me seeing actors who can mostly sing do musicals, rather than singers who can mostly act. Anne Hathaway and a bunch of the females did a great job. Hugh Jackman did a good job. I don't know if he was great. Russell Crowe was struggling at times. but the songs are very hard. Maybe I'll see it again when I don't have the flu.
DF: After everything you've accomplished thus far, what are you most proud of?
Amy: We were on an island called Anguilla for New Year's Eve, and we performed for a select group of people at a resort called the Viceroy. Sir Paul McCartney was in the front row, dancing in his pajamas. He came backstage afterward and shared some words with us that we will never forget. I don't know if there is anyone else in the whole world who could compliment us and make us feel... well, that was one of the greatest moments of our career so far.
Karmin plays the Club Skirts Dinah Shore Weekend in Palm Springs on April 6. For more information, visit thedinah.com. For more on Karmin, visit karminmusic.com.
REAL LIFE. REAL NEWS. REAL VOICES.
Help us tell more of the stories that matter from voices that too often remain unheard.