The leopard was waiting for us. As the jeep rumbled closer, the big cat rippled to his feet, loped across the front of the vehicle and ambled into the bushes. The spotted beast didn't return, but none of us on board will ever forget him.
Despite a number of hopeful safaris in various countries, large felines have always gone into hiding when I am about, apart from the tame cheetah I paid to stroke in South Africa. But finally I had a wild big cat fix, and it was thrilling.
Karnataka's Nagarhole National Park (also known as Rajiv Gandhi National Park) is 643 sq. km (248 sq. miles) of forest home for creatures including tigers, elephants and langurs. Around monsoon (July to October) the park can be closed due to flooding, but summer (April to May) and winter (November to February) are rewarding times to visit.
The park is part of the Nilgiri Biosphere Reserve, which stretches across the southern Indian states of Karnataka, Tamil Nadu and Kerala, encompassing several reserves in its 5,500 sq. km, and providing a refuge for around 100 species of mammals and 350 species of birds.
As we drove around we also saw plenty of chitals (spotted deer) and a small herd of elephants bathing and watching over their baby. The forest department runs bus tours of the park, but most visitors go on a safari organized through a resort.
A small number of resorts are located near Kabini Lake, which was formed by damming the Kabini River. A giant forest-edged reservoir, it is regarded as one of Karnataka's top destinations for observing wildlife.
Red Earth Kabini is the newest resort in the area, comprising 20 self-contained villas (with private courtyards and marble Jacuzzis) nestling in ten acres bordered on two sides by the lake. Open since August 2012, it is owned by a charming couple whose background in coffee plantation management is evident in the care that has gone into the gardens, including creation of wetland areas to attract even more birds -- and in the bar with clubby antiques and a full-size billiard table that has its own moat. Additionally a small spa offers very professional treatments.
Constructed along ecofriendly lines, Red Earth Kabini's mud villas are built of local compacted earth with elephant grass roofing. Locally grown produce is used in the fresh, multicourse meals which feature South Indian dishes spiced with garlic, ginger and cumin, along with rasam, a tamarind-flavored soup which is also a digestive.
Apart from safaris, other activities include boating and fishing on the lake. I explored the local area on foot with Manju, the resident naturalist, and his large illustrated guide to the birds of India. Smiley Manju belongs to one of the local tribes and has spent most of his life wandering in the forest looking for plants and animals.
I'm not much of a birdwatcher normally, but with Manju pointing out Brahminy Kites, Black Drongos and a Small Bee-eater (just a few of the hundreds of winged creatures to be found here), I started to see how ornithologists get hooked.
We saw some villagers working in the fields and white people are still a bit of a novelty in this spot, so the leathery matriarch wandered over to examine me at close range. She and Manju conversed in the local language while she grappled with the concept of a nature walk.
Sitting on my verandah later as the lake waters shimmered in the distance, the temptation to doze off was strong, except there were so many birds and butterflies to see fluttering among the flowers and shrubs.
India is more a land of heaving throngs and frenetic markets than lazing about watching insects, so it seemed only right to to sit and appreciate the peace and sounds of nature. It was quite a contrast with Mysore, an attractive city about 70 km away with an imposing maharaja's palace and some impressive Victorian-era architecture courtesy of the British.
Lively Mysore is known for its flamboyance, and even its intersections have great Raj-era style, with monuments and matching facades. Known for the production of silk, sandalwood and incense, it is also recognized as a center of expertise in yoga and ayurvedic medicine. In amongst all this activity, there is great street food. One evening meal was a substantial masala dosa (fermented rice and lentil pancake wrapped around a spiced potato filling with coconut chutney) that was cooked in front of me at a stall on the palace end of Ashoka Road near the clock tower and cost 40 cents.
The Palace of Mysore is the main attraction here, a theatrical Indo-Saracenic fusion of Indian, Victorian, Hindu and Mughal elements. The Marriage Pavilion is an astounding union of Scottish steel pillars, stained glass and marble surrounded by paintings of life in Mysore during the Raj.
The former seat of the Wodeyar maharajas, the old palace was gutted by fire in 1897 and the present one designed by English architect Henry Irvin and completed in 1912. Photographs of the royal family, including a bejeweled regal baby in a pram, offer interesting glimpses of a dynasty that ruled for more than five centuries.
The palace is illuminated at night, and there is even an Indian-style amusement park near by. Mysore is particularly busy -- and even more brightly lit -- during the Dussehra (Dasara) festival in October, which culminates in a lavish procession. At Kabini the only major lighting is that ringing the lake -- and the stars in the sky, which might be considered less of a crowd-pleaser but to me was equally spectacular.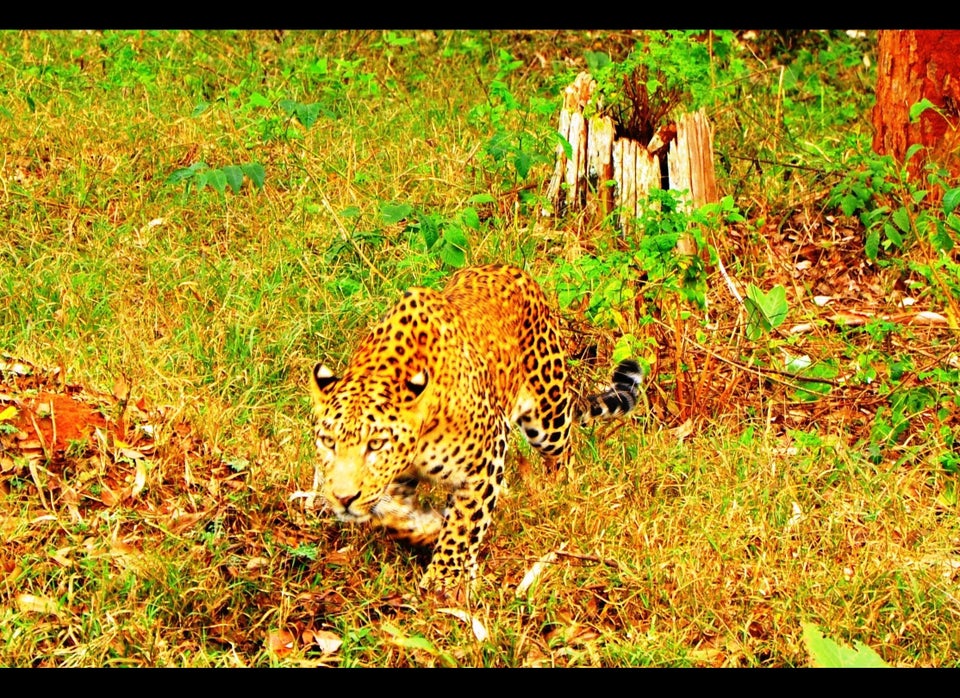 Where The Wild Things Are
Popular in the Community