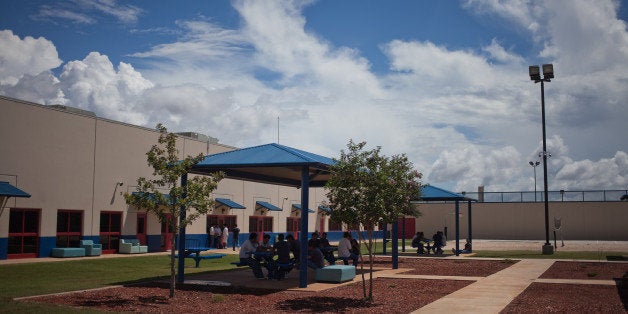 Authorities at Karnes Detention Center in Texas have responded to a hunger strike launched by a group of 78 mothers this week by placing some women in isolation with their children, according to lawyers and advocates working with the detained migrants.
The group of detained mothers announced Tuesday that they had launched a hunger strike, and demanded that they be released along with their children while they pursued asylum claims outside of detention. The Karnes facility houses hundreds of Central American women who crossed the border illegally with their children during a surge of migration from the violence-plagued countries of El Salvador, Guatemala and Honduras last year.
Jonathan Ryan, the executive director of RAICES, a legal group that coordinates the pro bono program representing many women at Karnes, says the detention center's staff punished three of the striking women by temporarily putting them in isolation rooms with their children.
"We're talking about an isolation room with a bed, a toilet, a sink from which you have to cup your hands to drink water, and lights off until meal time," Ryan told The Huffington Post. "They refer to it as a 'cuarto oscuro' -- a 'dark room.'"
In a statement, Immigration and Customs Enforcement said the Karnes facility does not have solitary confinement areas.
"U.S. Immigration and Customs Enforcement (ICE) fully respects the rights of all people to voice their opinion without interference, and all detainees, including those in family residential facilities such as Karnes, are permitted to do so," the ICE statement reads.
Agency officials denied punishing hunger strikers and said it was investigating claims that an unnamed outside nonprofit had encouraged residents to refuse food in protest of being detained.
Ryan also said that detention center staff told some women who participated in the strike that their children would be taken away if they continued, leading some women to abandon the effort.
Rebeca Flores, a member of the Interfaith Welcome Coalition, a religious organization in San Antonio that works with immigrants, drives an hour every week to visit women in the detention center. She said one of the women she has visited several times over the last three months was placed in isolation with her 11-year-old son because she had helped organize the hunger strike.
"She was humiliated because her son was 11 and she was having to use the bathroom in front of him," Flores told HuffPost.
The letter says that authorities won't release some of the women because they have prior illegal entry charges on their records. Others, they say, have remained in detention even though they don't have such charges and they have passed a "credible fear" interview -- the first step toward establishing a claim for asylum. Others can't leave the detention center because the they say the bond is too high for them to pay.
The women write that they will refuse to work at the detention center or to send their children to the school established there during the hunger strike.
Some 68,541 unaccompanied minors crossed the border illegally last year, along with another 68,445 women traveling with children -- unprecedented figures for minors and family units that further polarized the longstanding debate over how to address illegal immigration. The vast majority of the migrants come from the so-called "Northern Triangle" countries of Central America -- El Salvador, Guatemala and Honduras -- where homicide rates are among the highest in the world and problems with forced gang recruitment have pressed families to look for ways to send vulnerable children to the north.
One way President Barack Obama's administration has addressed the surge in illegal crossings by unaccompanied minors and mothers traveling with children was to expand the number of family detention beds, in an attempt to show that migrants who cross won't necessarily be allowed to stay. The administration temporarily used a detention center in Artesia, New Mexico, to house migrant women with children, and constructed a 2,500-bed family detention facility at Dilley, Texas.
Vicki Gaubeca, the director of the American Civil Liberties Union's Regional Center for Border Rights, says family detention further traumatizes people who likely qualify for asylum based on claims of persecution in their home countries.
"There's no amount of improving conditions that justifies locking up children and moms," Gaubeca said. "It has a strong emotional and psychological effect on children, and the women who are basically there fleeing violence in their home countries. This is a really inappropriate way to deal with people who are applying for asylum in this country."
Support HuffPost
Every Voice Matters
Before You Go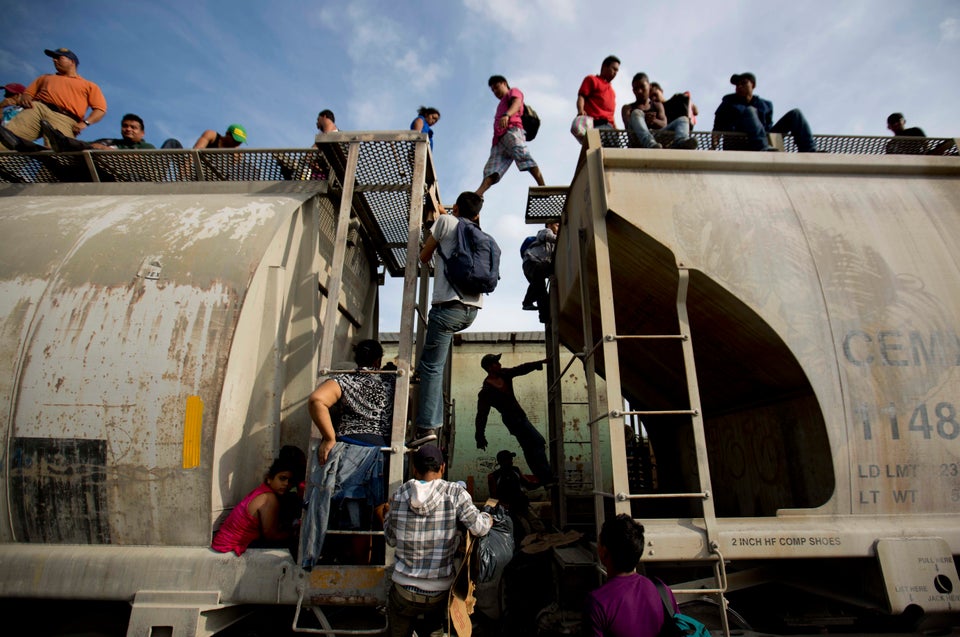 Why Latin Americans Really Come To The U.S.
Popular in the Community