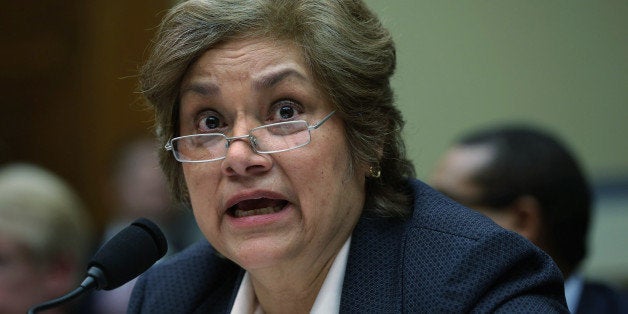 Three immigrant women who say they were punished for joining a hunger strike in a Texas family detention center on Thursday sued U.S. Immigration and Customs Enforcement and GEO Group, the company that operates the facility.
The lawsuit, filed in federal court against ICE Director Sarah Saldaña and personnel at the Karnes County Residential Center, seeks to prohibit ICE and GEO from putting women and their children in isolation as punishment for protesting, and from threatening to separate mothers from their children.
"All we're asking is that under the First Amendment, for ICE officials and GEO officials to stop retaliating against the women and allow them to peacefully protest," said Ranjana Natarajan, an attorney with the University of Texas Civil Rights Clinic, which filed the lawsuit on behalf of the women.
The women were part of a wave of some 68,000 family units that crossed illegally into the United States last year and presented themselves to border authorities asking for asylum. A roughly equal number of unaccompanied minors crossed illegally into the U.S. last year as well, prompting concerns of a humanitarian crisis at the border. The vast majority traveled by land from the violence-plagued Central America countries of El Salvador, Honduras and Guatemala.
Several of the women allege that detention center guards punished them by locking them in isolation rooms with their children. They also say guards repeatedly told them that if they continued to refuse food, they would be considered incompetent to take care of their children and would be separated from them.
"They were using the most powerful threats to silence them, which is threatening to remove their children," Natarajan told The Huffington Post. "The law is pretty clear that people have the right to express their views and these women have been peacefully protesting. Nobody has been put in any danger, so the ICE and GEO reaction has been nothing short of excessive bullying."
Some hunger strikers wrote out the word "libertad," Spanish for "freedom," using one letter each on a series of sheets of paper, and chanted the word in front of guards, according to the lawsuit. In response, a GEO employee asked the women to sign a note saying that they had committed "insurrection" and that the signs were used to alert a helicopter that would rescue them from detention, according to the complaint.
"Plaintiff and the other sign-holders were not attempting to escape via helicopter," the complaint says.
Detainees at the facility are generally permitted to work for up to three hours daily, earning $3, which many detainees use to buy phone cards. The complaint says guards prohibited women who refused to abandon the hunger strike from working.
"GEO guards told some hunger strikers that if they continue protesting, things would look very bad in their immigration case," the complaint says. "GEO guards told some hunger strikers they would be deported if they continued their strike. Deporting an asylum-seeker means sending her back to life-threatening violence she was attempting to escape with her children."
The ICE director visited the detention center last week and said it was running smoothly.
"Director Saldaña has every confidence in the staff and contractors at the Karnes facility to maintain a healthy and safe environment for residents in which issues and concerns are addressed quickly and appropriately as they arise," ICE said in a statement emailed to HuffPost.
GEO questions whether hunger strikes occurred. The company emailed a statement to HuffPost, saying: "The Karnes County Residential Center provides high quality care in a safe, clean, and family friendly environment, and onsite U.S. Immigration and Customs Enforcement (ICE) personnel provide direct oversight to ensure compliance with ICE's Family Residential Standards."
"We came here looking for help," Cruz said. "But they treat us like criminals."
Popular in the Community