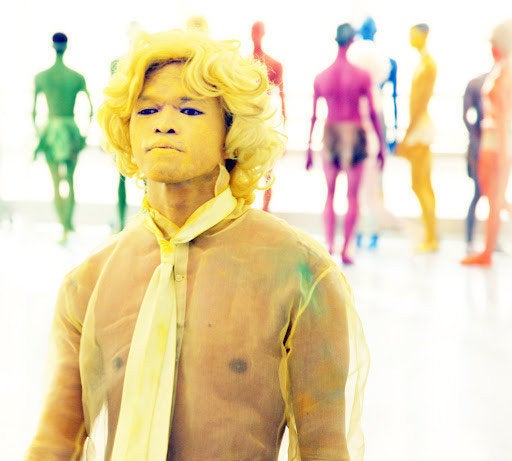 Karole Armitage is, to put it bluntly, a force of nature. The prolific choreographer has been labeled the "punk ballerina" by countless publications, but when asked about the title she waves it off. Not that it no longer suits her, just that it's no longer how things are judged -- a culture where these two polarities matter doesn't really exist anymore. When she did "Drastic-Classicism" in 1981, audiences were shocked by a man in a tutu. Today, things are a bit different. In an interview with HuffPost Arts, she says, "Corporate power is so pervasive. That's why I'm so proud of dance. We really do offer an alternative: it's another way of thinking, and something you don't often see on TV."
In her new series of works, exuberantly titled, "Werk! The Armitage Gone Variety Show," the seasoned choreographer incorporates a number of dance movements and martial arts feats, from capoeira to voguing. Twenty-six dancers in brightly colored costumes and smeared in full body paint will take to the stage from May 2-5 at Abrons Arts Center in New York. When asked about the politics behind the production, Armitage laughs. "It's really carnivalesque in that sense, where the underclass takes on the role of the people who have power. It's fun and playful." She continues, "Really what this piece was about was my deepest instinctual reaction to blur the boundaries."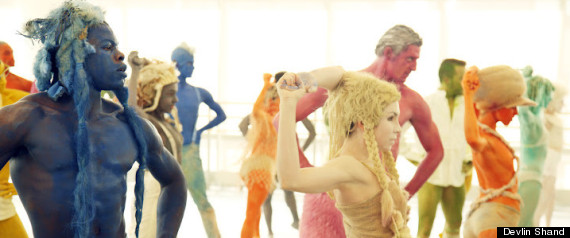 Photo by Devlin Shand.
L-R: Marlon Taylor Wiles (blue), Abbey Rosener (white) and ensemble.
With help from Peter Speliopoulos (costumes), David Shea (commissioned score), and Clifton Taylor (lighting), her latest piece, titled, "Rave" is sure to overwhelm and inspire. Armitage said that even though the piece was conceived as a response to 9/11, it was meant as the opposite of a funereal dirge. "Let's just do something exuberant and life-affirming and... fun!" the choreographer announced. Because it's Armitage, people followed.
In addition to "Rave," Armitage's variety show will feature the work of Kalup Linzy (a prolific HuffPost blogger), Will Cotton, Doug Fitch, Aida Ruilova and William Wegman. In case you were wondering: yes, it's that William Wegman, and his contribution will involve an elegant dog joining in for a dance number. However, we were particularly intrigued by Will Cotton's "Cockaigne," which is a response to Katy Perry's hit song, "California Gurls," and was composed by Caleb Burhans and our hero, John Zorn.
Taking chances is an important part of living as an artist, and Armitage exemplifies these risks in her pieces. From her choreography for Madonna's "Vogue" video to her work on the Broadway hits "Passing Strange" and "Hair," she pushes dance to the limit. As she said in our interview, "I believe in marginality. I'm very happy to not be a part of the mainstream." In this way, the strength of "Werk! The Armitage Gone Variety Show" lies in its weakness. It is not for everyone, nor should it be. But it will appeal to those who want to see something unexpected at a time when dance has been playing it safe. Armitage says, "I just thought: dance has gained its liberation. We don't have to say no. We can say yes again, and be expressive."
BEFORE YOU GO