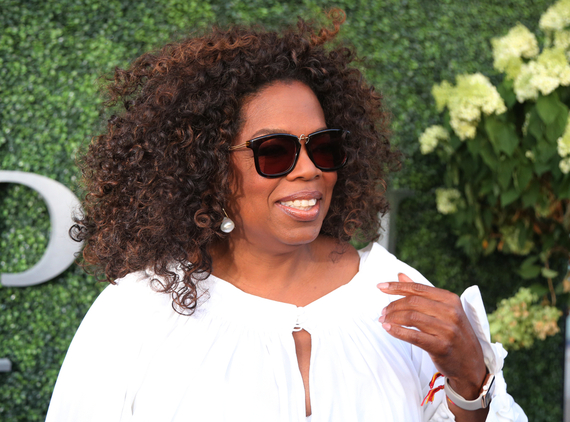 I felt the nostalgia of International Women's Day as I scrolled through my Facebook and Twitter feed on Tuesday, March 8. It went a little like this:
A woman standing shaking hands with Maya Angelou. "I loved meeting Ms. Angelou, too," I recalled.
A group of biz women celebrating at an event. "I love this," I said aloud.
A split pic of Maya Angelou and Oprah with an inspirational quote. "Wow, that makes me want to take over the world," I mumbled.
And then like The Grinch Who Stole Christmas, this "ratchetedness" bubbled up in my newsfeed ...
Karrine "Superhead" Steffans took to Twitter to speak out against slut shaming and Black female politics. What could have been an inspiring, riveting conversation that we're always open to receive, was met with that good ole' "keep our elders' names out your mouth" criticism.
The chaos all started when Steffans tweeted: "At 26, I was already a New York Times bestselling author, a millionaire, and sitting next to Oprah. Be inspired. You can do I."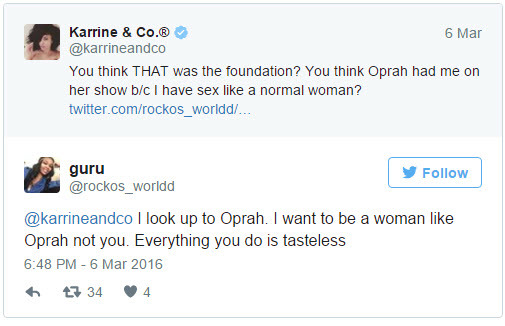 Steffans then clapped back with: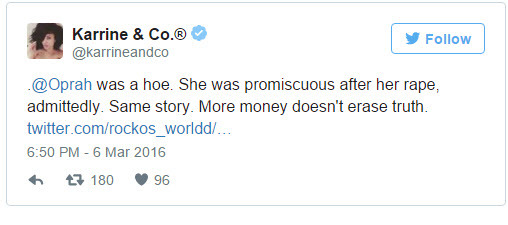 And jaws dropped wide open when she brought Ms. Maya Angelou into the mix: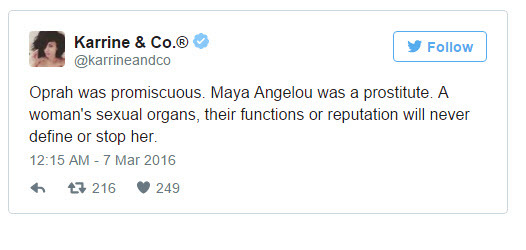 And then Steffans fired this off: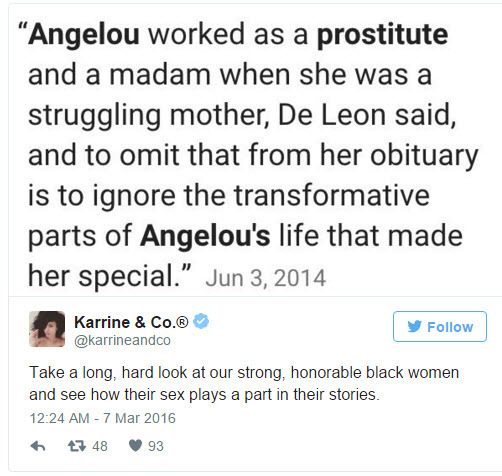 So, while I thank Steffans for giving us some truth nuggets to nibble on, I must say she went waaay too far for thinking her journey to success is anything like that of Maya Angelou and Oprah Winfrey - two of the world's most graceful and prestigious women -- simply because they had "promiscuous" pasts. The biggest difference I see is that Steffans continues to profit from her promiscuous past, while Winfrey and Angelou have left their past in the past.
Her audacity reminds me of online marketing gurus. Here's how:
Now, we all know Steffans profits from her promiscuity. So in her tweets, she talks about women not being judged by their past sexual activities. But news flash, boo - you turn your past into your present every time you go on TV or write a book talking about your sexual escapades.
Online marketing gurus essentially do the same thing, only they profit from other peoples' pasts. You see, the folks who make a gazillion dollars by selling pricey courses designed to show other people how to make a gazillion dollars play on peoples' past struggles with money to sell them the "get rich quick dream."
They get you to enroll in a 20-week course, watch 3,000 hours of videos to learn exactly how they made their riches and are now able to stretch out on the beach sipping margaritas every day.
They tell you that you're suffering from "money blocks" and if you'd only stop pushing money away, you could make that gazillion dollars this year.
And you believe them because you did drop $20 in the street the other day which signifies you repelling money. Plus, sitting on a beach sipping margaritas and making a gazillion dollars falls right in line with what you put on your vision board for this year. :)
But here's what they never tell you:
The skills and talents the guru used to make a gazillion dollars ain't necessarily your strengths. I know we live in a world where everybody thinks they can teach you anything. And while that may be true, everybody does not have the capacity to learn everything.
I'm a 5'3" chick with short arms and stubby legs. Now, let's say I come across a basketball clinic sponsored by LeBron James who says he'll teach all participants everything he knows so they can get into the NBA.
I enroll thinking I have as good a chance as anybody else, right?
Wrong. Sure I'd love some of that NBA moolah, but the odds are pretty high that I'm never gonna be an NBA basketball player.
Let me break this down for you:
People can try to sell you anything. Just like Steffans failed miserably at trying to sell the world on the belief that she has traveled much the same paths to success as Oprah Winfrey and Maya Angelou. Com'on, now! This is just as crazy as me saying I'm like LeBron James.
Anyways, people can only sell you on dreams you're vulnerable to believe. Before you go and drop your hard-earned "coin" on get-rich quick dreams, it's up to you to separate the land of unicorns and fairy dust from reality.
But hey, if you've been hustling hard and going nowhere, all's not doom and gloom. You see, I said to make sure you have the capacity to achieve the dream, not give up all together. There's a difference.
And with that final note, I'm outta here. Until next time ...
Apryl Beverly, "The Word B.O.S.S.," is a bestselling author and award-winning copywriter who slings million-dollar smack-the-buy-button sentences for solo entrepreneurs, small business owners, CEOs and marketing executives of big profitable brands.
Known for her educated, "tell-it-like-it-is" writing voice, Apryl has broken just about every grammar rule she ever learned and survived the wrath of her English teachers. Grab your copy of her wildly popular, FREE "Write Like A B.O.S.S." guide today and find out more about her brand new book that smashed the Amazon Best Seller's List by hitting the #3 and #4 spots in 3 high-profile categories.