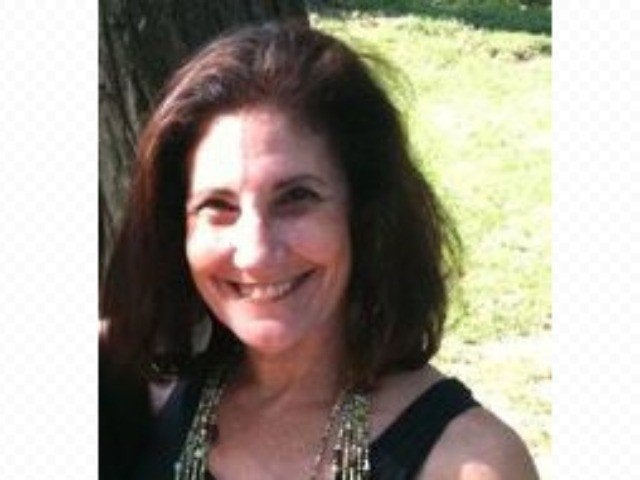 By Murray Weiss, Jill Colvin, Leslie Albrecht, Ben Fractenberg and Tom Liddy
MANHATTAN — A public school teacher, filmmaker and Pratt Institute instructor was beaten to death by her son in her Midtown high-rise building Tuesday morning after the teen had a seizure, sources said.
Karyn Kay, 63, an English teacher at LaGuardia High School, was found with severe head trauma at 9:30 a.m. by cops who responded to a 911 call at West 55th Street and Eighth Avenue. The high school where she worked counts among its students Madonna's daughter, Lourdes, and among its alumni, writer Jonathan Lethem.
She was rushed to New York Hospital where she was pronounced dead, police said.
"I've never felt so much love for a teacher," said a 19-year-old former student at LaGuardia, who took Kay's creative writing class in her senior year.
"She cared so much about her students, even students who were cruel to her and resistant to work. She really believed that no matter who we were, we were smart and had something to say. She really believed in all of us."
The student, a songwriter, said Kay, a writer and filmmaker, took her craft seriously and her discipline inspired students.
"My life is all about creativity and she definitely affected the way I think about creativity," the student said. "If there was something she had to write about it, she saw it as the most important thing, and that's how I feel about songwriting."
"She had a really warm spirit," the student said. "I can't believe this."
Sources said that Kay's 19-year-old son, Henry Wachtel, had a seizure and beat her when the episode ended.
According to other sources, the victim had called 911 to ask for help with her son's seizure when the teen allegedly attacked her. Wachtel was charged with murder late Tuesday night.
The victim's Zumba instructor, Irena Meletiou, of Astoria, said that Kay told her that her son was having anger issues.
The teen "was having some kind of anger issues and she was trying to figure out why," Meletiou said. "She said, I'm worried about my son."
A teary Meletiou, who had known Kay for about a year, said that she was shocked at the news. "I couldn't believe it," she said. "She was a wonderful mom."
Neighbor Leigh Miller, 54, who lives on the same floor as the Kays, said that the victim and her son had a "volatile" relationship. "The furniture would be flying," she said. "It was a very unhealthy, dysfunctional mother and child relationship."
At times, the situation got so bad that "I would go down and tell the doorman that they're really at it again," she said."It doesn't surprise me that things spiraled out of control." Still, she said Kay's son was "very quiet" and "very protective of his mother."
According to her bio on Pratt's website, Kay, a visiting instructor, has written three books on film including "Women and the Cinema: A Critical Anthology," "Myrna Loy" and "Besides Berman."
She was working on a feature film, tentatively titled "Service" and has written and produced the feature film "Call Me" (1988), starring Steve Buscemi, as well as several shorts, the bio said. And she conducted the first interview with Dorothy Arzner, the first woman director in Hollywood.
Kay also frequently wrote letters to the New York Times on a variety of subjects, including bullying in school and teacher pay.
Her death left neighbors shocked. "I spoke to her last night," said Jonathan Cohen, 49, who lives on the same floor as the victim. "I'm shocked. She was a very nice person."
Another, Mary McKenzie, said that Kay looked worn out recently. "I can't wrap my head around it," she said. "She seemed really worn out and tired."
Some of Kay's students at LaGuardia lauded her teaching on the site, ratemyteachers.com. "She's honestly a great teacher and willing to help her students. She got me a little interested in black and white films," wrote one reviewer on Dec. 27, 2011. "Knows her stuff in film."
Another wrote: "ms. kay = embodiment of amazingness. she makes sure that everyone's opinions are heard and considered.
The motive was not immediately clear.
Related
Popular in the Community