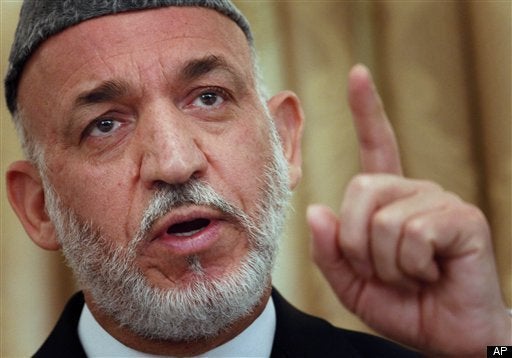 KABUL, Afghanistan -- Upset by the recent arrest of a key adviser accused of taking a bribe, Afghan President Hamid Karzai on Wednesday sought to have more oversight over the work of a new anti-corruption task force.
"What they're trying to do, what they're saying to us is: 'We don't care what you think. We've had enough,' " the official said.
Mohammad Zia Salehi, the head of administration for the Afghan National Security Council, was arrested last week and accused of accepting a car in exchange for his help in seeking the release of a suspect detained in another corruption case, said Fazel Ahmad Faqiryar, first deputy attorney general.
He said the attorney general's office has wiretaps of Salehi discussing the vehicle. "He tried to use his influence in different departments to free that guy any way possible," Faqiryar said.
Karzai gathered his top law enforcement and justice officials at the presidential palace Wednesday to hear from a delegation he asked to monitor the work of the Major Crimes Task Force. U.S. and British law enforcement officers serve as advisers to the task force, which was set up to battle graft and corruption that has become endemic in Afghan society.
U.S. Federal Bureau of Investigation Director Robert Mueller was in Kabul in February to help inaugurate the task force headquarters.
A statement issued by Karzai's office said the task force has worked within the legal framework of Afghanistan, but in some cases, its activities violated human rights. After listening to the delegation's report and recommendations, Karzai stated that the Ministry of Justice should monitor more of the activities of the Major Crimes Task Force.
The task force's work should follow Afghan law, respect Afghan values and respect the national sovereignty of the nation, the statement from Karzai's office said.
"All the cases, which are being investigated and those cases that have been completed, should be reviewed by the delegation and the outcome of its assessment should be reported to Karzai's office," the statement said. "All the activities -- arresting, investigation, questioning and detention -- should be based on the principles and laws of the country and respect human rights."
Calling all HuffPost superfans!
Sign up for membership to become a founding member and help shape HuffPost's next chapter