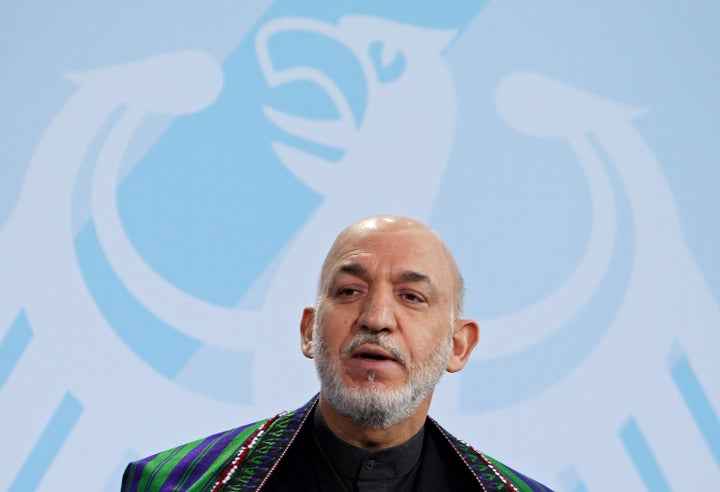 KABUL - President Hamid Karzai's scathing attack on the West for its role in Afghanistan drew criticism from Afghan politicians after the White House described his remarks as genuinely troubling.
Despite Karzai's attempt at damage control, including a telephone conversation Saturday with Secretary of State Hillary Rodham Clinton, his allegations laid bare the growing mistrust between the Afghan government and its international partners as the United States and NATO ramp up troop levels to try to turn back the Taliban.
Moreover, on the same day of Karzai's call to Clinton, he also held a private meeting with dozens of Afghan lawmakers where he "lashed out at his Western backers for the second time in three days, accusing the U.S. of interfering in Afghan affairs and saying the Taliban insurgency would become a legitimate resistance movement if the meddling doesn't stop," the Wall Street Journal reported.
Mr. Karzai, whose government is propped up by billions of dollars in Western aid and nearly 100,000 American troops fighting a deadly war against the Taliban, made the comments during a private meeting with about 60 or 70 Afghan lawmakers Saturday.

At one point, Mr. Karzai suggested that he himself would be compelled to join the other side -- that is, the Taliban -- if the parliament did not back his controversial attempt to take control of the country's electoral watchdog from the United Nations, according to three of those who attended the meeting, including a close ally of the president.
Karzai's earlier remarks, during a speech on Thursday, heightened an ongoing political power struggle between Karzai and an increasingly independent-minded parliament, which has refused to confirm nearly half of his Cabinet nominees because they were allegedly incompetent, corrupt or too weak to resist pressure from powerful people.
During the speech, Karzai lashed out against the U.N. and the international community, accusing them of perpetrating a "vast fraud" in last year's presidential election as part of a conspiracy to deny him re-election or tarnish his victory.
He also said foreigners were looking for excuses not to help fund the September parliamentary elections because they "want a parliament that is weak and for me to be an ineffective president."
Karzai also suggested that parliament members who threw out a presidential decree strengthening his power over the election process were serving foreign interests.
That drew a sharp rebuke Saturday from Yunus Qanooni, speaker of the lower house of parliament and a former Karzai Cabinet minister who finished second in the 2004 presidential election.
"This is the house of the people and all the members have been elected," Qanooni told parliament. "It's not possible that we would be influenced by foreigners."
Other lawmakers also expressed outrage over Karzai's remarks, which they considered a clumsy attempt to appeal to Afghan national pride which has been strained by the presence of thousands of foreign troops.
"This was an irresponsible speech by President Karzai," lawmaker Sardar Mohammad Rahman Ogholi of the northern province of Faryab told The Associated Press. "Karzai is feeling isolated and without political allies. ... The fight against terrorism, corruption, and narcotics requires a strong government. Unfortunately, the Karzai government is far too weak to fight all these elements."
Another lawmaker, Daoud Sultanzai of Ghazni province, said he was afraid the speech permanently damaged Karzai's relations with Washington, even though the president did not specifically mention the United States in his remarks.
Sultanzai said Karzai's allegation that some lawmakers take orders from foreign embassies was "total rubbish."
"He takes more directives from the U.S. Embassy," Sultanzai said of Karzai. "U.S. troops are protecting him, not us."
Karzai attempted to clarify his remarks, which White House press secretary Robert Gibbs called "genuinely troubling," during a telephone call Saturday to Clinton. She told him they should focus on common aims for stabilizing Afghanistan, according to State Department spokesman P.J. Crowley.
"They pledged to continue working together in a spirit of partnership," Crowley said. "Suggestions that somehow the international community was responsible for any irregularities in the recent election is preposterous."
A U.N.-backed watchdog threw out nearly a third of Karzai's votes in the Aug. 20 ballot, forcing him into a runoff that was canceled after his remaining opponent dropped out saying he had no assurances that the second round would be any cleaner than the first.
The parliamentary elections had been set for next month but were pushed back until September, among other reasons to allow time to reform and restructure the government's election commission to prevent vote fraud.
Karzai delivered the speech to Afghan election workers, and it appeared the remarks were designed to set the stage for a shake-up in the Independent Election Commission rather than set a new foreign policy line. Karzai said he might have to replace two top commission officials because of international pressure.
Nevertheless, the tone of the speech reflected the strain in relations between Karzai and the Obama administration, which has been far more critical of his stewardship than former President George W. Bush -- especially his failure to curb corruption and improve governance.
A strong Afghan partner is key to the Obama strategy of winning over the civilian population and turning Afghans against the Taliban.
Karzai had been strongly critical of international troops for placing civilians at risk during military operations. U.S. and NATO commanders have been minimizing the use of airstrikes and heavy weapons if they threaten civilians. The new tactics have reduced the percentage of civilian deaths attributed to NATO, according to the United Nations.
But they have also complicated some military operations. On Friday, Taliban fighters attacked German troops on a bridge-building and mine-clearing operation in Kunduz province, triggering a gunbattle that left three German soldiers dead. Local government chief Abdul Wahid Omar Khil said German and Afghan troops were unable to use heavy firepower because the militants were firing from civilian homes.
On Saturday, the Afghan Defense Ministry said German soldiers rushing to the scene of the battle killed six Afghan troops when they mistook them for insurgents. The German central command confirmed the account but put the Afghan death toll at five. The German commander in northern Afghanistan, Brig. Gen. Frank Leidenberger, called his Afghan counterpart to express "his profound dismay," the German military said.
German officials in Berlin say German Chancellor Angela Merkel called Afghan President Hamid Karzai on Saturday to express her condolences over the accidental killing of Afghan soldiers by the German military. The official said Karzai expressed sympathy regarding the deaths of three German soldiers in Afghanistan.
German forces were sharply criticized last September when they ordered an airstrike on two tanker trucks that had been captured by the Taliban. Up to 142 people died, many of them civilians.
The attack led to the dismissal of the head of Germany's armed forces and the deputy defense minister. The defense minister at the time of the airstrike, Franz Josef Jung, also quit his new job as labor minister.
Related
Popular in the Community