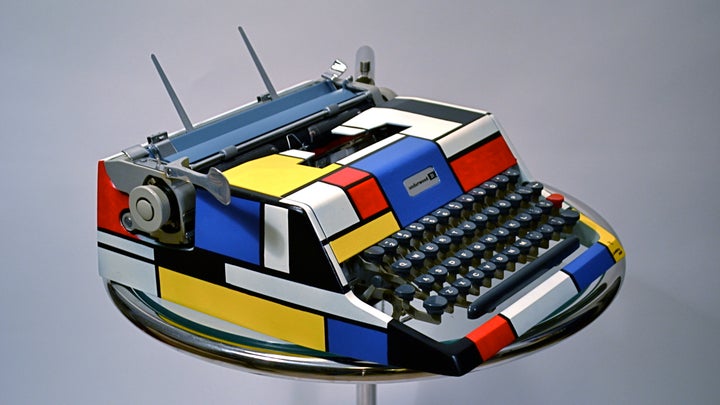 "It's a cool object in the simplest terms and I thought that there are people in this economy who still want high design but are looking for something functional as well," said Chase Gilbert, the managing director and man behind Kasbah Mod. "At the same time, there's been a return to analog technology and I think people can really appreciate how well something works and how cool something looks, even 70 years after its production." Gilbert obtains the typewriters through a combination of scouring antique shops, getting calls from strangers who have heard Kasbah Mod and buying up large private collections.
The typewriters have their original guts repaired to ensure their workability and are outfitted with stylish custom paint jobs, some even modified with custom ink. The line has mutually benefitted from a relationship with Fab.com, the fast-growing daily deals site that launched in June 2011. Gilbert says it began when he had a chance encounter with David Branham, director of sale operations at Fab, two years ago at International Gift Fair in New York. This meeting would eventually lead to the sale of Kasbah Mod typewriters on a monthly basis on Fab.com.
Gilbert's typewriters have since gone on to become some of the site's bestselling items ever. "It's a great partnership," Gilbert said. "They're extremely collaborative, extremely creative and really fun to work with." Gilbert added that between Fab.com and direct sales, around 75-100 machines are sold each month at prices ranging from $200 to $1,200. Fab even offers an exclusive Gilbert creation that would make Midas envious -- the world's first 24-karat gold-plated typewriter, on sale for $955.
The partnership is also another means for the products to reach the new market for the typewriters, one Gilbert remarks is distinctly different from the past market. "It was traditionally dusty, old grandmother's kind of antique shops," Gilbert said. "You had antique collectors and a certain kind of following in the older community, but our demographic is decidedly different. Our demographic is young people, around 15-40, that are buying these items as design objects. That's not to say they're not using them but it's not the antique collector type."
Gilbert's other projects are also tinged with throwback functionality and aesthetic. Kasbah Vintage is a collection art deco home decor and so called "urban archeology" while Gold Rush Leather features bags made from fine "boot leather" in an American West style. Gilbert's products are spreading their reach with sales on sites such as One Kings Lane, displays at product shows and will even have some major department stores carrying products by next holiday shopping season.
In the meantime, the sales continue to pile up for Gilbert's throwback typewriters. "For me, I'm connected all day long with my iPhone and my iPad, constantly on the phone, and it's nice to get home and work on a typewriter," Gilbert said. "It frankly gives me more focus and it gives me a break living in New York and dealing with the non-stop connectivity. It really slows things down and I think people appreciate that."
Popular in the Community