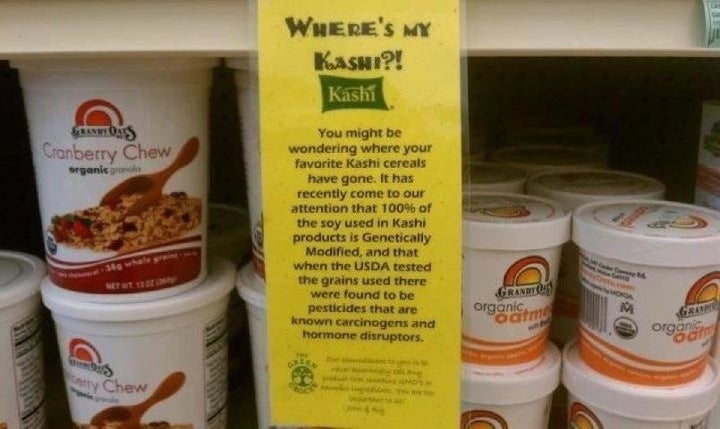 The sign on the shelf of the Green Grocer read:
"You might be wondering where your favorite Kashi cereals have gone. It has recently come to our attention that 100% of the soy used in Kashi products is genetically modified, and that when the USDA tested the grains used there were found to be pesticides that are known carcinogens and hormone disruptors."
As The New York Times reported in February, though GMOs can make crops more resistant to drought, herbicides and pests, many scientists say it's too early to know their side effects. And even though an estimated 90 percent of soybeans, corn, canola and sugar beets in the U.S. are grown with transgenic seeds, according to the Times, 93 percent of consumers say foods with GMOs should be labeled as such, which helps to explain the outrage Kashi customers expressed on the company's Facebook page.
"Kashi will now be permanently crossed OFF of my shopping list," wrote one person, while another posted, "just saw your commercial again! what a joke! thanks for that! I ingested your food when I was pregnant!"
"While it's likely that some of our foods contain GMOs, the main reason for that is because in North America, well over 80 percent of many crops, including soybeans, are grown using GMOs," the woman says in the video. "Factors outside our control such as pollin drift from nearby crops, and current practices in agricultural storage, handling and shipping have led to an environment where GMOS are not sufficiently controlled."
According to Kashi's website, they sell 25 different cereals, 26 varieties of snack bars, 15 frozen entrees, 9 types of crackers, 4 kinds of hot cereals and two flavors of waffles.
Keegan then addresses the pesticide rumors, saying that the information online is "scientifically inaccurate" and "not based on testing of actual Kashi products," but rather on general USDA data.
Mark Kastel, the nonprofit's co-director, told The Huffington Post he believes Kashi leaves consumers with the impression that no products were tested at all, despite the fact that -- while USDA data was used in evaluating the brand's agrochemicals -- an independent lab did conduct the GMO testing on a box of Kashi cereal pulled from store shelves.
"They manipulated the language [in the video]," Kastel said. "They did not make clear they were talking about us not testing chemicals: They said we never tested their products."
Further adding to that suspicion, Kastel said, was a phone conversation he had with a Kashi representative earlier this week. The nonprofit outlined what happened in their press release:
"For a period of time on Wednesday, April 25, Kashi's consumer call-in line provided only a recorded message, indicating they were "temporarily" not accepting calls. When the company again began accepting calls, a Kashi consumer affairs employee, Rick Duran, told a Cornucopia staff member that 'no actual testing' of their cereal products had been performed."
What's more, Kastel told HuffPost the video gives the impression that the use of GMOs is unavoidable.
"One of the bits of the subterfuge is they suggest in the video that GMOs are in the environment, like they're all over the place," Kastel said. "If we were talking about trace GMOs, which are under 1 percent, you could say [Kashi] was making a good faith effort and that maybe someone didn't clean the trucks out properly that transported the grain or the storage bins ... We tested their product, their Go Lean cereal product, which gets it protein from soy, and it tests 100 percent genetically engineered."
In response to Cornucopia's claims, Nicole Miller, a spokesperson on behalf of Kashi, said the following in an e-mail:
"Kashi provides comprehensive information about our foods to enable people to make well-informed choices. This year we are proud to have seven Kashi cereals carrying the Non-GMO Project Verified seal and will continue to add more products to this list. We maintain stringent standards to ensure our foods are safe to enjoy."
"What I like to say is 'natural' means anything that the sales manager decides it means on a given day," Kastel said. "With organics, there's a strong federal law defending every aspect of how crops are grown in the field and how they are processed in the factory ... there's a lot behind that organic label."