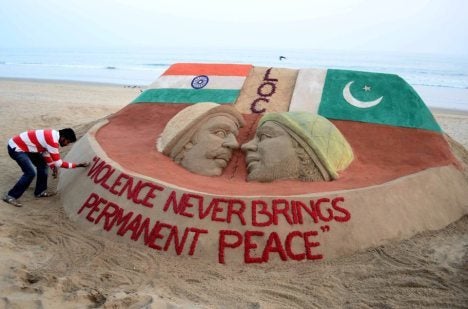 This has to be the toughest period in recent history for Kashmir. It has been locked between the government curfew and the continuous shutdown called by the joint resistance leadership comprising of Syed Ali Geelani, Mirwaiz Umar Farooq and Yasin Malik. Though jailed and house arrested, the trio has been leading the current unrest that has left 86 dead and over 11000 injured.
This year, Kashmir was deprived of Eid celebrations as the government clamped curfew across 10 districts to thwart a march to the United Nations office in Srinagar. There is hardly any sight of respite from the situation in sight. Brute force has been the only answer since 8th July, when Kashmir broke into a phase of uprising, like not seen before. An average Kashmiri youth was holding an object which looked like a stone in his hand. He believed it is a do-or-die situation and was convinced that his actions will bring political solutions to the prevailing situations, that is, "Azadi from India'.
In over two and a half months, Kashmiris have gone through a lot of violence for the first time recorded, and unbreakable period of curfew. Educational institutions, offices have been closed. Routine life has taken a blow.
Government has come forward with the theory that all the happenings is a handiwork of Pakistan and a bunch of other people who are working for their own personal interests. Nothing has been done to change the situation though.
Unlike 2008 and 2011, no one is talking about the future of the people. It is completely normal to have 11 years old boys brought dead in front of their parents, after being hit. Or, to have five deaths on Eid, because they decided to resist to the restrictions imposed.
There is a blame game going on. An All Party delegation visited Srinagar to break the ice. But it did not help much. It only enforced the stand the Indian Government already had, that is, Pakistan. There is no dialogue between the two parties which seem plausible. India comes across as in a denial mode that there might have been errors on its side too. No one seems to be addressing the problem as a political one for which dialogue and engagement is the only way out.
They might say that they were snubbed by separatists like Geelani who did not open the door when opposition MPs knocked at it. Geelani's refusal to open it might not have gone well with Kashmir's tradition of hospitality, but the way this 'dialogue' was happening it did not fit in any parameter of political engagements done to resolve a conflict – putting the opposite party in detention and expecting them to come on table is something unheard of in the history of conflict resolutions.
The state government has been grappling with the challenge of restoring normalcy, but it has failed. The approach to the crisis from day one seem to be flawed, and with the same people still in charge, how can it change the style of management?
Politically, the government has crippled. One of the PDP's founder members and Member of Parliament, Tariq Karra resigned from both the party and the parliament being unhappy with the handling of situation comparing it with the Nazis. This may not rattle the PDP, which is ruling the state in a coalition with the BJP, but it is a huge challenge to their moral authority. For PDP, one of the architects has walked away siding with the happenings in Kashmir. For BJP, leading the government in Delhi, it is reprimand. Delhi has been vehemently arguing about that elections should be held in Kashmir so that people can elect their representatives. Karra was an elected representative who defeated the former Chief Minister Farooq Abdullah, in Srinagar in 2014. How do they explain this resignation? No Member of Parliament has so far resigned from Kashmir in protest against what he called the 'state sponsored' atrocities on people.
Following a fearful attack on the Army's Uri base, which claimed 17 lives, the discourse has changed. The attention has shifted from what Kashmir has been facing to that of military and power fight.
The focus of diplomats, journalists and politicians are now on what is happening on the United Nations, where India and Pakistan are taking on each other. Such an attack is significant in view of the magnitude of loss. It has overshadowed the current situation in Kashmir. Pakistan has been pushed on back foot that has been trying to up the ante over human rights attention in the Valley. If the militants are Pakistan-based as made public by India, then Islamabad also has a serious problem and the infighting within the state is obvious. This attack is certainly shaping up many things that will happen in the coming weeks and months, with New Delhi making its stand clear.
The result of both the clash at the United Nations and this attack will determine whether Prime Minister Narendra Modi will travel to Pakistan in November to attend the SAARC meeting.
Unfolding situation in its aftermath will push Kashmir in the background both internally and externally, to address the crisis within which is the bigger challenge for joint leadership. The question here is whether Kashmir can be in strike mode, and if so for how long.
People of Kashmir seem to have been made immune to sacrifices. It is time that the leadership think about where it is heading, for more than who is more powerful, has a better leader, between India and Pakistan, finding ways to restore a peaceful daily life, without loss of life, where children are able to go to school freely, and human rights are actually enforced, is more important.
Calling all HuffPost superfans!
Sign up for membership to become a founding member and help shape HuffPost's next chapter