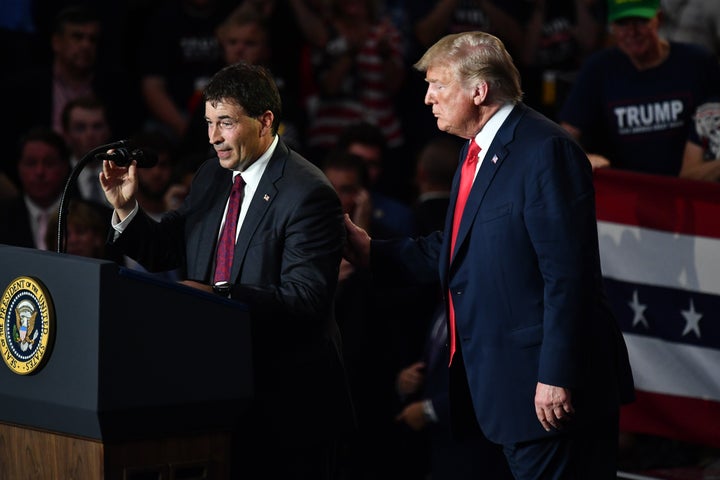 Ohio Gov. John Kasich (R) on Sunday suggested that President Donald Trump appeared at a campaign rally in his state on Saturday without a direct invitation from the House candidate he came to tout.
Kasich, speaking on ABC's "This Week," said he asked state Sen. Troy Balderson, the Republican candidate for a U.S. House seat in a Tuesday special election, point blank why he invited Trump to campaign for him at his event in Delaware County.
"I asked him the other day, 'Why are you bringing Trump in,' said Kasich, who has been one of the GOP's harshest critics of the president. Kasich said Balderson told him, "Well, I don't have anything to do with it."
"I think Donald Trump decides where he wants to go," Kasich said of the president's appearance, where after introducing Balderson and praising him, he then focused of his own agenda and his litany of complaints about the media.
"I think [Trump and his political advisers] think they are firing up the base," at such rallies, added Kasich, who was among several establishment party leaders Trump defeated for the 2016 Republican presidential nomination.
Attempts to reach Balderson's team for comment on Sunday were not immediately successful.
Balderson, who polls have shown faces a tough battle against Democrat Danny O'Connor in a district where the GOP traditionally has dominated, was introduced by Trump to the crowd as "really smart" and a "really hard worker."
The plaudits came two days after Trump mistakenly urged Republicans to vote in the special election for a someone not on its ballot ― GOP Rep. Steve Stivers. He represents a nearby district and is up for re-election on November's ballot.
Trump deleted the tweet naming Stivers and replaced it with one supporting Balderson.
If O'Connor wins Tuesday vote, he would flip a House seat that has been held by the GOP since 1982. The seat was vacated by Republican Rep. Pat Tiberi in January.
Popular in the Community