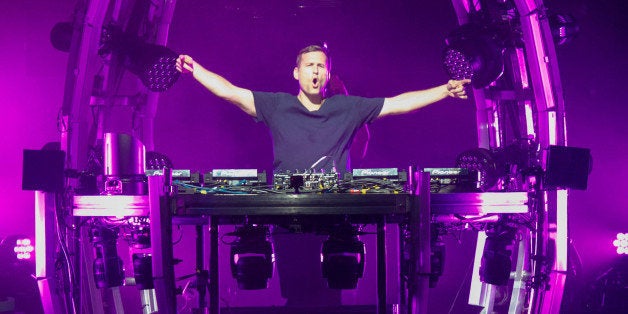 Kaskade is America's Best DJ, a point his Atmosphere tour sets out to underscore by pushing past the usual cavalcade of lasers and fireworks that big room DJs have been touring the world with for the past few years. In a set that lasted over two hours at Brooklyn's Barclays Center on Saturday night, he succeeded.
The night was characterized by a tension between the old-school, underground vibes that have inspired Kaskade throughout his lengthy career in dance music and the more progressive, pop-ish elements that perform best in rooms as big as Barclays. That give and take, between darker, more consistent breaks and harder, more emphatic breakdowns, works because it's all tied together by his canon's insistence on ethereal, high-pitched female vocalists. (An insistence, it's worth noting, that can be a bit fatiguing at times.)
While his classic tracks have already taken their place as legendary club music, Kaskade's more recent music demonstrates an even stronger songwriting capability, in the pop sense. "Atmosphere," his recently released studio album, displays a range that's uncommon among the larger acts in dance music (save for Avicii, whose "True" album blends folk and country influences with progressive house). The lead and titular single off the album features Kaskade's own vocals -- a first in his career. The 42-year-old born Ryan Raddon fearlessly sang the track at Barclays, the first of a number of live performances that included Lights ("No One Knows Who We Are," also off of "Atmosphere") and Skylar Grey ("Room for Happiness"). It was a nice touch.
Raddon also upped the ante on production, with moving LCD screens that hovered over the floor section of the audience. The DJ pulled a Beyonce of sorts, disappearing in a cloud of fog to reappear and perform from the other side of the arena (unlike Beyonce, however, he didn't fly back to the main stage, but leaving for improvement is always healthy).
Show highlights certainly included the producer's remix of Lana Del Rey's "Young and Beautiful," which is a heavy favorite for a Grammy in the Best Remixed Recording, Non-Classical category. At one point, a man in a wheelchair was seen crowd-surfing, and no pie was thrown in his face.
Intense security measures caused some delays of entry into the venue, but in the wake of press reports linking electronic dance music itself to deaths at festivals and concerts, it's understandable that ever player involved in a concert of such scale (the venue, the city, talent) would be OK with increased searches and pat-downs.
Kaskade himself has asked fans to forego illicit substance use in favor of letting him "do the work," and on Saturday, he proved that he wasn't making an empty offer.
REAL LIFE. REAL NEWS. REAL VOICES.
Help us tell more of the stories that matter from voices that too often remain unheard.
BEFORE YOU GO
PHOTO GALLERY
Forbes' Highest-Paid DJs Of 2013