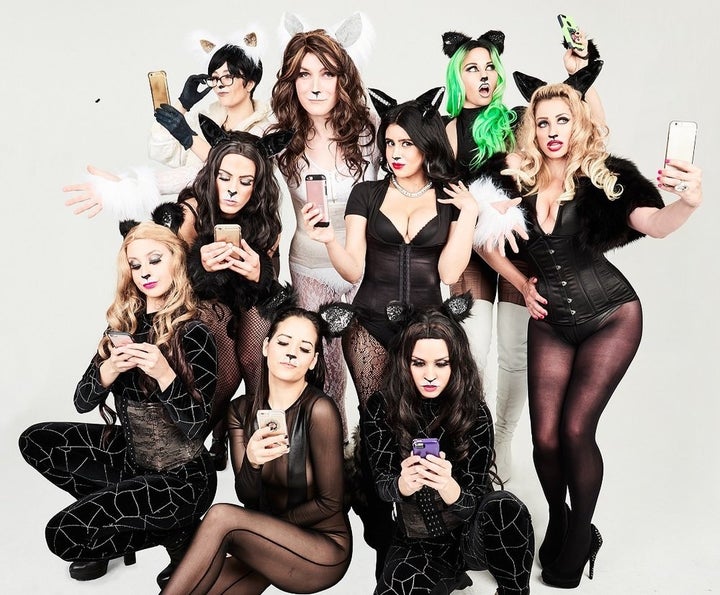 "Katdashians! The Musical!" is everything you'd want in a completely unauthorized parody musical that combines the reality queens of Calabasas and Andrew Lloyd Webber's "Cats." In one word: it's purrfect.
From the brilliantly twisted minds of Bob and Tobly McSmith, who also penned "Bayside! The Musical!," "Full House! The Musical!" and "Showgirls! The Musical!," the two-hour pop-culture extravaganza follows the Kardashian story from their early years on reality TV through Caitlyn Jenner's transition (called Catlyn in the musical) and lampoons the family in just the right way.
The Huffington Post caught up with the McSmiths (no relation), who said the inspiration for such a musical kind of "came out of nowhere" after talking with friends Bailey Nolan, who stars as Kris Jenner, and Viva Soudan, who plays Kylie and is the show's choreographer.
The writers were anything but Kardashian fans when they began writing the musical, which required hours of "mind-numbing" research: watching the family's reality show, Googling them and watching Kim's sex tape -- again.
"Tobly dragged me kicking and screaming into it. I knew nothing about the Kardashians other than [that] they are so unavoidable as it is. You know things even though you don't want to know them," Bob explained.
The research paid off, because "Katdashians" is more than hilarious -- it's an insightful and sometimes scathing critique of America's most famous family. Kim's narcissism, Kourtney's lack of a personality and Khloe's penchant for vulgarity are played up for big laughs, while the men in their lives are reduced to mere objects.
"We wanted Lamar [Odom] to be a basketball, Scott [Disick] to a puppet and Kanye [West] to not actually be there, because the men in their lives are represented and they have a strong presence, but they're also not there. And Scott's a total puppet," Tobly explained of the casting decision.
While the entire cast is brilliant, the breakout star is Peter Smith, who plays Catlyn, and sings "Meowmeries" after her transition. Casting a transgender performer in the role was paramount for the McSmiths, who held three separate auditions until Smith walked in.
"We couldn't find the perfect person to do it, and Peter Smith walked in, and we all lost our minds. They were made for the role," Tobly said. "I'm trans too, so it was important for me to write Catlyn's story, and a lot of my story goes into into those lines."
Telling Catlyn's story was the most important part of the musical. According to Tobly, when they decided to create the show, they were insistent that, true to life, Catlyn's family ended up reacting the most to the fact that she chose to spell her name with a C rather than a K after her transition.
"Those were the seeds that got planted and then we just went from there. That was so important to us, that they were mad about the C and not the K," Tobly explained. "And that was the underlining, when Caitlyn said to them, 'I just wanted to be my own person.' Like, such a huge choice."
"Katdashians" is brutally honest at times -- the way a parody musical should be. The writing duo, who'd thus far only taken on fictional TV shows to parody, said they weren't particularly concerned when it came to tackling the lives of real people.
"I would use the term 'real' loosely," said Bob, while Tobly added that the Kardashians present a public persona, and watching them on the show felt like the Kardashians were actors in their own lives.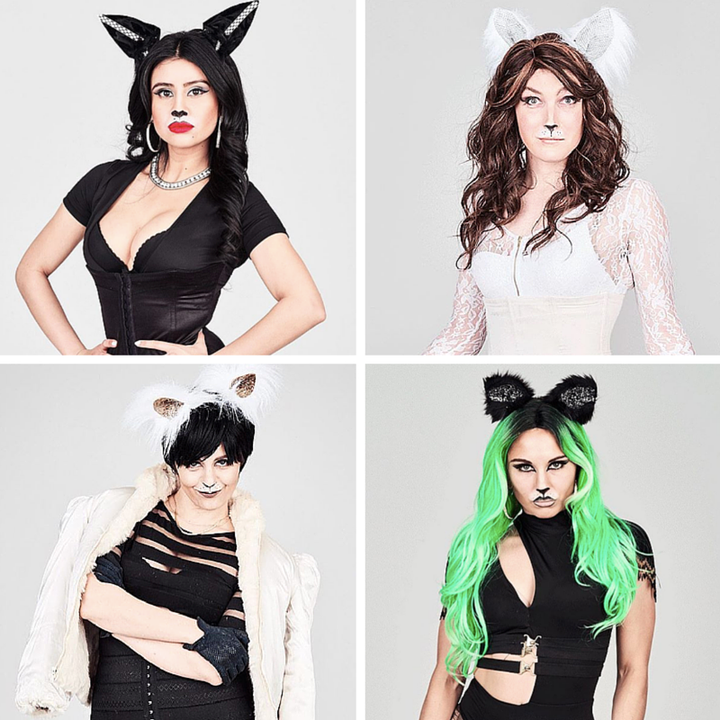 "We aren't seeking to harm them, by any means," Bob explained. "We're taking them down, but we're also building them up at the same time. We wanted to make people relate to the Kardashians, which kind of is hard to do."
When asked if they thought the Kardashians have enough of a sense of humor to see the show, Tobly admitted he had slightly higher goals.
"We want Kris to be in it. You know, she tried out for 'Chicago,'" he said. "We're hoping Kris will come be in our show. We're hoping Khloe will see it, and we're hoping Scott will bring it to 1 OAK."
Before You Go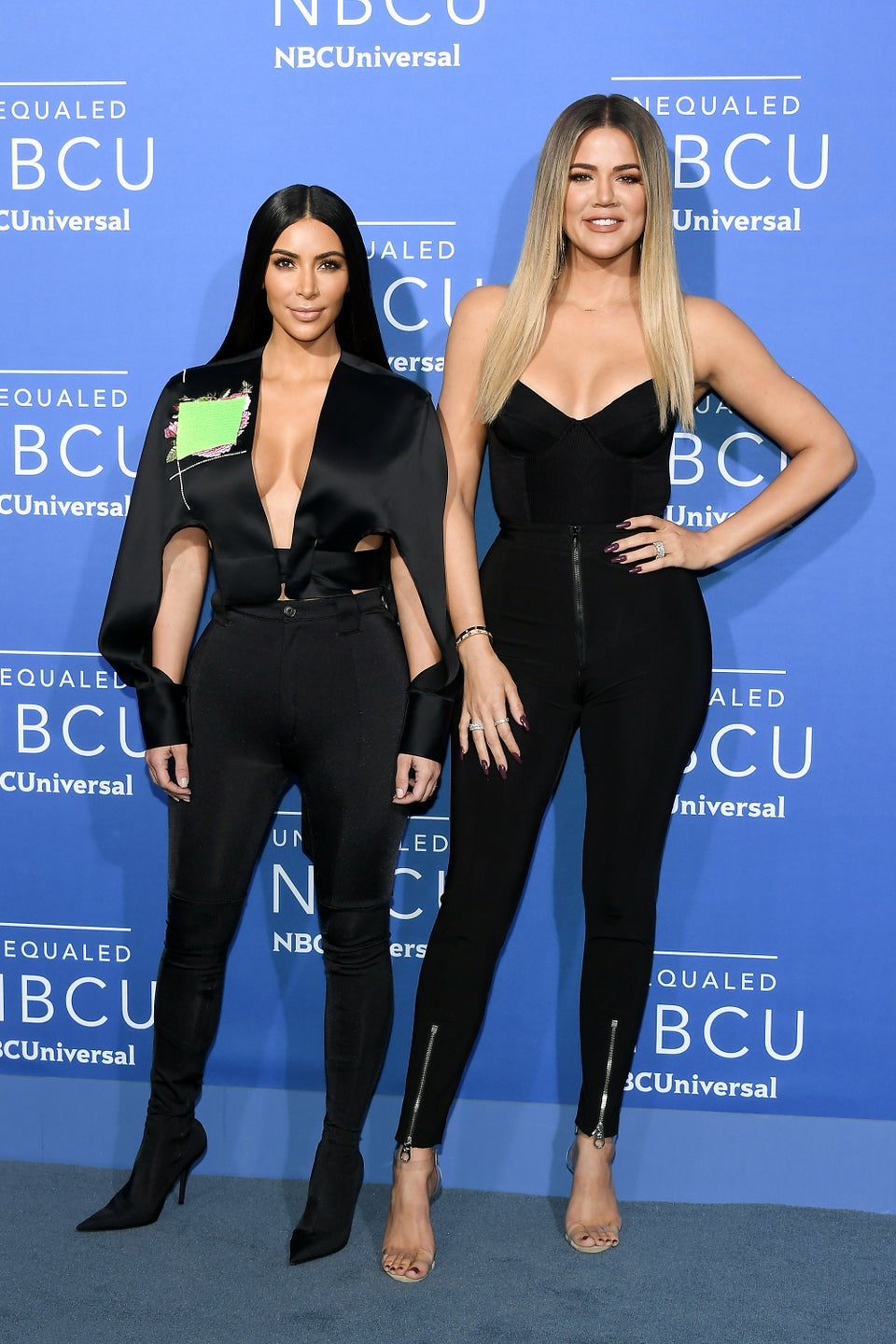 The Kardashians
Popular in the Community