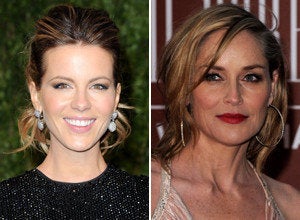 Kate Beckinsale may have some big, evil shoes to fill.
According to Deadline, "Underworld" star has been offered the role of Lori in husband Len Wiseman's remake of the 1990's Arnold Schwarzenegger-led sci-fi action classic, "Total Recall." Lori, originally portrayed by Sharon Stone, is the sham wife of Doug Quaid (Schwarzenegger) and girlfriend of Richter, the ruthless deputy from Mars out to kill Quaid.
Colin Farrell has been cast in the Schwarzenegger role, while Eva Mendes and Rosario Dawson are possibilities for Melina, a Mars freedom fighter originally played by Rachel Ticotin. Bryan Cranston will play Vilos Cohaagen, the main villain.
Beckinsale will next in another action film; she co-stars with Mark Wahlberg in the thriller "Contraband," which is a remake of the Icelandic film "Reykjavik-Rotterdam."
Popular in the Community