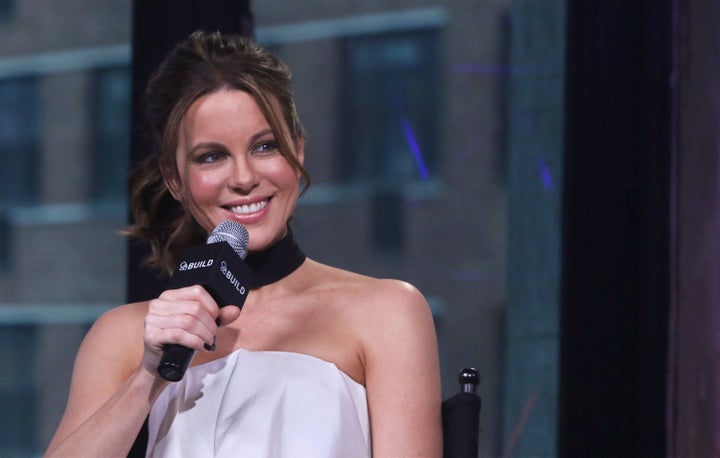 Kate Beckinsale has a message for anyone who thinks parents, especially moms, shouldn't party.
On Tuesday, the "Underworld" actress, who has an 18-year-old daughter, posted a Boomerang video on Instagram that shows her dancing with friends.
"Lend a natural redhead your necklace and it all starts popping off," she wrote in the caption.
One commenter responded to Beckinsale's post by telling her to "go home and take care" of her kid, prompting the actress to tell the commenter to get with the times.
"What's amazing is it is no longer the 18th century so now that my one child is grown I don't have to stay home (while she's out with her own friends) playing the pianoforte, getting consumption or trying to secure her a marriage," she wrote. "But thank you for the quaint blast from the past. Oh and I can vote now too! YAY."
The commenter later responded to Beckinsale's cheeky reply to apologize for the "joke."
"It's just a joke. I guess a horrible one. Lol. Sorry @katebeckinsale," the commenter wrote.
Beckinsale has been vocal before about outdated views of women. In a 2012 Allure interview, she called out people who are "worried" about women who age.
"What is it about a woman being in her late 30s that brings out the 'Oh, my gosh, are you worried?' questions? Worried? What about? My father died when he was 31. I think the alternative is so much worse. Thirty-eight, 39, 40, 50! Great! Still alive!" she said.
And in 2016, she appeared on "The Graham Norton Show" and shared comments made by "Pearl Harbor" director Michael Bay, including that he picked Beckinsale because he "didn't want someone who was too beautiful." She also said Bay wanted her to lose weight for the movie, to which she had an appropriate response.
"I'd just had my daughter and had lost weight, but was told that if I got the part, I'd have to work out. And I just didn't understand why a 1940s nurse would do that," she said.