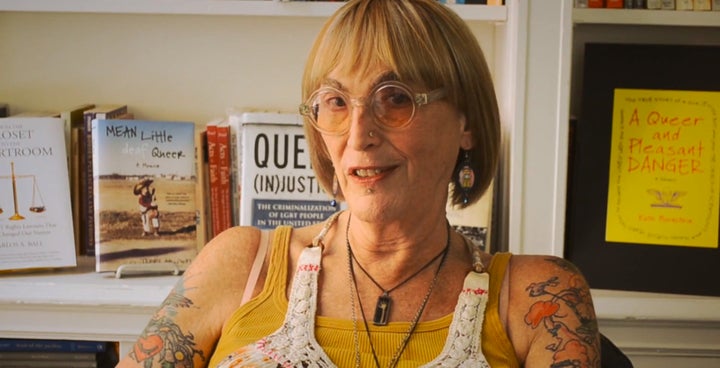 The groundbreaking transgender writer, activist and performance artist Kate Bornstein, speaking about her experiences in the Church of Scientology in 1970s, which she entered to suppress her gender identity, described in detail how she rose through the church's ranks and worked directly for the church's controversial founder and leader, the late L. Ron Hubbard.
Scientology has long been known as an antigay church which draws in many gay, lesbian and bisexual people attempting to suppress their sexual orientation. Bornstein's is the first high-profile story of a transgender person detailing an experience within Scientology. She spent 12 years in the church, married twice during that time, and had a daughter, Jessica, before leaving and seeking gender confirmation. Bornstein was excommunicated from the church, which instructed her daughter, still a Scientologist, not to have any contact her. Now 64 years old, Bornstein has not seen her daughter in 30 years.
Bornstein, who is the author of the seminal 1994 book, "Gender Outlaw: On Men, Women and the Rest of Us," describes the experiences in a smart and witty new memoir, "Queer and Pleasant Danger: The True Story of a Nice Jewish Boy Who Joins the Church of Scientology and Leaves Twelve Years Later to Become the Lovely Lady She is Today."
In her first broadcast interview about the new book, on my Sirius XM OutQ radio program, Bornstein recounted why she entered the Church of Scientology.
"I wanted to not want to be a woman," she said. "I wanted this to stop. I didn't want to be a freak. I wanted some explanation or comfort in an organization that would support me in doing that. They try to keep you cisgender. Which is really silly because in their belief system, you're not a mind, you're not a body -- you're an immortal soul. And as an immortal soul you have no gender. Well, if I am an immortal soul it shouldn't the fuck matter what gender I decide to be. But, L. Ron Hubbard's homophobia said no, no, no, no, no. He called homosexuality a perversion right up there with rapists. There wasn't even a word for transgender, so I was really sick."
She stayed in Scientology for 12 years, rising within its ranks.
"I worked on the yacht, his private yacht, the largest private yacht in the world," Bornstein said. "And I was the first mate. Then I ended up doing public relations work, directly with L. Ron Hubbard. He was daddy. He played daddy to the hilt. He was not a nice man. He was a charismatic man. He could be a really bad daddy, which you don't want. You ended up wanting to please him."
Eventually, Bornstein would be ensnared by the church leadership's well-noted paranoia.
"My last three years in Scientology I was one of the high-powered sales people," she explained. "Me and my office were putting together maybe a quarter of million dollars in income, in late-1970s dollars."
At one point, after an inquiry from a bank, Scientology interrogated her and suspected Bornstein was part of an "enemy group," or a "spy" for another country, which she says was ridiculous, because she was actually protecting the church. They couldn't find any wrongdoing, she explained, but offered her a choice between staying in Scientology and being demoted and treated terribly, or being excommunicated. She decided it was time to leave, and finally came to terms with her gender identity.
After traveling a while, Bornstein settled in San Francisco, where she transitioned, and became involved in the theater and the queer community there. She came to revere drag culture.
"Revered of course," she said. "They are queens. They are royalty. They are the bravest of all of us. So are the kings. Yes I revered them."
Later, in the 1990s, Bornstein became a star in the lesbian community in Seattle. Bornstein has not seen her daughter, Jessica, in 30 years, and ends "Queer and Pleasant Danger" with a letter to her daughter and two grandchildren.
"Scientology splits up families, and that's what happened to us," she explained. "I left -- she was 9. I was considered [by the church] a suppressive person. No one who is in good standing in the institutionalized Church of Scientology is to speak with you. I have not been able to talk with my daughter for some 30 years now. You know, when you get old, you want to leave something. You want to say, 'Hi, I've always loved you.'"
Listen to the interview here in two parts:
Part one:
REAL LIFE. REAL NEWS. REAL VOICES.
Help us tell more of the stories that matter from voices that too often remain unheard.