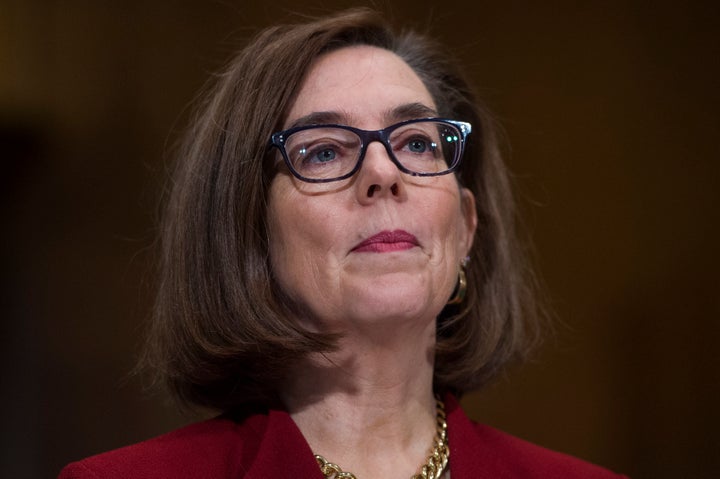 "I think it's so critically important that we have LGBTQ voices at the leadership table," said openly bisexual Governor Kate Brown of Oregon, the first and only openly gay, lesbian, bisexual or transgender person elected to gubernatorial office in the United States and one of only six women who currently hold governorships.
Speaking with me on Monday on SiriusXM Progress, Brown underscored how Oregon has been at the forefront among the states on LGBTQ rights. 
"I'm very proud of the work that we have done in Oregon to ensure that we prohibit discrimination based on sexual orientation and gender identity," she said. "Obviously we achieved marriage equality as well in 2014. And we've been able to move forward under my leadership." Brown then mentioned recent measures the state has taken to protect transgender students, and allow residents to obtain gender-neutral driver's licenses and birth certificates that reflect their gender identity.
"I've made it very clear to the adjutant general, the head of our National Guard — I am the commander in chief ― but I made it very clear to him that we would continue to allow folks in the trans community to serve," she said. "We see their service as instrumental and critical to making sure that we keep Oregonians safe, and their service is instrumental to the nation as well."
Brown has helped make history in other ways, and views the issues she's worked on as integral to one another. As secretary of state, she spearheaded Oregon's first-in-the-nation automatic voter registration system in which Oregonians are registered when they obtain or renew a driver's license, ID card or permit ― what she calls the "nudge principle," since people have to opt out in order not to register ― which has made it much easier for residents to participate in the democratic process in Oregon.
And she views voting as among the most powerful ways for LGBTQ people and others who feel threatened in the Trump era to fight back.
"I think it's critically important [for people to have] their voices be heard," she explained. "I am extremely ― I'm gravely concerned about what'a happening across this country in terms of providing barriers for people to participate in their most fundamental right, and that's the right to vote. I crafted the automatic voter registration [as Oregon's secretary of state] and, in a weird twist of fate, I signed it into law as governor. We've been able to increase the number of young people participating in elections as well as communities of color and I think it's really critical that we make the right to vote as accessible as possible to every single American."
"Closing what we call the intimate partner loophole will keep guns out of the wrong hands, out of the hands of stalkers and domestic abusers," she said of the legislation, which expands existing legislation aimed at barring gun purchases and possession among individuals with a domestic violence or stalking conviction.
"It was a priority for me this legislative session because of the impact of guns in domestic violence situations," she said. "The presence of a gun in a domestic violence situation makes it five times more likely that a woman will be killed. And in my last two years as governor, we had more than 60 deaths due to domestic violence, and more than half of those were due to guns. So it was absolutely imperative that the legislature move forward and close this loophole."
In a time when women are standing tall, speaking out against sexual assault and physical abuse, and running for office in record numbers, one role Brown sees for herself is as a leader who encourages others to get involved. 
"I think we can only make change ― and change that is resilient and respectful of the communities and continues to reflect the communities — when you have a diversity of voices at the leadership table," she explained. 
She pointed to the work ahead, noting that that she is one of only six women in the country who, as governors, are members of the National Governors Association. 
"I like to say it's the malest, straightest, whitest organization that I've been a part of," Brown said. "And it's really important that that organization reflects the diversity and experiences of people across the country."
With her determination and record of effectiveness, Kate Brown no doubt will play a part in making that happen.  
BEFORE YOU GO