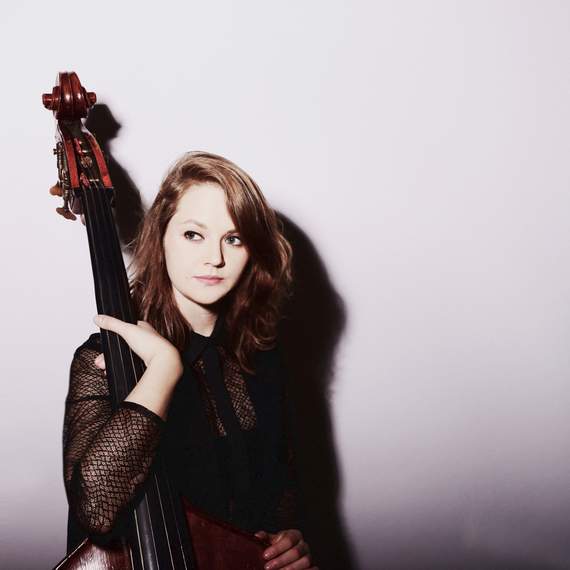 Video virality can be had in the musical cyberworld if you've got "all the right junk in all the right places." Bassist/singer Kate Davis would be a multimillionaire if she had a dollar for every click on her collaboration with the online video project Postmodern Jukebox turning Meghan Trainor's megahit into a genre-bending stride-and-swing.
With well more than 8.3 million views just since September 5, 2014, the jazzy "All About That [Upright] Bass" on Scott Bradlee's vastly stocked video jukebox (largely reinterpreting bubble gum pop into savory song) is among the top most played. His doo-wop cover of a Miley Cyrus twerk tune surpassed 11 million but took more than a year to get there.
As the cliché goes: With fame comes a price. In this case, 23-year-old Davis is hoping not to be pressed into the mold of a retro jazz crooner. She has music of her own with a creative voice yearning for recognition.

Nevertheless, Davis is thrilled with the unexpected popularity of the music video shot in Bradlee's living room. "To be honest, when we made this video, I didn't really think it through," she recalled. "I know they have a lot of loyal subscribers, and it could be subsequently shared by a lot of people. But I just thought it was a cute way to do this song."
Davis started with violin and transitioned to the deeper strings as she fell in love with the Great American Songbook in high school. That's also when she began to discover her own singing voice. She said she hadn't been playing the bass much at the time of the recording, so she muses at becoming known as the 'All About That Bass' girl.
"I didn't think it would be something people would be talking about," Davis said. "People who wouldn't talk to me in high school are now saying, 'That's GREAT!'"
So gratifying is her torchy sound for listeners of 1940's vocal jazz, Davis is presented with the choice of whether to tune her inner artist to the key of commercial success, or to assert herself as a "writer who's using her voice in a more contemporary way." The decision is made.
"I love being able to do that kind of style. I'll never shake the jazz," Davis promised. "But I'm using my background to influence and enhance what I'm doing now."
When Davis recorded the Kevin Kadish/Meghan Trainor cover in a signature style that might be coined Ella-meets-Billie, she was in the midst of "trying to just write and perform music that was a little outside traditional jazz."
Davis has played in houses that earn her the credibility to take such a stand. A lifetime in musically nurturing settings (and skipping school to play gigs) led to numerous awards including a scholarship from Americans for the Arts and engagements at Kennedy Center, Lincoln Center, the Blue Note and other notable venues. Her collaborations have found her in the creative company of Ben Folds, Kerry Washington, Joshua Bell, Renée Fleming, and guitarist/composer/violinist Rob Moose, about whom Davis swooned, "He's one of the most inspiring musicians I've known, so working with him is like 'pinch meee!'"
A multi-instrumentalist herself, Davis knows that talent alone won't torpedo her work into the smartphones of digital consumers. The exposure from her YouTube piece is an indicator of today's dependence upon the Internet for promotion and distribution. It has worked in her favor so far, and she paid homage to the almighty computer for much of the musical knowledge she possesses.
"On the other hand," she pondered, "it's a terrifying world where people sit behind their computers and say things they'd never say in person. It's great and terrible for creative people. We have to adapt to our surroundings now and live in the Internet moment, making good choices and using this tool. My younger sister knows 200 times more than I do about the Internet."
While Davis expressed gratitude for the attention garnered on YouTube, she winces every time someone misspells "bass" as "base" in the remarks she gets. But higher stakes for her lie in maintaining the integrity of the music itself, both humbled and inspired by the American Songbook to interpret those melodies and lyrics in contemporary ways. Postmodern Jukebox makes the converse possible as well.
"'All About That Bass' shines a light on that," she said. "It takes something contemporary and turns it into something with more meat from a harmonic standpoint."
Davis also addressed the controversial element of Trainor's tune about femme physique and sexual validation. "It's such a nice message. I stand by that stuff," she declared. "I can only hope to make music that affects the world in a positive way. If [the Trainor song] hadn't had such a positive meaning, it wouldn't have gone that way. It's such a healthy body image song. It's empowering for women and something that girls need to hear now."
A sense that there's an audience out there at last "makes me feel like slaving and getting things done," Davis said. "What I did with 'All About That Bass' comes from a genuine place, but it's not the full story. The people who found the other stuff are the people I'm happy to keep making music for."
REAL LIFE. REAL NEWS. REAL VOICES.
Help us tell more of the stories that matter from voices that too often remain unheard.