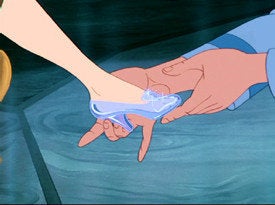 Imagine you were a little girl and one day dreamed you would grow up to be Cinderella. While she is not cleaning cinders from an evil stepmother, Kate Gauthier is living the fairy tale dream as she tours the country with Disney on Ice playing none other than Cinderella.
Gauthier started skating at the age of five, following on the heels of her parents who were skiers. The Alberta, Canada native admits she was hooked on skating because of a pond behind her house that was frozen over for most of the year. Gauthier said she was heartbroken when summer came along and the pond melted. To curb the disappointment, her parents signed her up for ice skating lessons.
Gauthier continued to skate while growing up and knew she wanted to skate professionally after high school. Yet she was not interested in the traditional competition route. So she sent in an audition video and was soon hired as a show skater. She joined Feld Entertainment in 2007 with Disney's High School Musical: The Ice Tour, followed by a tour with Disney On Ice presents Princess Classics.
She is now a principal skater with Disney on Ice, playing three roles in the 100 Years of Magic show: Cinderella, the Blue Fairy from Pinocchio and Mrs. Incredible. Gauthier loves all three characters for different reasons. Cinderella is a classic princess, she said, while Mrs. Incredible is dynamic, powerful and the opposite of the delicate features of the other characters.
But playing the Blue Fairy, Gauthier admits, is especially dear to her heart because she is fortunate to skate to the classic Disney anthem, "When You Wish Upon A Star."
Skating and touring with Disney classics is no easy feat. Gauthier admits that show days are a lot of rehearsals, company meetings and making sure everything is just right for the audience. But touring is something she loves doing, especially being able to visit all the cities in which the show preforms. And she loves that audience members throughout the world are able to enjoy world-class skating that beautifully complemented by classic Disney stories.
Gauthier loves being a part of Disney on Ice and feels she is living out her dreams. "I grew up watching the films when I was young," she said. "It's a dream come true to be a part of this and make it come alive for other kids. I get to make believe for a living. It's wonderful to be a part of the classic stories that so many people have loved over time."
Popular in the Community