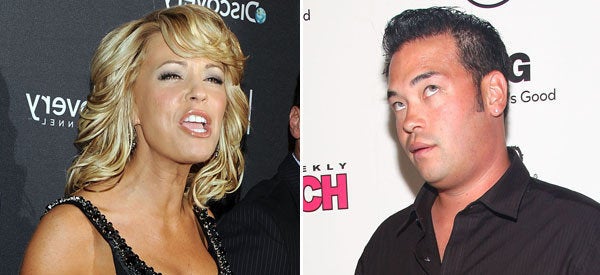 Jon Gosselin had some very tough words for his ex-wife Kate Gosselin after she said she was "freaking out" about her family's future following the cancellation of her reality show, "Kate Plus 8." He told his ex, "reality television is not a career," and that she should "get back to a normal life, simple life."

But now Kate is fighting back, telling him to mind his own business.

"I don't really have anything to say about Jon's comments because he doesn't live my life," Kate tells me. "I don't listen to anything he has to say."

Jon insists he continues to pay child support and adds "things will work out the way they should work out," even if that means Kate and the children lose their farmhouse in Pennsylvania.

And don't believe the rumors that Kate just bought a new Audi TT, priced at a minimum of $50,000. Kate says it's not true.

"No, I didn't in fact. I bought this car used in April, six months ago," Kate tells me. "The paparazzi that are following me as we speak chose not to photograph it until after my show was cancelled and make a big deal out of it. I love the tabloid media!" she jokes.

The series finale of "Kate Plus 8" will air Monday Sept. 12 at 9 pm. But something tells me it won't be the last we see of this amazing mom.

Calling all HuffPost superfans!
Sign up for membership to become a founding member and help shape HuffPost's next chapter