"I've never been a crazy makeup, spend-two-hours-in-front-of-the-mirror kind of girl," Kate Hudson recently told us. Makes sense. Goldie Hawn's daughter has epitomized a laid-back, California girl beauty ideal for years now. And in some unfair twist, the "Glee" actress manages to come off as even more luminous in person than she appears in magazines and on screen. Fortunately, Hudson was on-hand to answer our questions concerning, specifically, how she gets (and stays) so glowing, embarrassing former haircuts and beauty lessons she may or may not follow from her famous mother. For instance, when we asked her if there were any beauty tips her mom passed along to her growing up, like "stay out of the sun" or something similar, Hudson dryly responded, "My mom does not stay out of the sun. She loves the sun. But my mom's not very high-maintenance either."
That is something that apparently runs in the family. "I just remember seeing her put on makeup fast, and without a mirror, in a car," said Hudson. "My mom's no-fuss. Even with facials, I never remembered her as someone who was too focused on it. But she loves her products -- I grew up with my mom's makeup. She loves her lip gloss. She loves her lip gloss. It's like, can't live without it." Having two sons hasn't changed things for Hudson either. "I've never been fussy, even before kids," she said. "I have moments when I get girly if I'm going out with my friends, but I'm about 5 to 15 minutes in the mirror." While she's not afraid to do her own makeup for events, the face of Almay actually prefers getting it done by the pros. "I mean, why not?" she said. "I learn so much from them and it's so much fun."
Part of Hudson's low-maintenance appeal is her wash-and-go curly hairstyle, but she admitted to a time when it wasn't so easy. "When I was about 16, I had really long, long hair. They used to call me a lion in high school, because I didn't realize my hair was curly. I'd always brush my hair, and I'd have this strangely poufy hair. It wasn't frizzy, just poufy, but it looked like a lion's mane. It wasn't very attractive. At the time, Meg Ryan's little hairdo was popular, so I decided to chop all my hair off. I did it, and I came out of the salon -- it was like Supercuts or something like that. They blew it out, and I was so happy. I felt like I had all this weight lifted off of me. Then the next day I washed my hair, and I realized I had curly hair. I had a helmet. I looked like Annie. It was horrible. I could not blow out my own hair and it would get really puffy. I could never get it super straight. Now I think we have better tools to straighten it, but at the time, it was a nightmare."
When we addressed Hudson's permanent glowiness, we were curious to know if it was a result of good skincare or just good genes. "It's a little bit of both," she told us. "There have definitely been times when it hasn't been so good. I feel the older you get, the more focused you are on your skincare regime. You know, in my 20s, I probably wasn't very nice to my skin. As I got into my late 20s, I was like, oh, I should probably stay out of the sun. I should probably start doing some kinds of masks and getting more facials. And through dealing with all kinds of different things that I'd try, different products, seeing different facialists throughout the years, I realized my skin does not like to be stimulated. I'm a soap-and-water girl, pretty much. I'll use a gentle cleanser, and I don't do any crazy serums. I just do a little moisturizer and a little eye cream. Obviously you've got to drink water and sleep -- that's the hard part."
See Hudson's style through the years.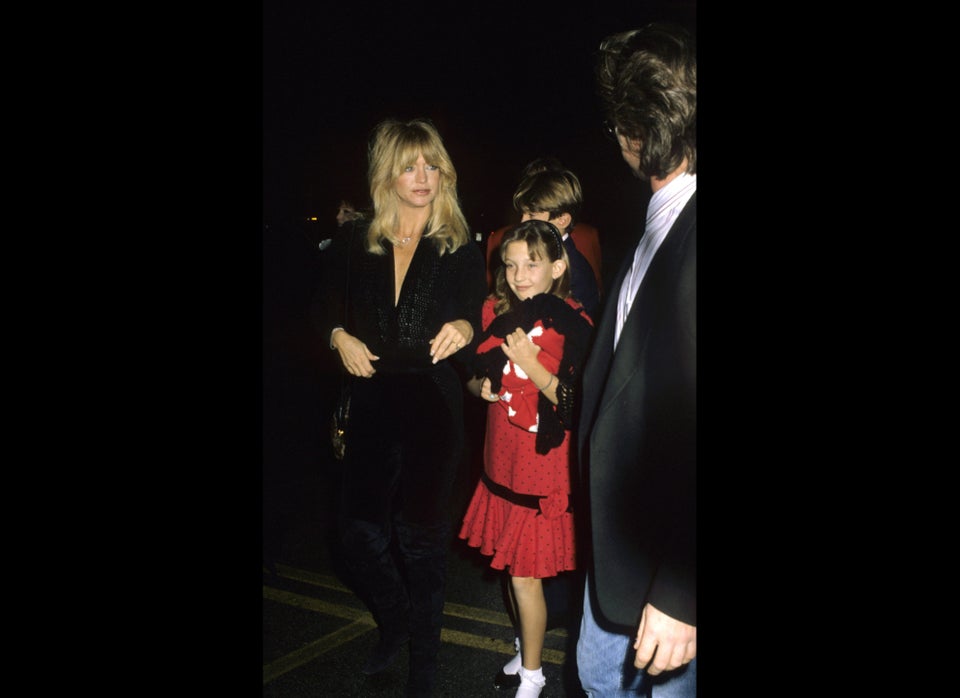 Kate Hudson's Style Evolution
Want more HuffPost Style beauty content? Check us out on Twitter, Facebook, Tumblr, Pinterest and Instagram at @HuffPostBeauty. (For everything else check out our HuffPost StyleTwitter, Tumblr, Pinterest and Instagram @HuffPostBeauty.)
Do you have a style story idea or tip? Email us at stylesubmissions@huffingtonpost.com. (PR pitches sent to this address will be ignored.)