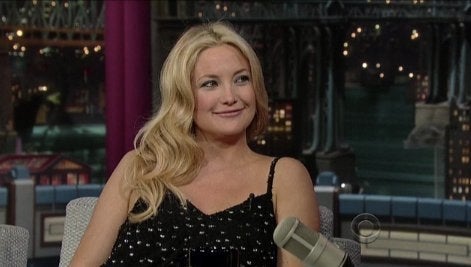 Kate Hudson stopped by The Late Show Wednesday to talk with David Letterman about her pregnancy and recent engagement to Muse rocker Matthew Bellamy.
"He is a lovely, lovely man. An English boy, a musician," she said of her new fiancé, whom she began dating last year. "And he's wonderful. I feel very lucky."
In a reference to Hudson's ex-husband, Black Crowes frontman Chris Robinson, Letterman asked, "Another musician?"
"I should have learned the first time, is that what that is?" Hudson laughed.
Hudson and her ex have maintained a good relationship since they divorced in October 2007, and share joint custody of their 7-year-old son, Ryder. She recently told Babble that she has a "deep love" for Robinson.
"Just as it takes work to be in a relationship, so it takes work to not be in a relationship," she told the website.
Hudson met Bellamy when she least expected it--at Coachella music festival last year, she told Letterman.
"It was one of those times where it was like, I am single and I'm so excited to be single, and that's of course where you meet this amazing love," she said.