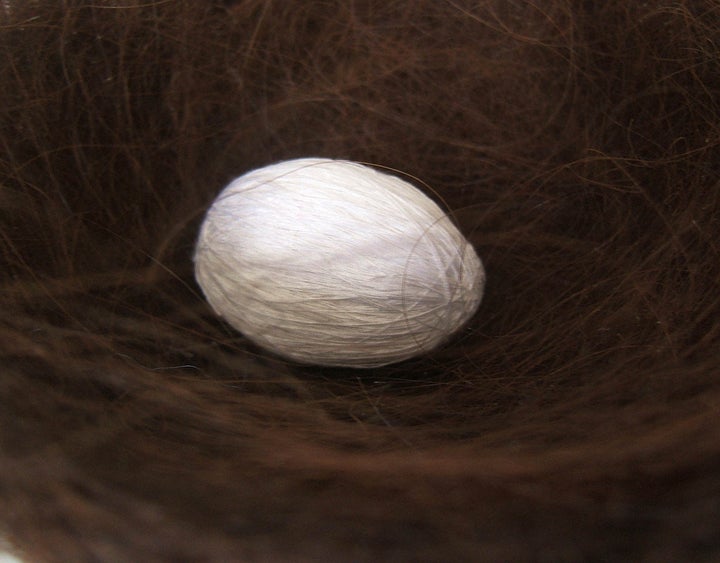 Just in time for Mother's Day, an unusual meditation on maternity is on view at Miami's Hardcore Contemporary Art Space. Artist Kate Kretz uses human hair as well as found objects to explore the fragility, tenderness, and identity shifts of motherhood.
In "The Final Word," thousands of French knots create a lamb that's been hog-tied. A Victorian-style wreath of hair cushions an egg made from pristine white thread in "Decades of Dreaming of You...".
On a paper-thin antique child's shirt, the artist used hair collected from her own scalp while pregnant with her daughter to spell out "Your fragility in this sharp world is paralyzing," a work inspired by Kretz's own postpartum-induced agoraphobia.
In another piece, Kretz has created a 3-D human heart from embroidery that pops off the soft fabric canvas. It plays with an Elizabeth Stone quote that "Making the decision to have a child is momentous. It is to decide forever to have your heart go walking around outside your body."
"I find it amusing that art historians will talk about male artists and how they were influenced by travel to some foreign land, or political/social situations, but one of the most life-changing and powerful experiences of all is rarely discussed. It is a reflection of society's devaluation of women's experience in general."
Click below to see highlights from Kretz's show at Hardcore Contemporary Art Space, up through July 7:
REAL LIFE. REAL NEWS. REAL VOICES.
Help us tell more of the stories that matter from voices that too often remain unheard.
BEFORE YOU GO