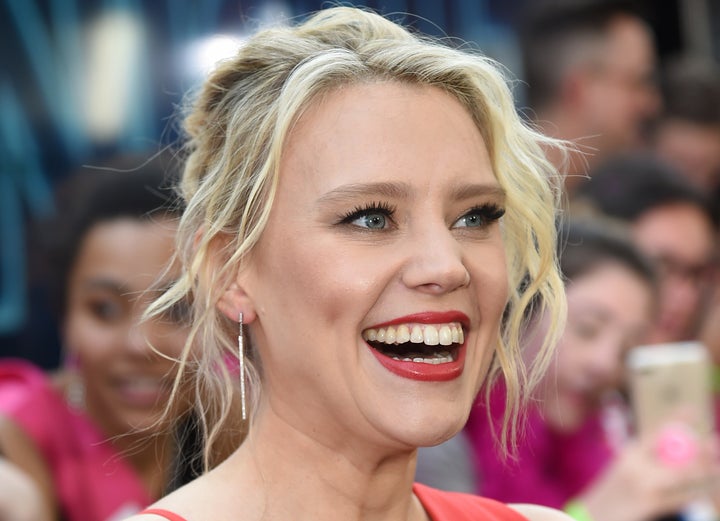 When "Saturday Night Live" returns at the end of September, it will face the loftiest expectations in its 42-year history. The show's most recent season, which skewered the 2016 presidential election and subsequent Trump administration, enjoyed banner ratings and earned more Emmy nominations than any other year since it debuted.
McKinnon has had a bustling summer. We hopped on the phone with her in June, right before her rowdy comedy "Rough Night" opened. But she was instead promoting the animated girl-power movie "Leap!," which opened Aug. 25 and features three characters voiced by McKinnon, including a villainous blue blood. Since our conversation, the actress earned her fourth Emmy nomination for "SNL" ― she won her first last year ― and appeared on an episode of the Netflix comedy "Friends from College." 
We asked McKinnon to reflect on the outgoing "SNL" season and whether she's using the summer to decompress from all that political fodder. Plus, we chatted about the celebrity impression she was most surprised to be asked to perform.
The key to your "SNL" success comes in your physical comedy. Even in a short sketch or "Weekend Update" appearance, your entire body morphs into the character you're playing. When you're in a studio recording a voiceover, are you still as animated?
That's an interesting question. Yes, because you have to channel whatever energy or movement you have into your voice, so my arms are flapping like an albatross. Whenever I do a voiceover, I'm gesticulating so wildly to try to get my voice to modulate in a certain way.
That must be particularly applicable when you're playing a villain. 
Yes, I did find that my hands turned into these sort of talons while I was doing it. I love playing villains and then doing a quiet version of it. That is somehow more menacing than straight-up screaming, so I try to mix it up a little. You get to do every line as many times as you want, so often I would just say 10 versions of it and then they pick what they like.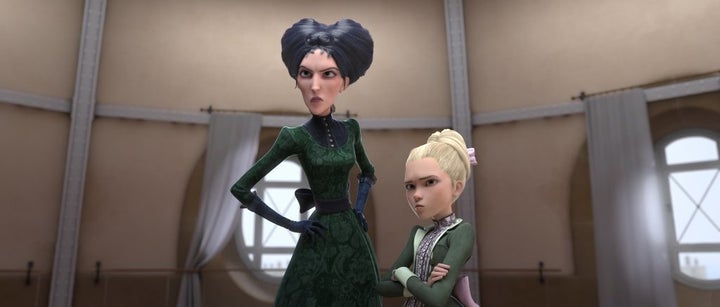 It's hard to avoid the aggressive news cycle right now, but do you find yourself trying to tune out politics during the "SNL" off-season since the show became so political last year?
No, I'm still reading as much news. It's sort of a breather that I don't then have to go write about it, but I'm still reading.
When you're reading news, is your brain automatically thinking in terms of how any given topic can be satirized? 
That's interesting. Yeah, if the story relates to an impression that I do, I do go there, but otherwise I just have become so fascinated by politics from being so peripherally involved in it.
Do you ever imagine what encounters with the government figures you're impersonating would be like?
Hmm, well. [Laughs] I do always think of the feelings of the person I'm doing an impression of and what I'm saying. I take that very seriously and I try to be very careful, so I don't know what would happen.
They may have some choice words for you, but that's OK, right?
Sure. I mostly stay in my house with my cat.
Bobby Moynihan, Vanessa Bayer and Sasheer Zamata won't be back next year. What's it like to see your castmates leave?
It's really, really, really, really hard. We haven't had a big end-of-year exodus for a couple of years, so I knew this was coming, but we were all just crying all week. It was really emotional. You get so close with people that it sort of feels like you're on a sports team. You're working so hard and you're learning so much about each other and you're getting so close. You spend 80 or 90 hours a week with these people, and they move on, and it's so exciting for all three of those incredible comedians, and I can't wait to see what they do next. But it is really sad.
Given how many high-profile impressions you've done, do you feel a sense of obligation to stick around to help satirize this political moment?
Well, to be involved in Season 42, which just ended, was the most exciting thing I could ever imagine. I definitely want to keep being a part of that as it continues to unfold, yeah. It's such an incredible experience.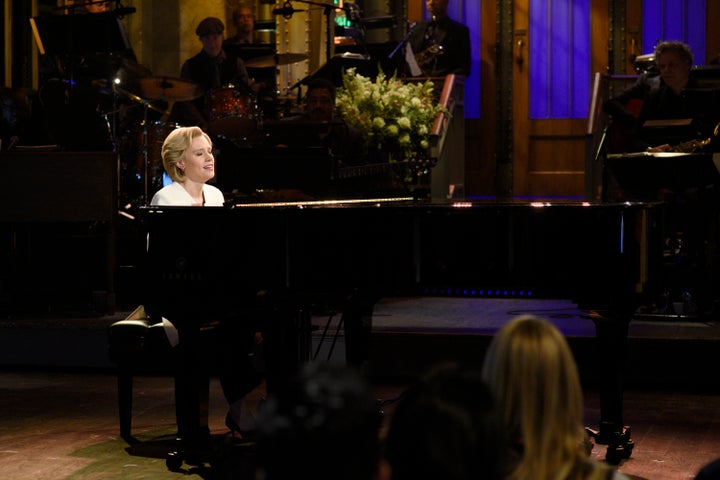 You opened the post-election episode by performing Leonard Cohen's "Hallelujah" dressed as Hillary Clinton. Recap the 60 seconds before airtime. 
I was really nervous. That felt like something that could touch a lot of people, and I just wanted to do it right. Whenever I'm playing the piano, I always mess up, so I was nervous that I would wreck it. I was mostly just thinking about that.
It appeared that you got everything correct.
I didn't mess up the piano.
Who have you been most surprised to be asked to impersonate?
Hmm. You know, Justin Bieber wasn't my idea originally. It was sort of a joke pitch. I think it was actually Bobby Moynihan's idea because Colin Jost was writing something with Justin Bieber, and he said, "Who would play Justin?" I think Bobby jokingly said, "I don't know. Kate?" I just ran with it. There you have it. 
This interview has been edited and condensed for clarity and length.
REAL LIFE. REAL NEWS. REAL VOICES.
Help us tell more of the stories that matter from voices that too often remain unheard.
BEFORE YOU GO