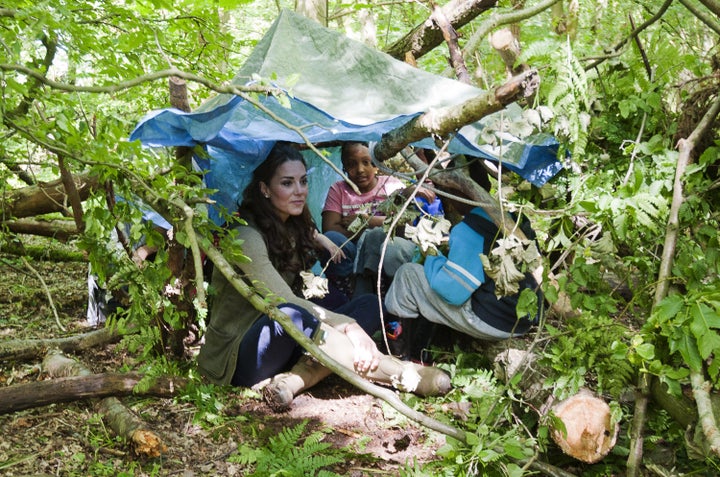 Can a princess survive in the wild?
Catherine, the Duchess of Cambridge, got her Girl Scout on over the weekend, taking to the woods of England with schoolchildren at the Widehorizons Margaret McMillan House in Wrotham, Kent.
On surface level, we'd expect a duchess to be less of the "camping type" and more of the "glamping type. Looking a far cry from her glamorous look on Saturday, Kate journeyed into the dirt and muck with the group of 28 eight- and nine-year-old children to climb in tents, sit around a fire and try some fire-cooked camp food, which had to be a far cry from the gourmet fare gussied up at Buckingham Palace.
Not that we're making fun of Kate. (As much as we'd like to say we're into the rough-and-tumble outdoors, we prefer to camp at the Marriott.)
And what exactly does a princess wear to rough it in the woods? Her favorite $500 pair of leather-lined Le Chameau wellington boots, a pair of inexpensive Zara skinny jeans, a beige Burberry shirt (the same one she wore on her 2011 royal tour) and a Really Wild sleeveless jacket. We're also relishing the chance to see Catherine with her hair pulled back.
The duchess also chatted up the schoolchildren. "We asked how it felt to be a princess and she said it was very nice," an eight-year-old girl who got to hang with Kate said afterwards. "She said she got to visit lots of countries but hadn't seen as many as William. She said William was very sweet and kind and spoiled her."
Later, Kate and the children were also shown how to make dough sticks over the camp fire, which Kate sampled and reportedly declared "very nice." When others asked about her job, she replied, "It's very busy and great fun but I am very well looked after." One student wondered how long she would sit on the throne, to which Kate replied, "It's not actually my job yet!"
After lunch, the duchess left by helicopter to Gloucester, where she covered up in a brown jacket to meet William at the Beaufort Polo Club and played with her puppy Lupo and Autumn and Peter Phillips' daughter Savannah.
All in a duchess-style day's work.
See pics of Kate's camping adventure below!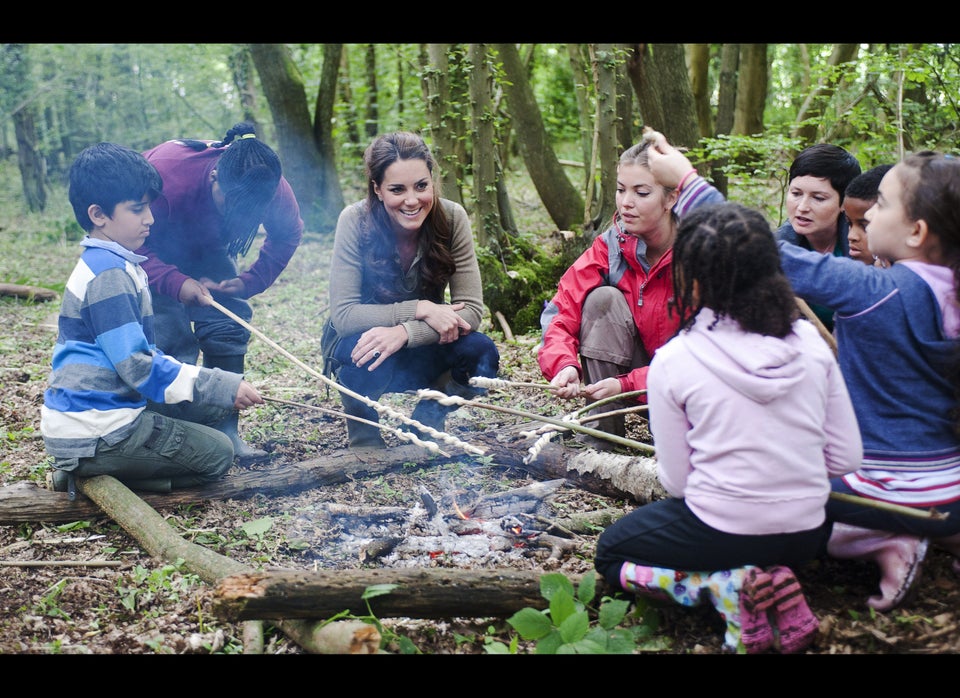 Kate Middleton Goes Camping