First budget airlines, then consignment shopping. Now cubic zirconia instead of diamonds? Kate Middleton just might be the thriftiest royal ever.
According to the Daily Mail, the Duchess of Cambridge paired her blush-colored Alexander McQueen dress from Tuesday's Jubilee celebration with "fake" earrings made of cubic zirconia and imitation pearls.
Belinda Hadden, the founder of Heavenly Necklaces, realized Catherine's diamond and pearl drop earrings were her own when a client saw Kate in the Diamond Jubilee procession earlier this week. The heralded carriage ride carried Kate, Prince William, Queen Elizabeth II and the rest of the royal gang to Buckingham Palace in honor of the Diamond Jubilee and all eyes (and cameras and film crews) were trained on Kate's outfit.
For her dress she chose McQueen, again; her hat was Jane Taylor and her clutch was Prada. As for her jewelry, Hadden tells the Daily Mail, "I had no idea Kate had worn my earrings until another client sent me an email asking: 'Are they the same as mine?'"
Apparently they are Heavenly Necklaces' "Pearl and Diamond" Earrings which retail for £48, or around $75. (WhatKateWore speculates that they are the same ones Kate wore last July when she and the queen visited her wedding dress exhibit.)
$75 for gorgeous costume jewelry? Dressing like a princess was never so easy! Alas, it seems that The Duchess Effect is still going strong: the "Pearl and Diamond" Earring is totally sold out with a waiting list.
A waiting list for cubic zirconia earrings? The powers of Kate Middleton will never cease to amaze us.
See pics of Kate's "fake earrings" below! Can you tell they're not real diamond?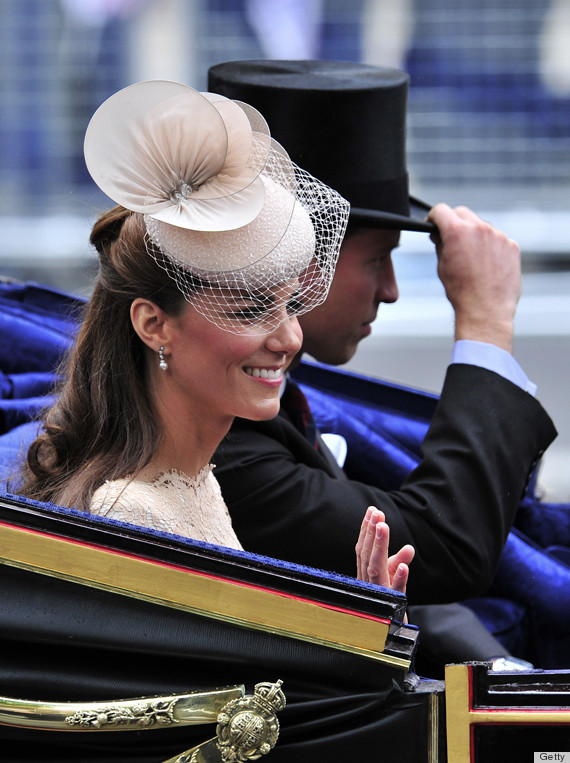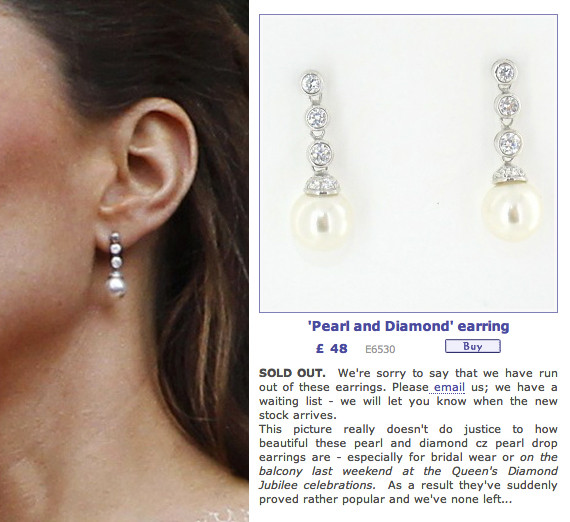 See pics of the whole Royal Family riding in the Jubilee processional!
PHOTO GALLERY
Diamond Jubilee Procession
REAL LIFE. REAL NEWS. REAL VOICES.
Help us tell more of the stories that matter from voices that too often remain unheard.