This article was originally published on Healthline.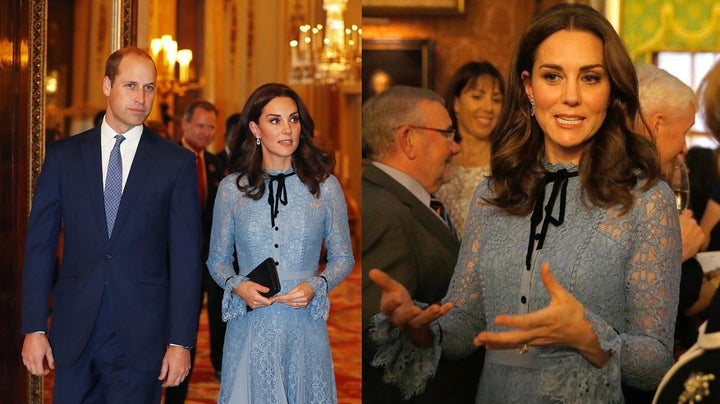 As the Duchess of Cambridge, Kate Middleton lives her life with style and grace. And being a mother to Prince George and Princess Charlotte hasn't done much to change that. So when news broke that Kate and husband Will had another pink-cheeked royal baby on the way, people got excited.
As with her last two pregnancies, the Duchess was diagnosed this time around with hyperemesis gravidarum, an extreme form of morning sickness that causes severe nausea, vomiting, loss of appetite and fatigue. Symptoms such as these have kept Kate largely out of the public eye for the early part of her pregnancy. But in early October, she made her first public appearance since August, attending an event honoring mental health workers for World Mental Health Day at Buckingham Palace.
As always, eagle-eyed Kate fans were eager to check out her bump.
Despite her illness, Kate shimmered in a sophisticated lace blue dress, which showed a hint of pregnancy stomach. But for some, the bump was simply not enough.
Several commenters on Twitter and Instagram declared that Kate was looking "not pregnant enough," regardless of her body build, or even how far along she is. (The pregnancy was only announced in September, and she is due in April.)
Others labeled Kate "anorexic" and suggested that she looked too malnourished to grow a healthy baby.
"[It] is physically impossible to grow a healthy baby and be as malnourished as she is," wrote one user on Instagram. "Kate Middleton & I both have a baby bump," tweeted another, "Mine is from Tacos."
Ironically, the Duchess was attending an event to promote mental health awareness when people took aim at her on social media.
Depression is a major — if underreported — facet of pregnancy, with between 14 and 23 percent of pregnant women experiencing some form of it, according to The American Congress of Obstetricians and Gynecologists (ACOG).
"Many women feel too ashamed to seek help during what is meant to be a joyous time."
Many women feel too ashamed to seek help during what is meant to be a joyous time. Crippling them with pointed or nasty comments about the size of their bellies — or any other facet of their bodies or pregnancies — is wrong, at best, and dangerous, at worst.
Let's do better, Internet. And Kate, keep going and growing at your own rate, as all healthy pregnant women should!
Allison Krupp is an American writer, editor, and ghostwriting novelist. Between wild, multi-continental adventures, she resides in Berlin, Germany. Check out her website here.