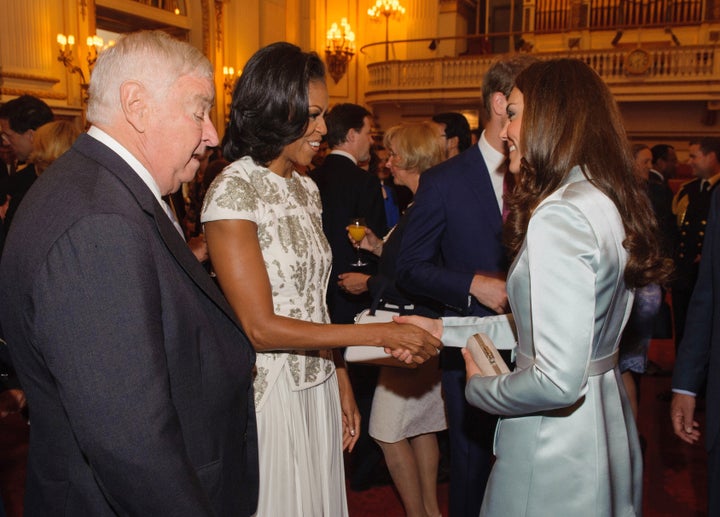 They didn't know it then, because Kate and William were still just college buddies and royal mania hadn't hit yet. But by locating the 2012 Summer Olympics in London, we now get to enjoy a veritable bonanza of royals, first ladies, prime ministers and other world leaders coming together -- and in one room, no less.
Today all our favorite people have gathered at Buckingham Palace: Kate Middleton, Michelle Obama and lots of other less fashionable people (see 'em all below in the slideshow). Royals from England, Monaco and Spain were in attendance, as were the leaders of Russia, Brazil, Fiji, New Zealand, France, Jamaica, Canada, Finland, Germany and plenty more.
Together they sipped sparkling wine from South Africa and the England, ate canapes and all secretly hoped everyone else's teams will lose this week. They also might have gossiped about how Queen Sofia was 15 minutes late (a smaller snub than last time, when she simply skipped Queen Elizabeth's Sovereign Monarchs Jubilee Lunch) or how the queen and the Duchess of Cambridge were wearing awkwardly matching outfits.
Both the queen and her granddaughter-in-law were in ice blue, although Her Majesty chose a loose coat-over-dress combo (her fave) while Catherine went for a slim-fitting coat dress by Christopher Kane (repping British designers!). Michelle Obama, who is there representing Team USA as the team's lead delegate, held her own in the style department in an embroidered crepe jacket and silk chiffon skirt by J. Mendel.
Everyone mixed and mingled, including Prince Harry and the President of Gabon, Princess Beatrice and the Prime Minister of Kyrgyzstan, and David Cameron and the Prime Minister of Jamaica. But no pair was as awesome as Kate and Michelle, who shook hands. This wasn't their first meeting, but our hearts still exploded.
So who else was there and what were they wearing? Below, enjoy a look at world powers colliding... and just imagine what they were all talking about.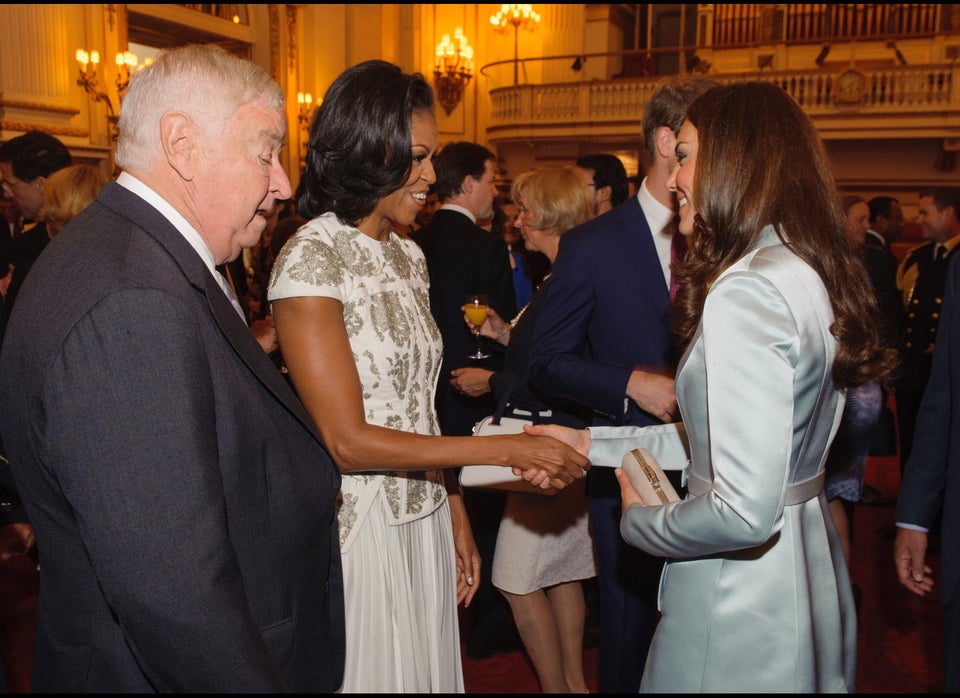 The Queen's Reception For The 2012 Olympics
Related