Nonetheless, the royal couple headed to the Polynesian island nation of Tuvalu for the last wing of their trip, and we're grateful, because we got to see Will & Kate in grass skirts. GRASS SKIRTS!
"When they arrived, we gave them a pina colada each made from rum, fresh pineapple juice and coconut cream," said a co-owner of the Tavanipupu resort the pair stayed at on Monday. "William liked it so much, we gave him another one. He had two, she had one. They got straight into the snorkeling and saw lots of beautiful fish. They were just swimming and enjoying the island. They had dinner on their own private jetty. This morning they walked out on the big dock."
After that overnight stay, it was off to Tuvalu on Tuesday, where dancers carried the couple from their private jet in hoisted thrones. With Catherine clad in a yellow eyelet ALICE by Temperley dress and a chic updo, the pair were bestowed with even more accessories: flower crowns and necklaces (we think Will looks dapper in his).
And then, the moment we've been waiting for this whole trip: DANCING. Catherine and William next slipped into grass skirts and joined the Tuvalu people at a party for some traditional moves. While Will's dance moves have long left something to be desired, Kate looks like she's doing just fine.
You're going to want to see these photos. Trust us.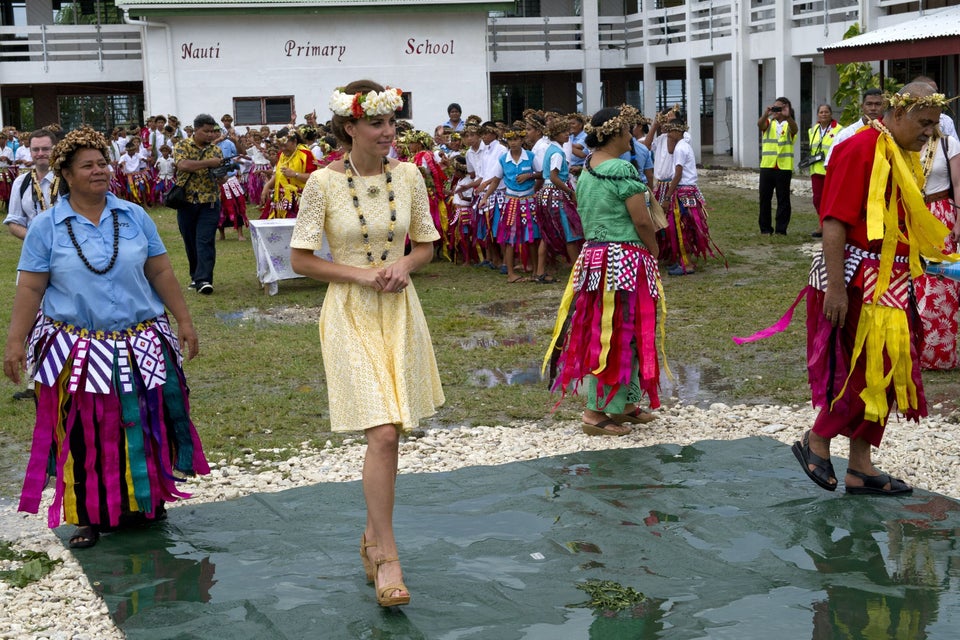 Royal tour of the Far East and South Pacific - Day Eight
Related