"This is a tragic event that could not have been reasonably foreseen and we're deeply saddened by it," he said at a press conference in Melbourne. "I spoke to both presenters early this morning and it's fair to say they're completely shattered. These people aren't machines. They're human beings. We're all affected by this."
Holleran would not say who came up with the Middleton prank, but he said "these things are often done collaboratively" and pranks have been popular "for decades." "They're not just part of one radio station or one network or one country -- they're done worldwide," he said, acording to the Mirror.
"Firstly, I have sympathy for the nurse and her family because this is a terrible tragedy," he said at the press conference. "But I also have a fair degree of sympathy for these kids... Is the culture of radio to blame? Possibly. But people make thousands of these prank calls each year and they usually result in good material. These kids have done something that I find distasteful, but it's something that many other presenters have done without any negative consequences."
Reuters notes that the royals have long had an uneasy relationship with the media, which exploded in 1997 following the death of Princess Diana in a Paris car crash. Just a few months ago, the Palace acted quickly when a gossip magazine published naked photos of Middleton on vacation with Prince William in an attempt to fight against the constant, invasive pursuit by the media.
The Palace released a statement about the nurse's alleged suicide, saying: "The Duke and Duchess of Cambridge are deeply saddened to learn of the death of Jacintha Saldanha. Their Royal Highnesses were looked after so wonderfully well at all times by everybody at King Edward VII Hospital, and their thoughts and prayers are with Jacintha Saldanha's family, friends and colleagues at this very sad time."
How the media has covered the royal pregnancy: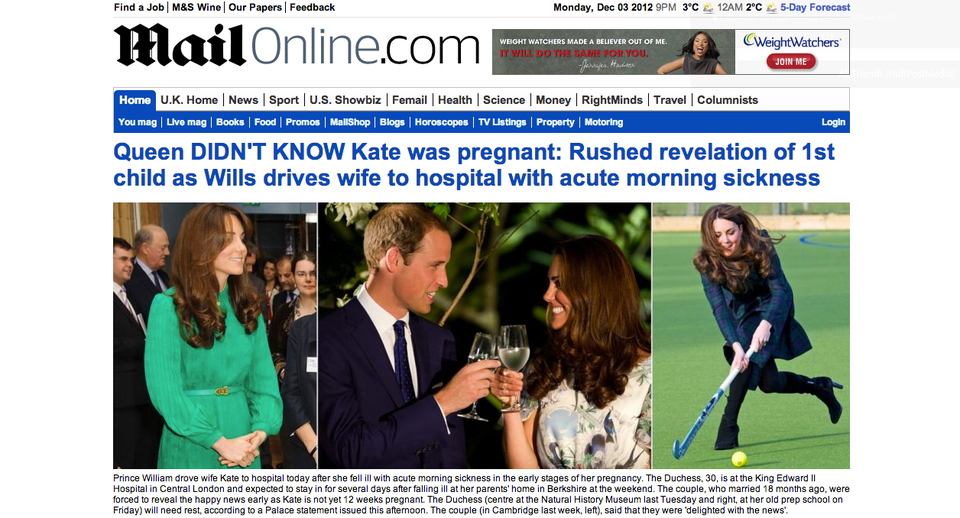 Media Covers Kate Middleton's Pregnancy