The Duchess of Cambridge's wedding gown, earrings and even the cake will be on display beginning this weekend in Buckingham Palace's ballroom, the Guardian reports. Already, 125,000 people have booked tickets for the summer exhibit, and with time slots for 600,000 attendees, it could sell out altogether.
The main attraction, of course, is The Dress. Royal Collection curator Caroline de Guitaut told the Telegraph, "The dress performed perfectly. But the Duke and Duchess also maintained a modesty that gave the event the feel of a big family wedding to which the nation was invited. There was a real intimacy in addition to the spectacle. Getting to work with the bride and the designer has made the experience extra special."
As a sartorial supplement, the palace will also screen an interview with the dress' designer Sarah Burton. Although Burton doesn't reveal the cost (the Daily Mail decided it was $400,000) or the former-Kate Middleton's measurements, visitors can peep her shoe size: 5-and-a-half (U.K., that's about an 8 U.S.), printed on the sole of her white heels.
Another Telegraph article describes the highlights from the exclusive video, including an explanation of the intricate lace flowers and shamrocks, sewn by Hampton Court Palace in Surrey:
"What we wanted to achieve was something that was incredibly beautiful and intricately worked. A lot of it was in the subtlety of the detail but it was at Westminster Abbey so it still had to have a presence," Burton said.

"The Duchess was very conscious that when she walked down the aisle she didn't want the dress to collapse so it was a real feat of engineering. We weighted the whole of the bottom part of the dress with canvas, and in particular the middle (of the train) so when we lifted the dress it would fall back in exactly the same position."

Naturally, there are already critics of the installation. Jess Cartner-Morley of the Guardian writes:
The weakness of the exhibition is that, for a wedding dress display, it is curiously unromantic. The dress is gorgeous, but -- apart from the side view, which we haven't seen before -- to be honest, the view was better on TV. All alone under the lights -- no tan, no smile, no scarlet-clad husband -- the slender dress is almost ghostly. Instead of all that bouncy hair, there is just the Cartier tiara lent by the Queen, suspended halo-like above the veil.
The dress will be on display until October 3. For those of you who can't make it across the pond, check out some photos below.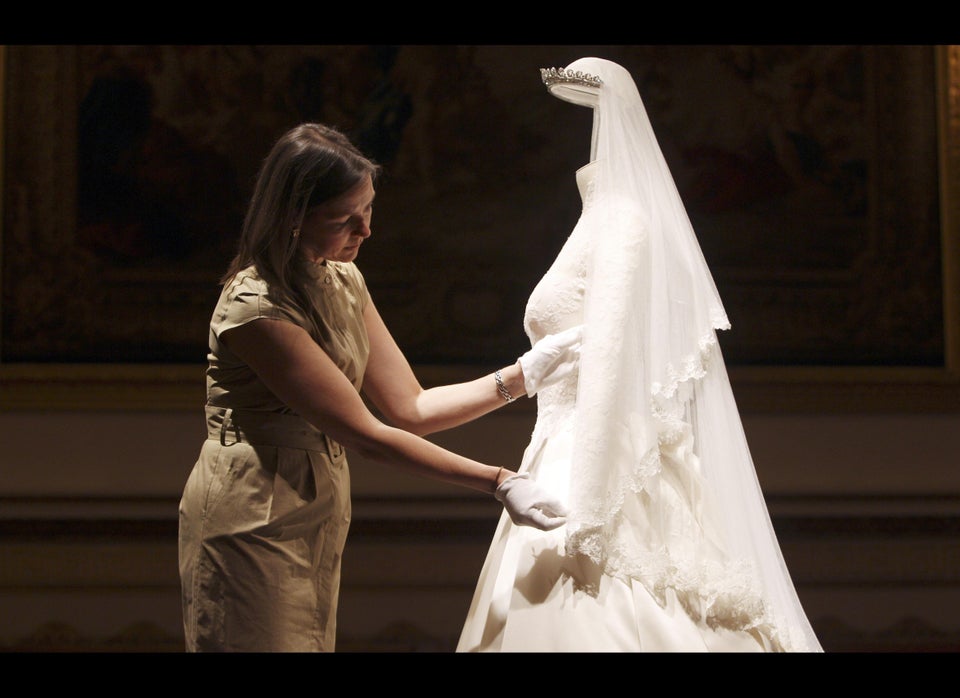 Related