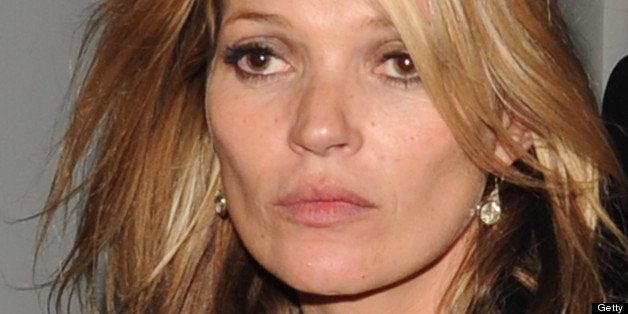 Kate Moss may be credited with popularizing the look known as "heroin chic" in the early 1990s, but the British model denies ever doing the drug.
In an interview with Allure magazine -- in addition to talking style rules -- the 39-year-old opened up about the flak she received after posing nude for Calvin Klein ads in 1993, ushering in the era of waif-like models.
"It was horrible, especially the anorexic thing," Moss told the magazine. "The heroin, I was like, 'Oh, it's ridiculous. I know I don't do heroin. Just because I wear a bit of black eyeliner that's smudged ...' But the anorexic thing was a lot more upsetting, to be held responsible for somebody's illness. I wasn't anorexic."
Moss' has dealt with criticism about her weight for years, and in 2008 she told Interview magazine, "I didn't eat for a long time. Not on purpose. You'd be on a shoot with bad food or get on a plane and the food would be so disgusting you couldn't eat it. I remember standing up in the bath one day, I was so thin! I was never anorexic... I remember thinking, I don't want to be this skinny."
Moss maintains she's never done heroin, but she's no stranger to a drug scandal as she was caught on camera doing cocaine in 2005. Though she was immediately dropped by some high profile brands, Moss once again proved she knows how to survive a scandal, since her salary somehow doubled after being caught on camera -- and she's one of the few models who can still land magazine covers, which are now typically reserved for Hollywood actresses.
"Everyone's a celebrity. But I'm kind of a celebrity now, so even though I'm not an actress, people know my name. I'm not just a face," she told the magazine.
REAL LIFE. REAL NEWS. REAL VOICES.
Help us tell more of the stories that matter from voices that too often remain unheard.
BEFORE YOU GO
PHOTO GALLERY
Kate Moss' Style Evolution