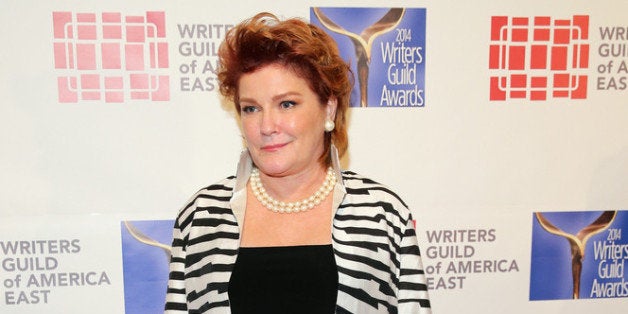 When HuffPost Entertainment caught up with Kate Mulgrew on the red carpet at the Writers Guild Awards' East Coast ceremony on Saturday (Feb. 1), she wouldn't spill many details about the second season of "Orange is the New Black." (Fortunately, creator Jenji Kohan filled in the gaps when Us Weekly asked about Laura Prepon's much-questioned involvement.) But even if Mulgrew wouldn't budge on the juiciest scoops, she did provide insight about the loving dynamic among the "OITNB" cast, the joys of wearing the same outfit in every episode and her favorite redhead of all time.
What are the best and worst parts of wearing the same outfit in every episode?
There's nothing worst about that, let me tell you.
The pressure's off, right?
Every role that I've ever loved and played well has been in a uniform. From doctors to starship captains to journalists -- well, that's a very different kind of thing -- to a prisoner. And even then, I get to wear a sort of unique costume because I'm in the kitchen, so I love that.
But you look so glamorous tonight. You don't ever long for that on TV?
Never. And I look glamorous only under duress, sweetie -- only because I know that I have to. That's really not in my nature anymore.
Are people recognizing you now for "Orange is the New Black" as much as they do for "Star Trek"?
Well, you know, I am the only the female starship captain, so that goes with me wherever I go. But "Orange" is a huge hit, so I'm getting a lot of Red. And Red is a gorgeous character, so it's all happening for me at once, and I must say I'm very, very happy.
We have no real idea of how many people are watching the show, but has Netflix shared viewership figures with the cast?
They don't have to. I'm getting fed stuff all the time. I know it, I know it from my nieces, I know it from my friends, I know it from my family, I know it walking down the street. I know it, I sense it, I get it. It's phenomenal because it's real. It is finally a piece of television that allows everybody in this room the ability to take a deep breath and say, "I get that. I'm so there, I understand that."
Which of the prisoners other than Red do you respond to most as a character?
I love Nicky Nichols (Natasha Lyonne). I love Crazy Eyes (Uzo Aduba), she's remarkable. I think Taryn Manning as Pennsatucky is out of this world. But to a woman, they're not only fine, but trust me when I tell you, they're completely immersed. When we go to work, it's immersion, 100 percent, which is joy. The discipline is joy for me, and it's great.
Given the nature of the relationships among the cast, who's your closest friend on the set?
Taylor [Schilling] -- I've known her longer than the rest. I love Taylor, we're good friends. I'm very close to Natasha. I love Samira Wiley and Danielle Brooks and Uzo. They're all great, all of them.
What can you tell us about Laura Prepon's involvement with Season 2?
I'm not going to tell you one thing because I'll be shot at dawn and I want to live.
Who's your favorite redhead?
In the world?
In the world.
Elizabeth, the Queen.
Related
Before You Go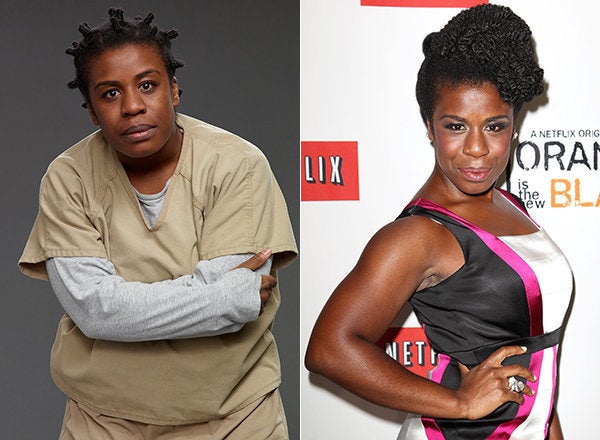 'Orange Is The New Black' Cast On & Off Set
Popular in the Community