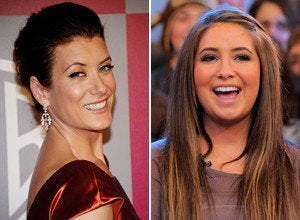 Kate Walsh wanted Bristol Palin to abstain... from talking about abstinence.
When the 'Private Practice' star heard that Palin was set to give a speech about abstaining from sex at Washington University in St. Louis, she sent out a tweet in support of students who had been protesting the planned talk all week:
Welcome to the Idiocracy! RT @elliekirsh: @katewalsh please join students at Wash.U. to boycott Bristol Palin's speech on abstinence. What does she know about college or abstaining?
Scott Elman, president of the advisory committee, said the decision to halt Palin's appearance as a keynote speaker was "100 percent mutual" between Palin and the committee. Elman added that he was very disappointed that students weren't more open to having Palin speak.
The controversy doesn't quite tidy itself there -- conservatives lashed out at Walsh for her activism.
"This is just another page in the constantly developing story of how our nation's leading liberals - the supposedly open-minded folks - continue to betray the very idea of the university as a place where students are exposed to all sorts of ideas," Glenn Stanton, a spokesperson for Focus on the Family told Fox News. "We are finding that many of those on the left are the most rigid fundamentalists in culture today. They have it all figured out and have no patience for hearing an alternative voice."
I'm not attacking anyone, freedom to tw'eet. Isn't our country great? Or r YOU a communist? RT @Mark604YVR: @katewalsh @elliekirsh Why do you feel the need to attack this young lady? I'll boycott your mediocre show instead #FrustratedLiberalWomen
Popular in the Community