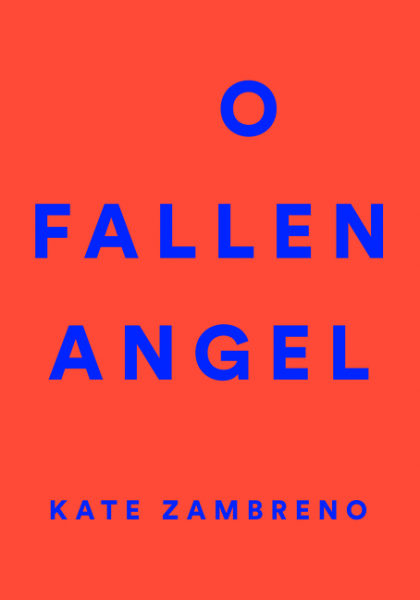 SUVs, red meat, Jesus. If a dissenter's view of Middle America were turned into a Bingo card, Kate Zambreno's debut novel O Fallen Angel ― recently reissued by Harper Perennial ― would win the game a few pages in.
The short book has been described by Lidia Yuknavitch ― who also makes her political ideas known through her fiction and first published Zambreno in 2010 as part of her "Undoing the Novel" contest ― as a triptych. There are three main characters: Mommy, Maggie and Malachi.
Mommy is a Midwestern housewife who prioritizes her family life and expects her children to do the same. She willfully ignores anything unpleasant, including her own intrusive thoughts that may contradict her Catholic beliefs. Maggie, her daughter, is one of those unpleasant thoughts. After dropping out of college, she mostly spends her time sleeping with men who don't return her affections, an affliction that leaves her depressed and without the support needed to pursue medical help. Malachi is a prophetic figure bearing a sign on the side of the highway, oscillating between self-aggrandizing delusions and genuine insight into the wasteful ways of passersby.
Each character is shown to us in a voice that's uniquely Zambreno's ― although it's earned her comparisons to Kathy Acker and praise from Chris Kraus. Embracing the didactic language of parable while turning it on its head, Zambreno's punchy, matter-of-fact, repetitive sentences belie repressed emotional truths. Much like the American value of pursuing objective "happiness," the book intentionally makes use of a sunny sheen to gloss over Mommy, Maggie and Malachi's self-doubt. The effect is a poetic visit to Middle America, one that's more likely to expose hypocrisies than generate empathy.
If there's anything critical to be said of Zambreno's inventive work, it's that she's unconcerned with plot, with character development and with all of the usual tenants of storytelling. Her language enchants, but much of the story's events are related in passive time, so that the habits of the characters are established but never challenged or deviated from. Mommy judges; Maggie broods. So, the story's end might be unsatisfying for readers who yearn for closure ― or at least action.
Maggie's never freed, even momentarily, of her youthful narcissism. Mommy's never enlightened about the world beyond her pleasant, pastel-hued home. Neither is forced to reconcile her prejudices with the world beyond her own private space. And maybe that's realistic; maybe we need a story like this to shed light how insular our ideological communities are.
But it might also be cynical, or at least untrue to how most of us live our lives. Amid the smartly mocked credos and playful language of O Fallen Angel, there's no room for awkward family dinners or phone calls, no space for the tension between these polarized views to loosen, or finally snap. Instead, we're invited to view a still of these characters' lives, a snapshot that doesn't imply movement.
Nevertheless, given what Zambreno's accomplished since writing this book ― she's written another celebrated novel, Green Girl, and an essay collection, Heroines ― it's an impressive debut to look back on for its playfulness alone.
Original and lyrical, O Fallen Angel is centered on its ideas, not its story ― and that's OK.  
Kate Zambreno is the author of Green Girl and Heroines. 
Anyone interested in parables, subverted fairy tales and bold women writers.
What other reviewers think
Electric Literature: "Kate Zambreno's O Fallen Angel dissects the willful blindness and rigid oppressiveness of contemporary American life."
Bookslut: "What do you say about an American gospel that beats the shit out of you?"
"She is his Mrs. and he is her Mister the mommy and daddy the two of them forever and ever and ever they will never part they will never be apart except when Daddy has to go make the bread and she has to bake it."
"Maggie writers in her Dear Dear Diary about herself vs. the world, but mostly she just writes about how much she misses Marlon Brando and all of his predecessors (and likely successors).
"The best way to get inside Maggie's pants (heart) is to be withholding. Catholic girls crave denial. Remember that one night we were doing Ecstasy and we were so in love? she writes Marlon Brando. Maggie likes boys with a taste for sadism and Maker's Mark on their tongue."
O Fallen Angel
Kate Zambreno
Harper Perennial; Reprint edition, $14.99
Jan. 17
The Bottom Line is a weekly review combining plot description and analysis with fun tidbits about the book.
REAL LIFE. REAL NEWS. REAL VOICES.
Help us tell more of the stories that matter from voices that too often remain unheard.
BEFORE YOU GO
PHOTO GALLERY
9 Novels That Will Keep You In Suspense