Four years ago, Hurricane Sandy ripped through Rockaway Beach in New York, leaving individuals in southern Queens to clean up after a superstorm that damaged homes, businesses and civic landmarks all along the shoreline.
This summer, an artist from Berlin, Germany, is doing her small part to remind people in and outside of New York City that the destruction still looms large.
Beginning on July 4, Katharina Grosse's contribution to MoMA PS1's "Rockaway!" series will be on view for beachgoers visiting Fort Tilden, a former United States Army installation on the Rockaway Peninsula. Then and there, patrons will be able to feast their eyes on a dilapidated building transformed by the power of spray paint.
Grosse's Rockaway work is reminiscent of her homage to Hurricane Katrina in 2008, when she spray-painted a damaged home in the Lower Ninth Ward with wildly bold splashes of orange and yellow. This year, she set her sights on a beach house marked for demolition near Fort Tilden, an area soon to be razed and restored with wind-stopping dunes and beach flora.
According to a rendering by Klaus Biesenbach, director at MoMA PS1, Grosse's house (once an aquatics building) will be spray-painted pink and orange in a display that resembles a massive, bleeding sunset.
"Here's a very beautiful found object," Biesenbach explained to The New York Times. "It has history as being a military fortress, as being ecologically changed because of the hurricane. Now it's being restored to its natural habitat."
The National Park Service, the Jamaica Bay-Rockaway Parks Conservancy and the Rockaway Artists Alliance have partnered with MoMA PS1 to make this work happen. After the exhibition, conceived of by Biesenbach and Rockaway resident Patti Smith, the aquatics building will be demolished by the park service as part of its Hurricane Sandy recovery program, The Times reports.
See more of the yet-to-be-painted structure, which will be on view in full color from July 4 until Thanksgiving, below: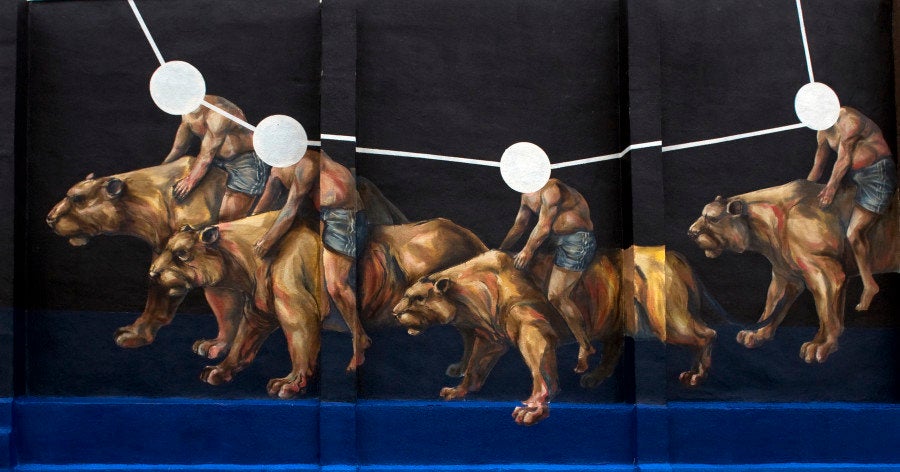 25 Street Artists' Works From Around The World