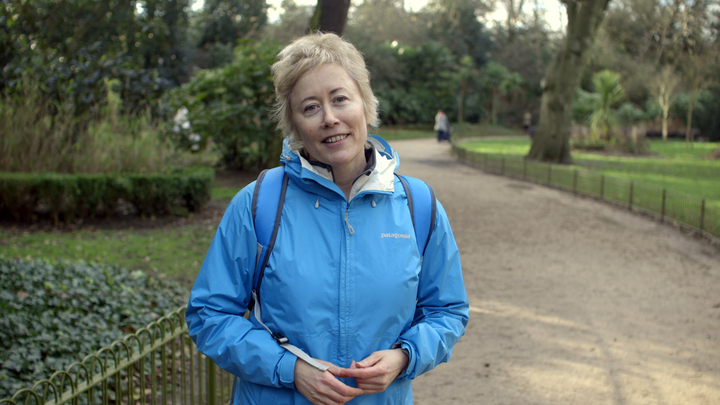 One woman is so desperate to see Syria's war end, she is walking across Europe to ask diplomats to make it happen.
Katherine Davies is trekking 600 miles from London to Geneva to encourage diplomats to come up with a solution for peace and to raise awareness about the plight of the Middle Eastern country's war-devastated citizens.
Davies is the CEO of Iguacu, a U.K.-based research nonprofit that delivers information on how to help countries like Syria, Nepal and Haiti. She launched the campaign in response to stalled peace negotiations over Syria's future. Despite several rounds of talks, negotiators have failed to agree on how to end the civil war.
"After so much war, after so many years and so much suffering, I was just very angry and upset about it," Davies told The WorldPost. "It just occurred to me that there's no public voice empowered over this. Yet, it's very much a crisis that affects all of us -- it's long spilled over the borders of Syria," referring to the ongoing refugee and migrant crisis faced particularly in the Middle East and Europe.
"I actually felt like walking to Geneva then and there, I was so angry," the London-based Australian added.
More than 250,000 people have died as a result of the Syrian war, according to the last available data that the United Nations published last August. The Syrian Center for Policy Research put the number at 470,000 at the end of 2015. As of last month, the war had produced some 4.8 million refugees and 6.6 million internally displaced people.
U.N.-led peace talks on Syria's future are now in their third phase, after earlier negotiations fell apart due to political deadlock. The current round only resumed last week, but the talks are already in shaky condition. The Syrian opposition's delegation asked the U.N. to postpone negotiations on Monday, as rebel groups launched fresh attacks against government forces and accused diplomats in Geneva of being biased toward the demands of President Bashar Assad.
Warring parties, including the Syrian government and some rebel groups, also entered into a ceasefire agreement on Feb. 27. While the country has seen a relative drop in hostilities since the ceasefire, the government and opposition groups have accused each other of violating the ceasefire, and many areas remain under siege with no access to basic goods and supplies.
Walking to the Swiss city to pressure diplomats is a "real opportunity to have this sense that the world is watching and putting pressure that we want peace now, and we want it urgently," Davies said. "And we stand with the Syrian people who desperately want the bombs to stop."
Davies began her trip on March 15 -- the de facto five-year anniversary of Syria's civil war. She had reached Blandy-les-Tours, a French village southwest of Paris on Monday. She walks 17 to 18 miles a day on average and it will take at least three more weeks to reach Geneva, Davies noted.
She is collecting signed messages calling for peace  as she travels via the hashtag #Message4Peace on social media platforms like Instagram, Twitter and Facebook. While Davies was unable to estimate the total number of messages she has received so far, her website shows messages from people in countries including the U.S., U.K., India and Armenia.
When Davies arrives in Geneva, she plans to to hand all the messages she receives to Staffan di Mistura, the U.N. special envoy to the Syria crisis, in person. Davies says she and her team are currently planning exactly how she will carry this out.
Davies has engaged with many people along her journey to Geneva where she has been able to raise awareness about her cause and the atrocities of the Syrian war. 
She also visited the Calais Jungle, a makeshift refugee camp in northern France inhabited mostly by people who want to migrate to the U.K. Many Syrian refugees told her of their plight there, and many volunteers at the camp added messages to support her campaign, Davies said.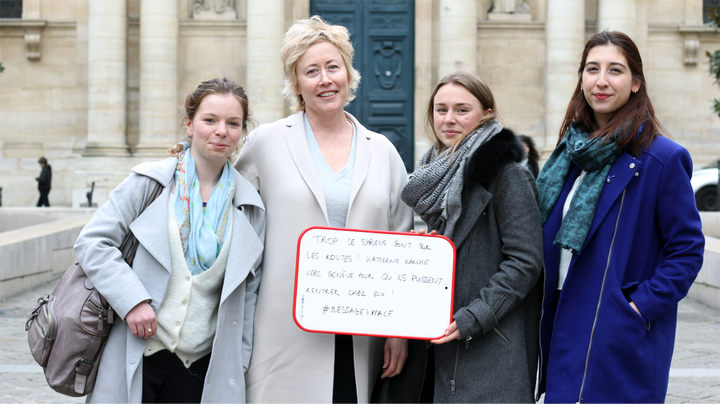 Davies said it's only by walking and talking to people from all walks of life on her travels that she realized just how disturbed people were about the war. "That would never have happened if I had cycled or gone some other way to Geneva," she said.
"We don't realize the power of our voice. A lot of us tune into negative sources of information. We don't question enough what it is we fill our minds with and our days with, and we just allow ourselves to feel powerless and feel like there's nothing you can do," she added. "But there is so much you can do." 
Read more:
REAL LIFE. REAL NEWS. REAL VOICES.
Help us tell more of the stories that matter from voices that too often remain unheard.
BEFORE YOU GO
PHOTO GALLERY
Inspiring Reactions to The Migrant And Refugee Crisis