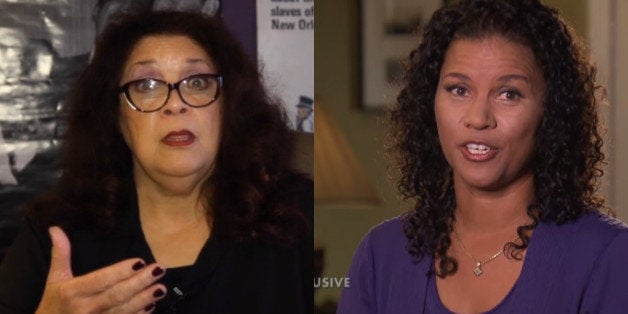 The Huffington Post reached out to Bill Cosby's camp regarding McKee and Lisa's claims, but had not heard back by time of publication.
KATHERINE MCKEE
McKee told the New York Daily News that Cosby raped her in the early 1970s. She says she had known Cosby for eight years, and was on tour with her then-boyfriend Sammy Davis Jr. at the time of the assault. McKee says she never told the entertainer about the incident.
McKee told the Daily News that she had extended her stay in Detroit to visit family. She claims that Cosby invited her to a party on a boat, and asked her to pick up barbecue and meet him at his hotel room beforehand.
"I remember I walked in the door, and [Cosby] had a robe and cap on. He took the ribs from my hands and just grabbed me," McKee told the Daily News. "He spun me around, pulled my panties down, and just took it. We were still standing at the door when he attacked me. It was so fast and so shocking and so unbelievable."
Watch a video of McKee speaking to the Daily News about her experience with Cosby below.
LISA
Lisa spoke with Dr. Phil about her experience with Cosby, who she says drugged her in 1988 when she was a 21-year-old aspiring model. "He was the Jello pudding man. He was everyone's dad," Lisa said, explaining why she was so primed to trust him.
Lisa claims that she received a call from the modeling agency she worked for, indicating that Cosby wanted to meet her. After meeting with him twice, once with her mother and sister, he called her and invited her back to his room to do improv. Once she was there, she recalls Cosby fixed her a drink, told her it was going to "relax" her, and pressured her to drink it despite her resistance.
"He said that this was going to relax me so that the lines would flow out a lot easier," she said. "So I had to drink it. He made a second drink and had me drink the second drink as well." Once she began feeling woozy, Lisa says Cosby called her over to the edge of the couch where he was seated with his legs open, and had her sit down between his legs. She says he then began to pet her hair.
"The last things I remember is just feeling the strokes on my head," Lisa told Dr. Phil. "After that, I don't remember anything else." Two days later, she says she came to in her own room, according to Death and Taxes. Watch a clip of Dr. Phil's interview with Lisa below.
Below is a list of women who have come forward with allegations about Cosby, dated to the time that the allegations were made public. As more claims emerge, this timeline will be updated.
CORRECTION: An earlier version of this story indicated that McKee said she was drugged. McKee never mentioned being drugged during her interview.
Calling all HuffPost superfans!
Sign up for membership to become a founding member and help shape HuffPost's next chapter