"Shadowhunters" star Katherine McNamara has some advice before Monday night's season finale: "Get a box of tissues. Get the comfort food of your choice ― maybe a blanket, something to cuddle with. Hold your love ones close, because it's brutal."
All season long, the forces of good and evil (and wherever Sarah Hyland's Seelie Queen fits in) have been waging a war over the Downworlders, supernatural beings like vampires and werewolves with part-human, part-demon souls.
Things come to a head in the final episode of the season with the threat of their extinction at the hands of big bad Valentine Morgenstern, who just so happens to be Clary Fairchild's (McNamara's character) father. 
"Leading up toward the end of the season, we've started to see a different side of the Shadow World. When Clary first entered it, it sort of was this world of magic and wonder and enchantment for her," McNamara told HuffPost during a Build Series interview on Monday. "As she's gotten closer to taking responsibility for her actions and growing into this world and becoming more of an adult in this world, she's started to see the colder, more brutal, more deadly side of the Shadow World and that continues into this episode."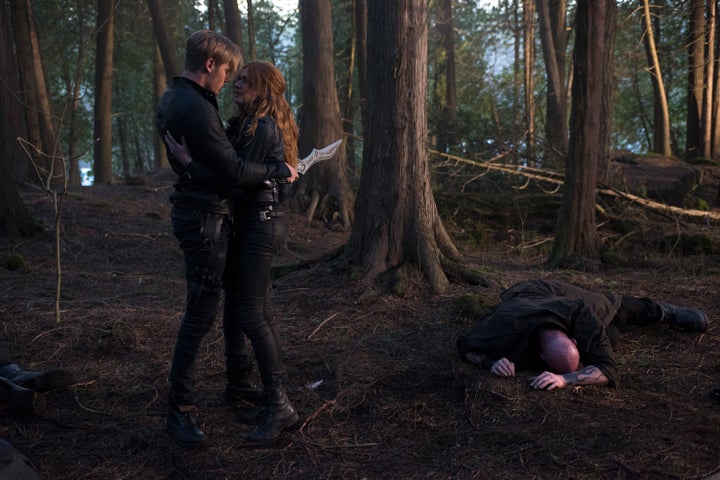 We already know death is looming on the horizon for one or multiple characters thanks to a particularly ominous Comic-Con trailer for the series, but as for whom the Grim Reaper will claim, McNamara kept things close to the chest.
"It's really is heartbreaking. I was crying reading the script," she revealed. "There are a lot of highs and lows in this episode."
Amid the darkness, however, there has been one bright spot this season for Clary: her growing relationship with Jace (Dominic Sherwood). Once the two found out that they weren't brother and sister **gulp** and put the love triangle with Simon (Alberto Rosende) to rest, the long-embattled couple finally have the green light. 
"They're both at a point where they are open to exploring this connection and seeing what this relationship could actually mean for the both of them," McNamara explained. "They've had an electric connection since day one."
Although fans are quick to ship Clary and Jace (aka Clace) as the show's one true pairing, McNamara actually has another couple in mind: Magnus and Alec. 
"As much as everybody loves the end game, it's all about the journey," she said, before adding, "Of course, I'm a Malec shipper 100 percent."
Watch McNamara's full Build Series interview below. 
The season finale of "Shadowhunters" airs Monday night on Freeform. 
REAL LIFE. REAL NEWS. REAL VOICES.
Help us tell more of the stories that matter from voices that too often remain unheard.
BEFORE YOU GO
PHOTO GALLERY
Celebrity Photos 2017