April 20th. 4/20. Everyone wants to talk about smoking.
Not the fabulous Kathie Lee Gifford! America's favorite TV personality will spend 4/20 at AOL HQ, talking about something much more important than legalization. Kathie Lee Gifford will be talking about drinking! Gifford is heading on down to Astor Place to discussing her wine line, GIFFT wines.
Cliffnotes version: The wine is a Chardonnay like California in the 1970's--light, crisp and refreshing, as opposed to heavier, buttery, oaky.
4/20/16 is a great day to be in New York City.
At AOL BUILD, Kathie Lee Gifford, Matt Walsh and Julia Louis-Dreyfus are among the many guests. I am grateful for such a strong lineup. I recently found out about the #DaringWomenSummit and that sounds really cool, too. But Matt Walsh retweeted my tweet about KLG coming to AOL BUILD...so I'm going to go to work on 4/20! I'm going to that Summit next year, though.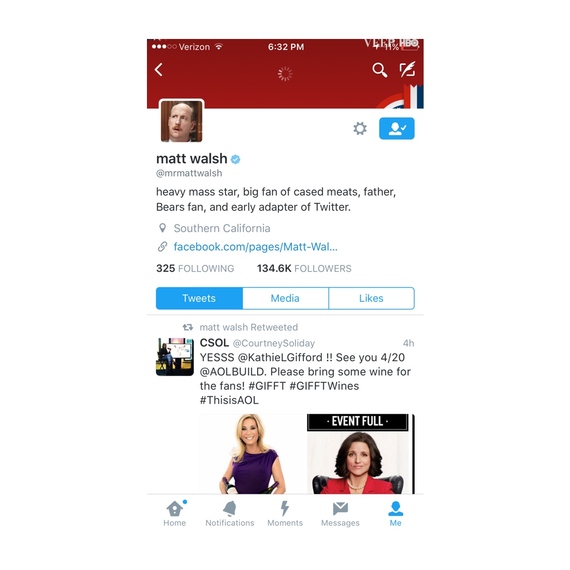 By the way, JLD and Matt Walsh are coming for a conversation about season five of Veep. Which is hilarious! Veep is SO funny. Also, Matt Walsh was one of the Upright Citizens Brigade founding fathers. I took Improv for Lawyers at UCB. It was awesome.
The Today Show's Kathie Lee Gifford is stopping by to discuss GIFFT Wines. The details about Kathie Lee Gifford's wine are below. Hope to see you at AOL BUILD on 4/20, or tune into the live stream and tweet us your questions for the Hollywood gods and goddesses that will be upon us that fine Wednesday.
I am a big believer that "the earth is the Lord's, and everything in it." And that as His children, "every good and perfect gift comes from above, streaming down from the Father in the heavenly realms, who does not change like shifting shadows."

In other words, I believe that the bounty of the earth is for all of us to enjoy and share with the family and friends that we love.

I was born in Paris, France so maybe the love of wine comes naturally. All I know is that when I started discussing creating a wine with Scheid Family Wines, it felt like the most natural thing in the world. I visited the spectacular vineyards, I met with the farmers who dedicate their lives to bringing in the harvest, and the amazing Scheid family--its name and its reputation on every bottle. I wanted the first varietal to represent the Chardonnays I enjoyed when I first moved to California in the 1970's--light, crisp and refreshing as opposed to the heavier, buttery, oaky Chardonnays that are so prevalent today.

"If you can make that, I can get behind it," I said. And they did.

And they followed that with an extraordinary, smooth and satisfying red blend that I fell in love with.

I'm excited about GIFFT wines because they come from a place of sincere and authentic affection. The wines are delicious and fairly priced. And that's really all that matters.

I love Proverbs 9 where we read:

"Wisdom has built her house;
she has carved its seven columns.
She has prepared a great banquet,
mixed the wines, and set the table.
She has sent her servants to invite everyone to come.
She calls out from the heights overlooking the city.
"Come in with me," she urges the simple.
To those who lack good judgment, she says,
"Come, eat my food,
and drink the wine I have mixed.
Leave your simple ways behind, and begin to live;
learn to use good judgment."

Calling all HuffPost superfans!
Sign up for membership to become a founding member and help shape HuffPost's next chapter