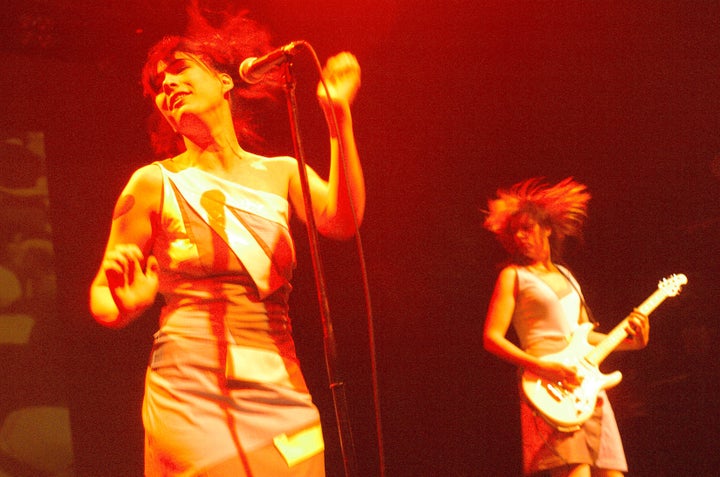 "I'm the girl you can't shut up,"Kathleen Hanna tells me over the phone quoting from her song in "The Middle Of The Night In My House."

The lead singer of iconic female punk rock group, Bikini Kill, and the dance-pop trio Le Tigre, says in-your-face feminism is ever-present today in the wake of her biographical documentary, "The Punk Singer," which premiered earlier this month at SXSW.

In her first feature-length directorial debut, Sini Anderson captures the leader behind the boisterous voice. The film goes deep inside the minds behind the movement with more than 20 years of incredible archival footage and intimate interviews with those closest to Hanna and Riot Grrrl, including her husband and Beastie Boys' member Adam Horovitz, Le Tigre's Johanna Fateman and Sonic Youth's Kim Gordon.

The film's debut may have come at just the perfect time, too.

"I think feminism comes in 20 year waves," Hanna tells Huffington Post in a phone interview, explaining that another crest is upon us.

"I think there this is this resurgence today even with 'Girls' and Sheryl Sandberg. I'm really interested in the criticism of the criticism that's happening now."

Anderson made similar statements in a phone interview: "We were at a lull in feminism which changed during production coming out of the Bush era. It's what happens; 20-year waves of feminism."

In a recent poll commissioned by Ms. Magazine, the number of women who identify as feminists has increased by a full nine points in the last five years:

"Speaking of younger women [under the age of 30], a solid majority of them (58 percent) identify as feminists — as did 54 percent of older women, nearly three-quarters (72 percent) of Democratic women and a respectable 38 percent of Republican women. The feminist factor cuts across race and ethnic lines, with a majority of Latina, African American and white women voters considering themselves feminists."
Today the sprouts of the seeds Hanna planted decades ago are still palpable. Groups like the topless activists, FEMEN, a coalition of women who assemble to defend sexual and social equality with their breasts, and the Russian all-female rock-trio, Pussy Riot, who were jailed for publicly voicing their opinions too loudly, keep the legacy alive.

"I feel like this is a really good start, everything that happened with Sandra Fluke and Pussy Riot, all of these enraging things. Unfortunately, it takes enraging things to happen to become active. It's healthy to get pissed off," "The Punk Singer" producer, Tamra Davis, told The Huffington Post in a phone interview.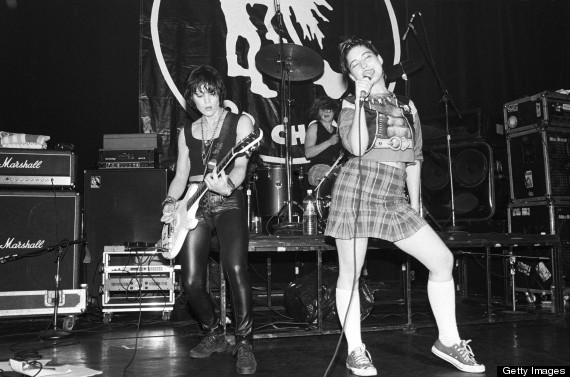 Since fighting her way to the forefront, and demanding that other women to do the same with her well-known crowd-call, "All the girls to the front!" Hanna has become one of the most vocal champions of the feminist movement. While her critics and bitter male audiences wished she would have just shut-up, her fans pleaded that she never would.

However, in 2005, she retreated into the background. No one knew why, except that something was very, very wrong with her health.

"The Punk Singer" reveals just what happened to the outspoken singer. During the documentary's year long filming, much to her relief, Hanna's intuition was right and she was diagnosed with Lyme's disease, an infectious disease caused by bacteria.
"I lied when I said I was done," Hana says in the documentary."I just didn't want to have to face the fact that I was really sick. I was told by my body that I had to stop."
When left undiagnosed too long, as in Hanna's case, the disease takes over numerous parts of the body, including the brain, nerves, eyes, and heart.
"Kathleen, more than anyone I know, is the hardest worker. There were times when we were shooting and she didn't feel well, but she still showed up," says Anderson.
"Because of my illness, I was like fuck it. This was my last chance to represent myself before I knew what was going to happen to me," Hanna said. "I've always been nervous about being a leader, but you know you get sick and then you realize this is bullshit. I have a voice," she added.
While she's not 100 percent recovered, she says, "I feel it's very possible I could tour again. I didn't feel that was possible a year ago."
Her re-emergence into performing may be of a different flavor. She previously designed sets for performance artist Neal Medlyn's Wicked Clown Love, a piece based on Insane Clown Posse and now has a comedy script in the works, co-written with her husband, called "Bridget Rides The Bus," which is based on the life and work of performance artist Bridget Everett.

As the feminist icon emerges from a years-long struggle to regain her "voice" she's optimistic about the next wave of women who refuse to be quiet.

Her advice for them: "First of all get naked and run across the football field. Then sit down and find something that makes you cry and pisses you off. Then find out what you love to do and don't get tired of."

One more thing, she adds: "Popularity is totally overrated."
REAL LIFE. REAL NEWS. REAL VOICES.
Help us tell more of the stories that matter from voices that too often remain unheard.
BEFORE YOU GO