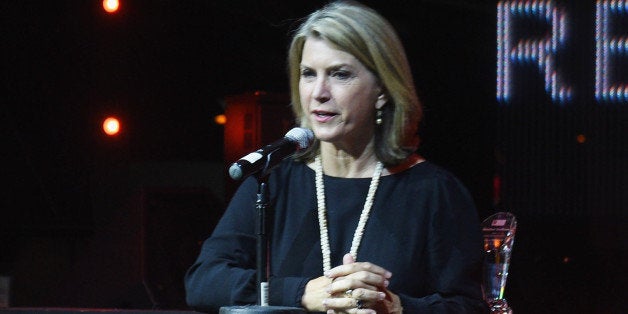 WASHINGTON -- Former D.C. news anchor Kathleen Matthews is expected to enter the race for Maryland's open 8th District seat soon. As a Democratic congressional candidate, she may have to answer some awkward questions about recent campaign contributions she made to a Republican senator.
Despite a long history of giving to Democrats, Matthews, who is married to MSNBC host Chris Matthews, gave a maximum $2,600 contribution to GOP Sen. Roy Blunt of Missouri in November 2014. Blunt is running for re-election next year. He is one of a handful of Republicans targeted by the Democratic Senatorial Campaign Committee as the Democrats seek to win back control of the upper chamber.
"Kathleen Matthews has contributed to Barack Obama, Hillary Clinton, Harry Reid, Chuck Schumer, John Delaney, Tim Kaine, Mark Warner, Amy Klobuchar, Debbie Dingell, Bob Casey, Ed Markey, Ben Cardin, Alison Lundergan Grimes, Steny Hoyer, Don Beyer, Bob Menendez, and Senator Roy Blunt who she got to know through her work on travel and tourism," said Matthews spokesman Ethan Susseles in a statement, reeling off a long list of Democrats.
Matthews' work on "travel and tourism" came as executive vice president for Marriott International, a position she resigned on May 20 in anticipation of launching her congressional campaign. Her contribution to Blunt can be understood in the context of that job and the senator's support for Marriott's business interests.
In March, Blunt helped pass a Senate resolution applauding the tourism industry with the help of Sens. Klobuchar, Mark Kirk (R-Ill.) and Brian Schatz (D-Hawaii).
Blunt and Klobuchar were also guest speakers at the hotel industry's lobbying conference in 2014. Back in 2012, the duo sat down on stage at the industry conference for a question-and-answer session moderated by Matthews.
Maryland's 8th District stretches from Montgomery County, a suburb of Washington, D.C., to the more western Frederick and Carroll counties. It is a heavily Democratic district, and the winner of the party primary will likely wind up the victor in the general election.
Candidates already in that primary race include state Sen. Jamie Raskin (Montgomery), state Delegates Kumar Barve (Montgomery) and Ana Sol Gutierrez (Montgomery), and former Obama White House aide Will Jawando. The seat is being vacated by Rep. Chris Van Hollen (D-Md.), who is running for the Senate seat being vacated by Democrat Barbara Mikulski.
Have a tip or story idea to share with us? Email us at scoops@huffingtonpost.com. We'll keep your identity private unless you tell us otherwise.
REAL LIFE. REAL NEWS. REAL VOICES.
Help us tell more of the stories that matter from voices that too often remain unheard.
BEFORE YOU GO
PHOTO GALLERY
11 Paranoid Obama Conspiracy Theories