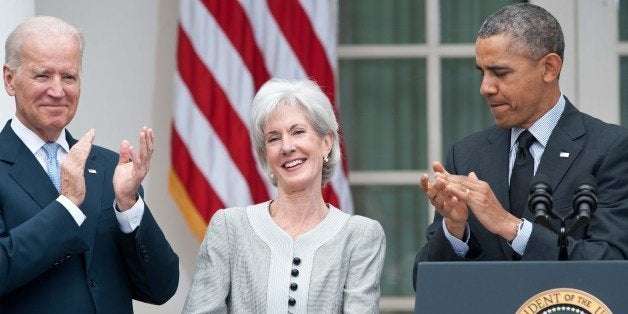 Health and Human Secretary Kathleen Sebelius resigned yesterday, after leading President Obama's successful efforts to get 7.5 million Americans signed up for private health insurance since last fall. At least 3 million more have signed up for expanded Medicaid coverage. This is an amazing accomplishment. Many demographic groups are disproportionately benefiting from this expansion of insurance coverage and access to health care, including LGBT people and people living with HIV, who are much less likely to have health insurance.
Sebelius became a lightning rod for criticism by conservative opponents of the Affordable Care Act, especially after the botched roll-out of healthcare.gov last fall. However, despite these problems, overall, Secretary Sebelius' record is one of great accomplishment. As researchers, providers, and policy advocates for LGBT health and HIV issues, we here at The Fenway Institute are very grateful to Secretary Sebelius for her incredible leadership on our issues. We know many other members of our communities agree. Here are just a few things that happened under Secretary Sebelius' five years at the helm at HHS:
Healthy People 2020: In our nation's blueprint for improving the health of Americans over the next decade, the federal government committed, for the first time, to ending LGBT health disparities, such as lower rates of Pap tests and mammography for lesbians. "Healthy People" addresses social determinants that affect the health of LGBT people, including "oppression and discrimination."
Institute of Medicine Report on LGBT Health: This groundbreaking report reviewed the current state of LGBT health research, called for more data collection, and urged the National Institutes of Health (NIH) to develop a research agenda for LGBT health. In 2013 the NIH released its initial plan to advance LGBT health research and is funding more work in this area.
Data collection: As authorized by Section 4302 of the Affordable Care Act (ACA), in 2011 Secretary Sebelius called for more data collection on LGBT health disparities. A sexual orientation question is now being asked on the National Health Interview Survey (NHIS). HHS is also cognitively testing a gender identity question to be added to NHIS in the future. Sexual orientation questions are being added to the National Survey on Drug Use and Health, and the Centers for Disease Control and Prevention (CDC) are more actively promoting sexual orientation and gender identity (SO/GI) questions for state behavioral risk factor surveys. The Office of the National Coordinator for Health Information Technology is also taking steps to promote SO/GI data collection in health-care settings through its "meaningful use" program for electronic health records.
The Affordable Care Act: Same-sex couples are insured at rates much lower than heterosexual couples. Many single LGBT people are uninsured. In 2012 only 13 percent of people living with HIV in the U.S. had private insurance; 25 percent had no insurance at all. Lesbians and transgender people are less likely to seek preventive health care, partly due to lack of insurance and partly due to a dearth of culturally competent providers. The ACA eliminates the ability of insurance companies to deny coverage based on preexisting conditions, including HIV. It also eliminates annual and lifetime spending caps. ACA regulations outlaw discrimination against LGBT people through Qualified Health Plans offered on the state and federal insurance exchanges. While a number of issues still need to be addressed -- in particular high copays for antiretroviral medications -- by and large the ACA will benefit LGBT people and people living with HIV, more than half of whom are gay and bisexual men and transgender women.
Youth and elder advances: The Substance Abuse and Mental Health Services Agency is working with researcher Caitlin Ryan to promote family acceptance of LGBT youth as a resiliency factor that can reduce health risk behaviors and mental health issues. The Administration on Aging has authorized state elder agencies to designate LGBT elders as a population of "greatest social need," which can enable Older Americans Act funding for service provider training, targeted services such as congregate meals, and research on LGBT elder needs.
HIV/AIDS: HHS has worked closely with other federal agencies to implement the nation's first-ever National HIV/AIDS Strategy. While we have seen improvements in linkage to care and viral suppression rates, new infections are still increasing among gay and bisexual men, especially black gay men. CDC has started gathering data on gender identity, and HRSA, the HIV care agency, has prioritized improving treatment outcomes among transgender women. Advances in biomedical prevention, such as pre-exposure prophylaxis (PrEP), have been rolled out in recent years and offer hope.
The HHS LGBT Issues Working Group: This group, led by HHS Assistant Secretary Dr. Howard Koh, Assistant Secretary for Aging Kathy Greeley, Deputy General Counsel Ken Choe, and LGBT Outreach Director Dr. Matt Heinz, will continue to move forward the critical work Secretary Sebelius has led since 2009.
There are still many things that HHS could do to advance better health care for LGBT people. For example, designating LGBT people as a "medically underserved population" and as a "health professional shortage area population" could increase resources for training providers in LGBT health. But Secretary Sebelius' accomplishments on LGBT health, working closely with President Obama and other leaders throughout the federal government, are really quite remarkable. Thank you, Secretary Sebelius. Your legacy will be the improved health of all Americans, and especially LGBT Americans.
Sean Cahill is Director of Health Policy Research at The Fenway Institute and Adjunct Assistant Professor of Public Administration at New York University's Wagner School.
Related
Popular in the Community