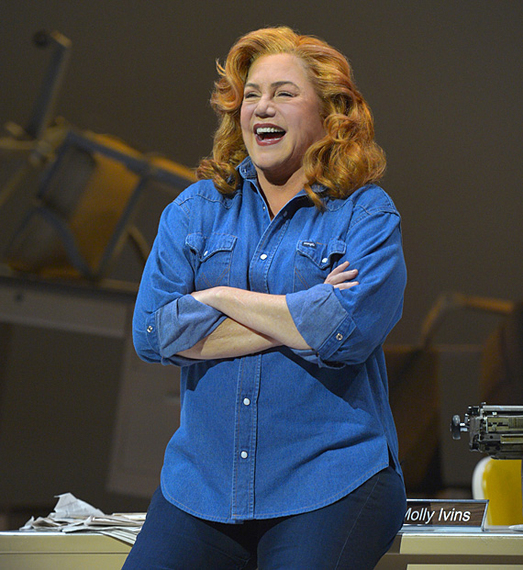 Turner as Ivins: exuberance, laughter and crusading journalism
Seven years after her death, the fiercely outspoken journalist has rematerialized in Berkeley Rep's Roda Theater in a hilarious, caustic Red Hot Patriot, the Kick-Ass Wit of Molly Ivins.
The play runs a scant 75 minutes and provides a star turn for Oscar/Tony nominee Kathleen Turner, but above all it offers a platform for Ivins' convictions, which delighted and infuriated readers at some 400 newspapers across the country, and for Ivins' satiric wordplay, which won admirers of all political stripes. Opening during the week of the Ferguson decision and protests, it could hardly be more timely.
Created by twin sisters Margaret and Allison Engel, whose varied careers have included stints as reporters, the show skims across Ivins' life and career in a style that delivers most of her passion as punchlines. Ivins saw humor as a way to make people take notice, not as an end in itself, and she shaped it by exploiting her Texan roots with raw, populist gruffness.
Never a clone of Will Rogers or Garrison Keillor, spoofing without offending, the Ivins we see in Red Hot Patriot proudly declares that she "holds people up to public contempt and ridicule." Her targets, she notes, are limited to the rich and powerful. Most often they are fellow Texans.
She reveled in disparaging the intelligence of Texas legislators, none more than the congressman who led her to write, "If his IQ slips any lower we'll have to water him twice a day." And she had few kind words for George W. Bush, as governor and as president. Her sobriquet for him was "Shrub."
The play spotlights Ivins' fury at injustice of any sort, even in the shaping of our Constitution. The playwrights drew this morsel from a 1987 column in the Texas Observer: "...the founders left a lot of people out of the Constitution. They left out poor people and black people and female people." Turner delivers the line with appropriate sarcasm, carrying the transparent implication that little has changed in the past 34 years.
Wearing jeans, a denim shirt and red cowboy boots that were an Ivins trademark, Turner inhabits the role with obvious comfort, as she well should. She originated it in Philadelphia four years ago and has reprised it from Washington to Los Angeles since then, between other projects.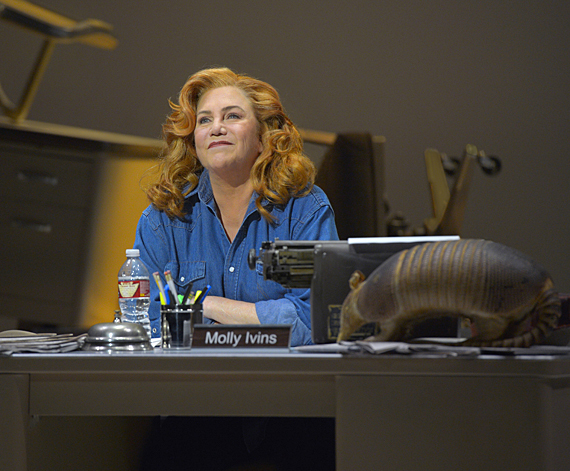 Another scene, another mood: a working reporter with a tough skin

Turner roams the nearly bare stage with a hefty stride that offers no suggestion of stereotypical femininity, occasionally sits and pecks at the keys of a vintage typewriter, and cruises in and out of emotions with unaffected ease. Although she is the play's only speaker, she is occasionally joined by a silent young man who rips stories off a teletype and hands them to her. The actor is Michael Barrett Austin, who is undoubtedly earning Equity scale for doing less than he will ever do on any stage.
The play's dramatic arc is slight, which probably represents its greatest shortcoming. Framed by reminiscences about Ivins' father, a country-clubbing oilman who represented values that she came to despise, the narrative skips from point to point to point, pausing at any spot only long enough to drop an anecdote and usually earn a laugh.
Photos offer images of her comfortable youth: relaxing prettily on the family sailboat, reclining in debutante's finery, with her properly posed family.
A few words tell of the two young men she loved and lost, and possibly suggest why she never married. The first died in a motorcycle accident, the second was killed by a single bullet in Vietnam. That bullet left her with a rage about American wars that never cooled. Prompted by events in Iraq, she wrote this a few weeks before her death in 2007 at the age of 62. (They're not in the play.)

What happened to the nation that never tortured? The nation that wasn't supposed to start wars of choice? The nation that respected human rights and life? A nation that from the beginning was against tyranny? Where have we gone? How did we let these people take us there? How did we let them fool us?
But most of the play covers her life in journalism, starting in an era when women were rarely hired to write about anything other than the social scene, fashion and cooking. Ivins pushed that barrier aside.

Backed by black-and-white projections, Turner sardonically chronicles several journeys from Texas to points north and back. The most notable stopping point was with the New York Times, which sent Ivins to cover Elvis Presley's funeral because no one on its culture beat knew anything about Elvis. Later it exiled her to Denver, where she cheerfully demolished her big-city career by describing a chicken-slaughtering festival as a "gang pluck." The pun was too much for the Gray Lady of journalism.
So it was back to Texas again, and eventually to years of joyful struggle for a poor-but-idealistic weekly and later to the syndicated column that brought her fame.
It's a fascinating story, bristling with passion and an exuberant flair for comedy, but too often lacking the flesh that would turn a sketch into a portrait. Even an actress as skillful as Turner left me wishing for more.

Red Hot Patriot: The Kick-Ass Wit of Molly Ivins runs through Jan. 11 in Berkeley Repertory Theatre's Roda Theatre, 2015 Addison Street, Berkeley. Tickets are $29-$89, from 510-647-2949 or http://berkeleyrep.org
REAL LIFE. REAL NEWS. REAL VOICES.
Help us tell more of the stories that matter from voices that too often remain unheard.