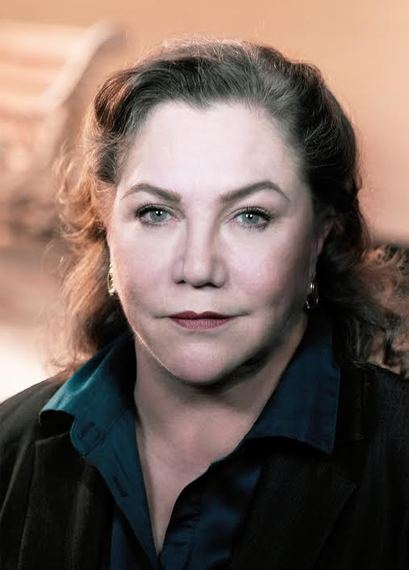 There was no mistaking the deep, husky voice when I answered the phone. Actress Kathleen Turner was most definitely on the line. Naturally, the conversation turned to another husky voiced screen legend, Lauren Bacall. Turner revealed what Bacall said the first time they met, "I hear that you are the new me." The two stars then proceeded to have a "deep off" challenging each other to see how low their voices could go.
Turner was calling to promote her upcoming appearance in Philadelphia Theatre Company's Master Series on February 29, 2016. She will be joined in conversation with Margaret Engel, the co-playwright of Red Hot Patriot: The Kickass Wit of Molly Ivins. She promises a night to remember; daring the audience to ask her anything. The Oscar nominated actress hopes that she will be able to teach the budding young actors in the audience "character development" and "lessons learned". But she is also prepared to dish about her roles opposite A list leading men including Michael Douglas, Steve Martin, Jack Nicholson, and Jim Carrey in such movies as Romancing the Stone, The Man with Two Brains and Prizzi's Honor.
Turner, who is currently teaching acting at the legendary Studio One on One in NYC, gave me some insight into how she helps her students prepare for a scene. The bottom line is "get the fucking job." She asks them, "What's important to convey about the character? What's the best way to communicate that? If the scene calls for rage, do you show the anger or do you suppress it?"
Despite a packed schedule of appearing and directing on Broadway, starring in the upcoming Hulu series The Path, teaching acting and collaborating on a book about acting, Turner travels the country buttressing regional theater. "It is shocking to me that the United States is the only country in the Western world that doesn't prioritize support for regional theater. For those that say art is unimportant, I disagree. What is left of civilizations that no longer exist? Arts, painting, and architecture."
She passionately argues the theater experience is vital for human beings. The Tony Award nominated actress explained, "The audience at the theater or ballet is conscripted into being part of something that is greater than the individual and sharing that with a random person sitting close to you, separated by only an armrest. The human soul needs this." Anyone watching the currently rancorous, deeply partisan political debate would have to agree with her.
Turner has recently been in the news recently due to the Friends reunion for NBC's All Star Tribute to James Burrows this Sunday. She played Chandler Bing's cross dressing dad on the show. Reflecting on the role, she said, "I loved it. When else would I get to play a woman playing man playing a woman? Charles was only appeared to be cross dressing or gay. Television back then wasn't ready for transgender. I would never have imagined the great strides towards transgender equality that have been made. To my daughter's generation, it's normal."
She also made headlines recently for supporting actress Jennifer Lawrence's fight for equal pay for female actresses. Incredibly, the Golden Globe-winning star who gave the world a hard on in Body Heat and mesmerized generation of men with her gymnastic sex scenes in War of the Roses, estimates she earned 50 percent less than her co-stars for those movies. She said, "It's time the studios change and treat women in the business better and make more movies that appeal to women. 40 percent of households are now headed by single women."
Turner credits self confidence for her sex appeal. Turner famously boasted that "on a night when I feel great about myself, I can walk into a room, and if a man doesn't look at me, he's probably gay." As for the sex scenes she filmed with hunks such as Michael Douglas, she downplays the sexiness. "I was concentrating on how I would look on camera and the choreography," recalls Turner.
These days, her life seems grounded and far away from that of a Hollywood superstar. She recently moved from the Upper West Side of New York to Tribeca. She now oozes maternal pride instead of sex appeal. She mentioned her daughter, singer Rachel Ann Weiss, every other sentence even forgiving her daughter for "feeling the Bern" while she is supporting Hillary Clinton for president. But perhaps, the best indication of her normalcy was her sign off-"My laundry is ready."
Calling all HuffPost superfans!
Sign up for membership to become a founding member and help shape HuffPost's next chapter