 We're parked at a dusty intersection in Kathmandu. After 24 hours of traveling, this is totally what I'd planned on doing. A man comes running towards the car, he flags us down. Great, another passenger, I'm sure. But he waves me out of the car and carelessly, I listen. "The Sparkling Turtle, just up that way." That way, being a dark alley.
I'm not even sure this is where I'm meant to be -- the hostel that my friend in Nepal is staying at -- but as far as he's concerned, I've come to the right place. We head down a dark, small path. The roads here make Mykonos seem well-paved. It's noisy, in a welcoming way, and they direct me to the candle-lit roof... full of travelers from all over the world, drinking, eating, comparing their six-month plans, jamming on the guitar and saxophone. There is joy here, and I'm curious as to whether or not I've crashed a private get-together. But before I can settle in to the fact that I am in Nepal, there's a hot chocolate in my hand, a steaming plate of chicken and rice (and, um, butter) on the table and five new friends searching for me on Facebook. Check.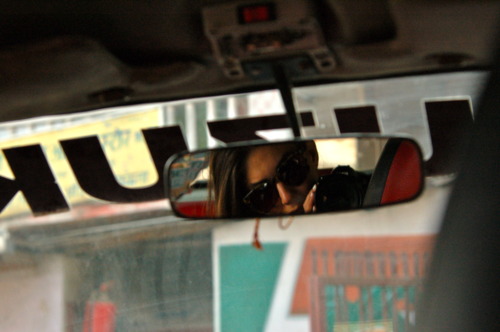 The Sparkling Turtle is just one of the many, many hostels and guesthouses in Kathmandu Valley. It sits on the outskirts of the main town, in Swayambhunath, a few steps from an ancient religious complex atop a hill known as the Monkey Temple. Check. It's quiet here, by Kathmandu standards (exchange barks with yells and bells with honks), and the air is fresh and dewy. I drop my bag in a room for four. It's cold and there is no power (nothing new for Kathmandu) but it's clean as a whistle, which in hostel world is all you can really ask for.
Five Everest beers, a jetlag-induced sleep and a Chai for breakfast later, and the day has been planned -- we're riding out to Bhaktapur (Nepali: भक्तपुर), an ancient Newar town outside of Kathmandu. Evidently, I'm part of the group, I'm a part of the community. A dynamic, diverse, eclectic and eccentric community (check), which is exactly what Judith Wade designed the The Sparkling Turtle to be.
Judith, or mam as the house calls her, has been saving lives for decades. In the early '90s, Judith was running Living Foods, an educational health center in Victoria BC. She was approached by a young man named Akash who was, like most of her patients, ill with cancer. He also dreamed of opening a teahouse, an obsession so contagious that Judith was hooked. After eight months under her care, Akash was healthy again, and the two embarked on a journey -- an eight-year journey that would ultimately take them to Nepal, to open Living Foods at The Sparkling Turtle Hostel. "He wasn't in the space to exist on his own," Mam explains gently. "What you see in Akash is my work. When I closed down Living Foods BC in 1984, I had over 300 clients, most of them dying of cancer. They still walk the planet today."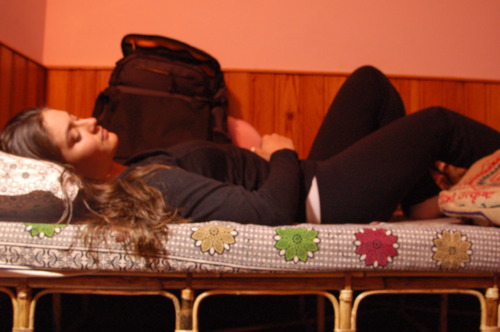 That sense of savior is clear here. It's a push and pull, a give and take from one life to another, far from the Russian hustle of Thamel. Judith trained Moti and his brother Chotte, the 19 and 21-year-old eager (and cute-as-can-be) chefs who make just about the best french toast I've ever tasted; Pari, the estate manger, whose dedication and resources made the project possible; Alex, the front desk manager, whose outfits are as humorous as his nightly hangovers; Akash, a Canadian import, Living Foods success story and founder of Garden in the Sky teahouse collective; Praveen, the house DJ and ladies man who is currently developing DJ's in the Sky -- the first ever three-day music festival in the Himalayas (check) and then... there's Oneal.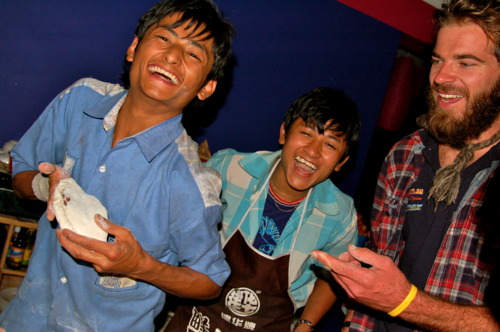 Oneal is 21-year-old Nepali man from a small tea village near Darjeeling, India. He lives in Kathmandu with his cousin and works the night shift as the front desk manager of the hostel. He's studying physics, he likes riding motorbikes and he's a fan of Pink Floyd. He says what's on his mind (just like me) and loves Moo Moos. He has Facebook and email. His father is a philosopher and lecturer. You can tell, because his English is almost perfect and he thinks about life in a deeply touching way. And he is spending his days off, showing us all over Kathmandu.
A journey is not always what you make of it. Often, it's what they make of it -- the people you meet along the way, the lives you fall into, change or in many cases, interrupt. And in my case, what Oneal has made of us, is friends... fast, but true friends.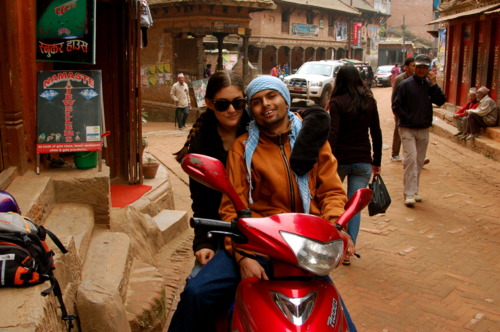 I've stayed in my fair share of fancy hotels where the water is warm and the food is five-star, but here, I'm at ease, comfortable and cared for. There's no need for locks or water purifiers. Through these walls, sharing is second nature. And that is worth far more than the 400 rupees I'm paying for my bed each night. Translation = 5 U.S. dollars. Check.