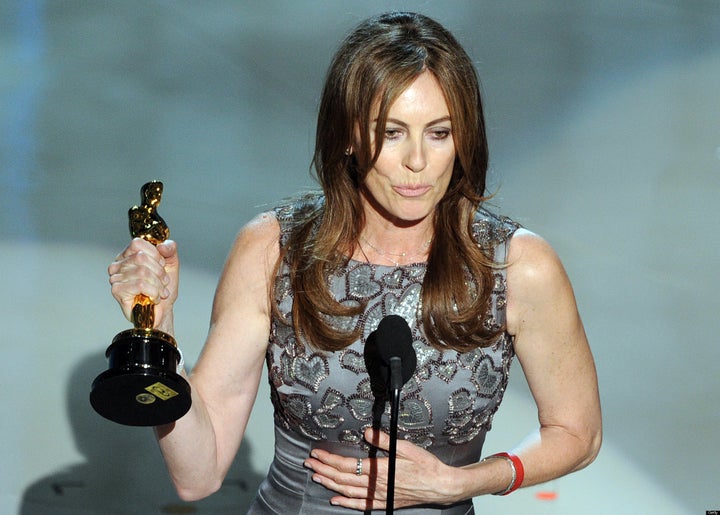 Much was made in the media during the build up to the Oscars about the possibility that Kathryn Bigelow might win for Best Director. And it's undeniably a great thing that a woman won for the first time, but probably more surprising that Bigelow made the transition from collaborating on art world films to directing Hollywood action movies like Blue Steel and Point Break or Strange Days and, of course, The Hurt Locker.
I was amazed when I learned that Bigelow was a hero of one of my heroes. In a talk during his retrospective at MOCA last year, Dan Graham scratched his head and told us "when I talk to art schools, I talk about Kathryn Bigelow, one of my heroes." And when I looked in the catalogue there it was, Graham telling art students about making movies with Bigelow in the 70s.
Art & Language (Kathryn Bigelow in the middle) in "...And now for something completely different", a sequence from Zoran Popovic's Struggle in New York, 1976
Bigelow talked about her art world beginnings in a 1995 interview with Andrew Hultkrans in Artforum:
I was studying painting at the San Francisco Art Institute and one of my teachers put me up for the Whitney Program, so I went. This was '73 or '74, when Conceptual art really came to the fore. I did a couple of videos with Lawrence Weiner, and I worked with Art & Language, an artists group who were critiquing the commodification of culture. So I was very influenced by them, and my concerns moved from the plastic arts to Conceptual art and a more politicized framework. And I became dissatisfied with the art world - the fact that it requires a certain amount of knowledge to appreciate abstract material.

Her seemingly inexorable progression into the contemporary popular cinematic landscape started in the mid-1980s. "Film was this incredible social tool that required nothing of you besides twenty minutes to two hours of your time," says Bigelow. "I felt that film was more politically correct, and I challenged myself to try to make something accessible using film, but with a conscience. I still work off that foundation." Her collaborations with artists like Graham, Vito Acconci, Art & Language, Richard Serra and Lawrence Weiner are the subject of an exhibition, BREAKING POINT: KATHRYN BIGELOW'S LIFE IN ART, up until March 20 at castillo/corrales, a Paris gallery run collaboratively, in the spirit of the 70s, by a group of artists, curators, critics and writers.
Nevertheless it's quite a big - and unprecedented - leap from Conceptual Artist to major player in the Hollywood culture industry. The idea of challenging oneself to persevere in an industry that is known for pandering to the lowest common denominator, and to be acknowledged in the male-dominated world of directing for making something with a conscience, is pretty amazing. But the focus on her because she is the first woman to win an Oscar for Best Director misses entirely what Fritz Haeg calls the "cultural acupuncture" that this moment symbolizes.
Congratulations to Kathryn Bigelow.
Popular in the Community